---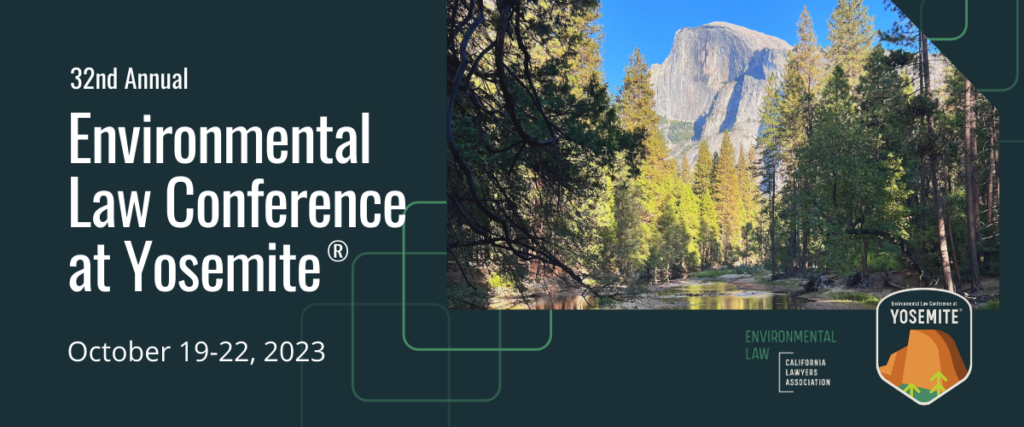 ---
The largest and most prestigious gathering in California of leaders in environmental, land use, and natural resources law.
We hope you will join us and many of our nation's top environmental officials, lawyers, and other professionals for four days of legal education and collegiality in Yosemite for the 32nd Annual Environmental Law Conference at Yosemite®.
Please note that this conference is now SOLD OUT. We will not accept onsite registrations.
Reserve Your Room at the Tenaya Lodge!
1122 Highway 41
Fish Camp, California
93623
Each registrant is responsible for their own hotel reservations. A limited number of rooms have been reserved at the Tenaya Lodge starting at $239, single/double occupancy per night, plus tax and resort fee of $10.00 per room, per day.
---
Alternative Hotel Options
Conference Carbon Offset
Barg Coffin Lewis & Trapp, LLP, is sponsoring the purchase of approximately 111 tons of carbon offsets from Native, which will contribute to a United States Wind Energy Generation project at Dempsey Ridge in Oklahoma, to offset the conference's greenhouse gas impacts, including the conference itself, estimated travel emissions to and from the conference by its over 700 attendees, and the impacts of the Tenaya over the course of the conference. The Dempsey Ridge project allows land to remain in agricultural use and provides clean energy. For more information on the Big Smile Wind Farm at Dempsey Ridge and other projects offered by Native, go to https://native.eco/climate-projects/.
Interested in sponsoring this event?
We would be honored to have your support as a sponsor for our upcoming event, which aims to bring together industry leaders and innovators to exchange ideas and drive progress in our field.
With your sponsorship, we can make a bigger impact and create a memorable experience for all attendees.
ELS Community Service Project for Yosemite 2023—Fund a Tree!
Make a direct tax-deductible donation in any amount to the Friends of Berkeley Tuolumne Camp, a 501(c)(3), which has planted over 17,000 trees in the Rim Fire Recovery Zone, all within Yosemite's Stanislaus National Forest adjacent to Yosemite National Park.
Thank You To Our Planning Committee!
Kim Bick, Partner, Bick Law LLP
Darcy Brown, Faculty, San Joaquin College of Law
John Carter, Senior Deputy General Counsel, Port of San Diego
Alison Torbitt, Partner, Nixon Peabody LLP