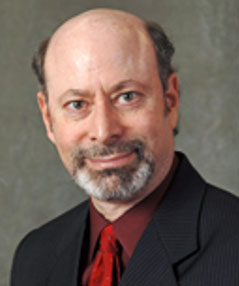 Sad to announce the passing of esteemed colleague David Roth on March 26, 2019 in Oakland, California. His sudden passing is a great shock to all of us who knew him as a lively and engaged man.
I specifically count David as a mentor. When I went solo in 2011, he provided me with excellent guidance on how to do it. Although David was well known for his real estate expertise, he encouraged me to take on a wide variety of cases. He pointed to art on his wall stating that he only bought it because of a very successful result in a personal injury case. I understood that good cases should be pursued.
David had a great unassuming and polite air about him at all times, yet his intellectual capacity and curiosity was quite deep. He had a professorial tone which commanded everyone's respect. People listened when he spoke.
Just a few months ago, he gave an engaging talk about Equitable Easements for the Contra Costa Bar Association. I introduced him for the CLE and remarked about how well he is known for his frequent talks around northern California about easements and his contributions to the Real Property Journal and the CEB books California Easements and Boundaries and Neighbor Disputes. In fact, David Roth was a former executive editor of our Real Property Journal. Like myself, David also served as the chair of the Alameda County Bar Association Real Estate section.
Despite being well-known, David had no website. When I googled him, all I got was information about the former Van Halen front man, David Lee Roth. Honestly, before that time, I had never associated the two in my head. David then told a funny anecdote about how he had received a call from an inebriated man blathering on about how he loved David's singing. David simply replied, "But you have never heard me sing." His reply made me wonder if our friend David knew who David Lee Roth was at that time.
David had meant to develop a website about easements to give the public a true free online resource about a complex topic. I guess we will never see that happen. I will certainly remember his great talks….
Here's an excerpt of his obituary on SFgate.com
David was a man of great principal. He was a proud Liberal, a committed and engaged progressive, cutting his teeth on anti-Vietnam War marches and canvassing for George McGovern. He was a lifelong Democrat and a longtime member of Democratic Socialists of America and worked with and contributed to organizations for racial justice, economic equality, and immigrant and refugee rights, as well as local electoral campaigns. David did a great deal of pro bono legal work and was a fixture at Lawyers in the Library, providing free legal advice to patrons. While not affiliated with a Jewish congregation, he was very engaged culturally with egalitarian Judaism, and held a deep commitment to Tzedakah (Justice) and Tikkun Olam (Healing the World).
He and Mary traveled the world. He was a fan of both the Oakland A's and the San Francisco Giants, of Al Green and the Grateful Dead. A line from the song Cassidy was especially meaningful to him: "let the words be yours, I'm done with mine." He was a voracious and eclectic reader and especially enjoyed reading about the history of California, Judaism and the law. He loved his large extended family and many close friends. He will be greatly missed.
---
Related Content