5th Annual Northern California Women in Commercial Leasing Law Symposium: The Changing and Challenging World of Retail Leasing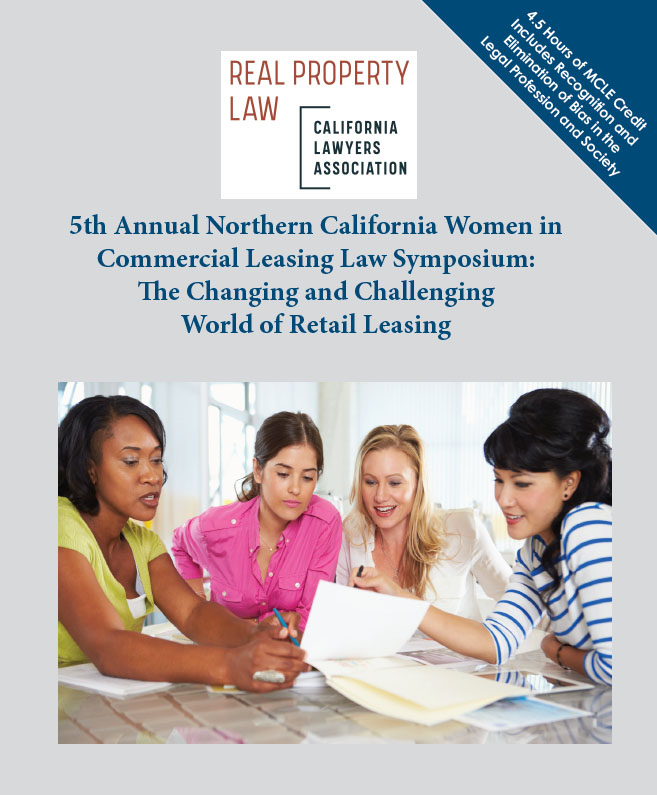 Earn 4.5 Hours of MCLE Credit. Includes Recognition and Elimination of Bias in the Legal Profession and Society.
Monday, November 4, 2019

Bar Association of San Francisco
301 Battery Street, 3rd Floor
San Francisco, CA 94111
ONSITE REGISTRATION AVAILABLE
Schedule | Essential Info | Sponsors | Brochure | Registration Form
Speakers

Sponsors
Schedule
8:30 a.m. – 4:30 p.m. | Registration

Registration open all day
9 a.m. – 9:15 a.m. | Welcome Remarks
9:15 a.m. – 9:45 a.m. | KEYNOTE: Reflections on a Career in Commercial Leasing

Chan Stroman has practiced commercial real estate law—with a focus on commercial leasing—as an attorney in private law firm practice, as the head of the legal department of a national real estate company, and as founder and principal of her own law practice. She'll reflect on a career that has seen the economy evolve from analog to digital and law practice evolve from institutional to entrepreneurial, and on challenges and opportunities for the future for career satisfaction and work-life balance.

Speaker: Chan Stroman, Landlord Counsel LLC
10 a.m. – 10:30 a.m. | The Current State of Retail: Imploding or Exploding? (0.5 Hour MCLE)

This presentation will provide the latest information on the state of retail markets. Special emphasis will be placed on crafting letters of intent.

Moderator: Jo Ann Woodsum, Woodsum Law Offices

Speakers:

Carrie Bobb, Carrie Bobb & Co.
Rhonda Diaz Caldewey, Managing Director, Cushman & Wakefield
10:45 a.m. – 11:45 a.m. | How do Landlords, Tenants and Mortgagees Interact During the Negotiations of Estoppels and SNDAs (1 Hour MCLE)

This workshop will explore the perspectives of landlords, tenants and mortgagees in the processing of tenant estoppel certificates. We will also examine the interplay of the competing interests of each of these three parties in the context of negotiating SNDAs. This workshop will encourage participants to evaluate the conflicting interests of the parties and discuss drafting compromises that work for everyone.

Speakers:

Sally Piotrowski, Assistant General Counsel Corporate, P.F.
Chang's Robin Cleary, Senior Councel, Real Estate, Lyft
Pam Dobie Key, Opus Law Group PLLC
12 noon – 12:45 p.m. | Lunch Keynote: Administrative Presiding Justice Mary J. Greenwood, the Sixth District Court of Appeal of the State of California

Women, Leadership & Justice
1 p.m. – 2 p.m. | Unconscious Bias – How to Spot It and Become an Inclusive Leader (1 Hour MCLE – Recognition and Elimination of Bias in the Legal Profession and Society)

This panel will explore the role of unconscious bias in firm/company politics including profit-sharing and building teams for large scale projects. Topics of discussion will include how to effectively argue for diversity in leadership at your law firm/company, how to overcome bias to gain respect and effective management of professional and nonprofessional staff . Topics of discussion will include how to develop your own style, effective communication strategies and how to overcome bias to gain respect

Speakers:

Chantelle C. Egan
Laura Maechtlen
Krista Mitzel
2:15 p.m. – 3:15 p.m. | The Doctor is in: Leasing to Medical Related Uses (1 Hour MCLE)

Shopping center developers, owners and investors are increasingly diversifying the tenant mix of their properties to include medical-related uses. This seminar will focus on what is driving such changes as well as what obstacles and/or issues are presented by such uses, including implications of existing reciprocal easement agreements, use restrictions, land use constraints, lender controls and regulatory requirements.

Speakers:

Patricia J. Hartman, Hanson Bridgett LLP
Barbara Finkle, Bartko Zankel Bunzel
3:30 p.m. – 4:30 p.m. | Unique Issues in Grocery Store Leasing (1 Hour MCLE)

Grocery stores are evolving at an ever more rapid pace. This workshop will offer an insider's perspective on unique opportunities for the leasing lawyer working in this dynamic area AND will address such lease provisions as assignment and subletting, use and exclusive use clauses, and rights to reduce and expand store footprint in the lease documentation.

Speakers:

Marilyn K. Beardsley, Vice President, Real Estate Law, Albertsons/Safeway
Carmelita Botelho, Vice President, Real Estate, Grocery Outlet
4:30 p.m. – 5:45 p.m. | Reception

You are invited to join us for a networking reception to make new contacts, exchange ideas, and enjoy a relaxing afternoon mingling with other commercial real estate leasing professionals.
Essential Information
How to Register
Note: Online Registration Closed. Onsite Registration Available!
Or mail the registration form to: Program Registrations, California Lawyers Association, 400 Capitol Mall, Suite 650, Sacramento, CA 95814
Or email Program Registrations at ProgramRegistrations@CALawyers.org. In order to email your registration, credit card information is MANDATORY. (Photocopies of checks will NOT be accepted.)
On-site registration is subject to availability. Call to confirm space availability.
Registration Fees
Real Property Law Section Members: $200 for all panels
Non Section Members: $280 for all panels
California Young Lawyers: $100 for all panels
Non-Lawyers: $100 for all panels
Government/Public Sector Attorneys & Inhouse Counsel: $100 for all panels
Registration Deadline
In order to pre-register, your form and check, payable to California Lawyers Association, or credit card information, must be received by October 28, 2019.
Refunds and Cancellations
Cancellations and requests for refunds must be received in writing no later than October 28, 2019 and are subject to a $50 service charge. Refunds will not be available after October 28, 2019.
Special Assistance
For special assistance please call 916-516-1760.
Questions
For registration information please call 916-516-1757. Telephone registrations will not be accepted. For program content or section questions please RealProperty@calawyers.org or call 916-516-1752.
California Lawyers Association is an approved State Bar of California MCLE provider.
This event may be recorded. By attending this event, you consent to be photographed, filmed, and/or otherwise recorded, and to any use, by the CLA, of your likeness, voice, and name in any and all media, including social media. If you do not want your name or photo to be used, please let us know in advance. We cannot, however, honor requests to opt out of the use of your image or voice if you choose to ask a question during one of the event sessions.
---
Related Content