Public Law Section Conference Addresses Major Issues Facing Policing in California
By John Appelbaum and Christopher B. Whitman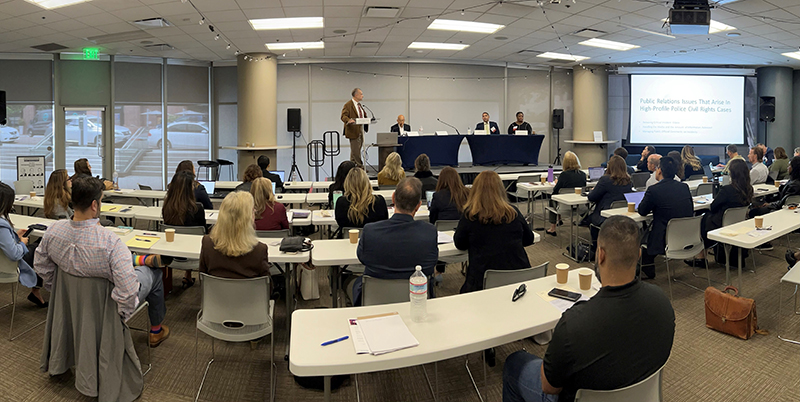 The Public Law Section held its Law Enforcement Practices and Liability Conference in San Diego on May 25 and 26, 2023. The timing of the conference was prescient given the Attorney General's June 30, 2023, release of the 2022 Criminal Justice Statistics Report that highlighted, among other things, the use of force by law enforcement in California.
The conference kicked off with San Diego District Attorney Summer Stephan, a leader in combatting sex trafficking, giving the opening remarks. Renowned Pulitzer Prize-winning LA Times columnist Robert Greene delivered the keynote discussing police accountability and the need for transparency in oversight. And San Diego Mayor Todd Gloria closed out the first day by sharing his comments regarding the importance of adopting reasonable reforms to improve policing and law enforcement accountability in California municipalities.
Panels discussed the role of race and policing, mental health crisis responses, officer discipline, bias, and free speech, the impacts of high technology on policing, ethics, and privacy, as well as the handling of critical use of force incidents and the effect of body-worn cameras. Participants learned by seeing actual footage of officers' responses and techniques that could have been employed to de-escalate tense encounters and how fast use-of-force encounters can turn deadly. Current events, such as the Antioch police scandal, were used to identify ongoing concerns with race in policing, and experts weighed in on steps that could have been taken to avoid or minimize the crisis.
Experts on all sides of the issues provided commentary and advice on the major issues facing policing in California. These experts included notable police chiefs (former Oakland Police Chief Howard Jordan and former Gardena Police Chief Ed Medrano), El Dorado District Attorney Vern Pierson, Crisis Intervention expert and former Ventura County Commander Mark Stadler, and renowned police defense attorneys Mike Rains and Tony Sain. Other experts included Deputy Public Defender Elizabeth Lashley-Haynes, Jay Stanley from the ACLU, Katie Reisner from the States United Democracy Center, and renowned plaintiff's counsel Gene Iredale.
John Appelbaum is an advisor to California Lawyers Association (CLA) Public Law Section Executive Committee. He has worked for the California Attorney General's Office for over 25 years.
Chris Whitman is a Deputy City Attorney in San Francisco who has been active in CLA's Public Law Section for many years.
---
Related Content