One and Done – MCLE Extravaganza
Friday, January 24, 2020
InterContinental San Diego
901 Bayfront Ct
San Diego, CA 92101
Earn 3.0 Hours of Legal Ethics Credit, 1.0 Hour of Competence Issues, 1.0 Hour of Recognition and Elimination of Bias
Schedule | Essential Information | Brochure | Reg Form
Online registration is now closed. Onsite registration will be available.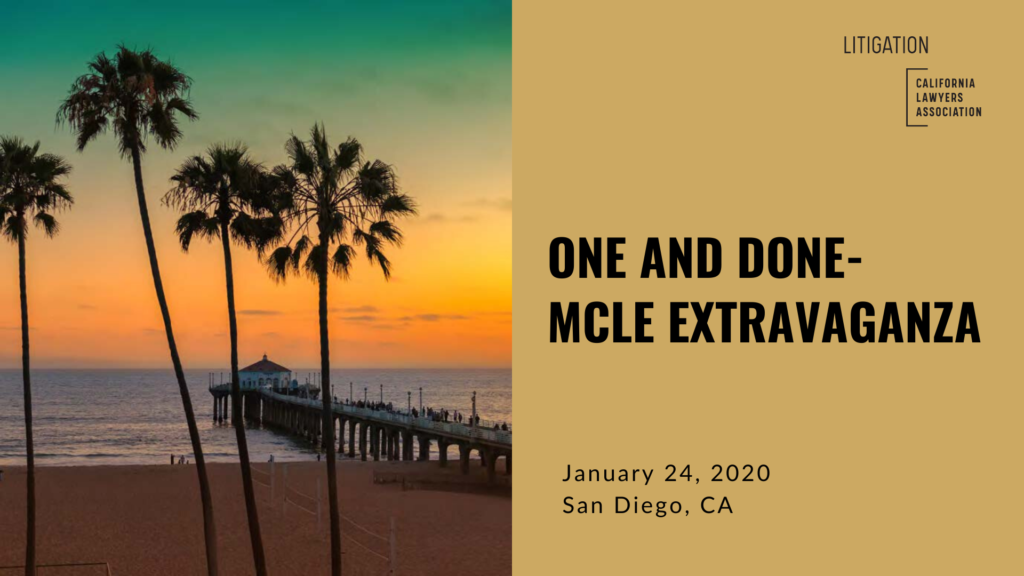 Short on Specialized MCLE credits? The end of the compliance period is fast approaching. Lucky for you the Litigation Section has you covered. Register today for the "One and Done" program on Friday, January 24 in San Diego. At this one day program you will receive all the required Specialized MCLE credits. The program includes one hour on Competence Issues and one hour in the Recognition and Elimination of Bias in the Legal Profession and Society. You will also receive four hours of Legal Ethics; three hours will be live and one hour will be an OnDemand webinar that you can access at your convenience.
Please join your colleagues for a networking reception following the One and Done MCLE Extravaganza, the reception will begin at 4:00pm and end at 5:30pm. Light Hors d'oeuvres will be served.
Program Schedule
8:00 a.m. – 4:00 p.m. | Registration

Remember to swing by the registration table to check in and put up your name tags.
8:00 a.m. – 8:30 a.m. | Continental Breakfast

Don't start the day with an empty stomach!
8:30 a.m. – 9:30 a.m. | On the Cutting Edge—Hot Topics and Recent Developments in Legal Ethics (1.0 Hour Legal Ethics)

Most legal ethics programs focus on how applicable rules, laws, and related opinions govern a lawyer´s behavior when he or she is practicing law. But what rules apply to a lawyer´s behavior off the clock?

Speakers:

Wendy Patrick, Deputy District Attorney—San Diego County
9:45 a.m. – 10:45 a.m. | Inebriation, Intervention & Insight (1.0 Hour of Competency Issue)

Lawyers have among the highest rates of alcoholism, depression, and suicide of any other profession. Between 50 and 80 percent of all lawyers who have discipline problems have substance abuse problems. There is no clear answer why this is the case. Perhaps it is due to the tough conflictual nature of the profession. It certainly is a reaction to stress. J. Gary Gwilliam, an attorney with over 40 years of experience who has tried over 180 jury trials to verdict, will discuss his own personal experiences and journey with alcoholism and will teach attendees how to deal with substance abuse issues within the legal profession.

Speaker:

J. Gary Gwilliam, Founding Partner—Gwilliam Ivary Chiosso Cavalli & Brewer
11:00 a.m. – 12 noon | Ethical Decision Making in Mediation (1.0 Hour Legal Ethics)

Practitioners participating in mediation faced sometimes challenging ethical dilemmas dealing with disclosures, negotiation tactics, confidentiality, client's autonomy, conflicts of interests, multicultural issues, and more. Learn from a seasoned mediator and an ethics expert how to effectively navigate these issues while honoring the professional norms and staying true to one's ethical compass.

Speakers:

Ana M. Sambold, Esq. Mediator—ADR Specialist Sambold Law & ADR Services
David Majchrzak, Klinedinst PC
12 noon – 1:30 p.m. | Attacks on the Judiciary: Keeping Politics Out of Our System of Justice

As lawyers and others involved in the administration of justice, we have a strong interest in protecting the judiciary from politics and special interests. Please join us for a lunchtime presentation by Justice Judith McConnell from the California Court of Appeal, Fourth Appellate District, about the Informed Voters Project, an initiative of the National Association of Women Judges (NAWJ). NAWJ launched the Informed Voters Project in 2012 as a civic education initiative to inform our citizens about the role of the judicial branch and awareness of political attacks. Our distinguished speaker will discuss the efforts to protect the judiciary from attempts to undermine the system of fairness was established when the United States Constitution was adopted more than 200 years ago. You will not want to miss this timely and critically important discussion, where you will learn more about the efforts to inform voters that politics, big money, and special interest have no place in the judicial branch, and that that judges should be evaluated based on character and integrity.

Hosted Lunch with Keynote Speaker:

Justice Judith McConnell, California 4th District Court of Appeal Division 1
1:45 p.m. – 2:45 p.m. | Elimination of Bias (1.0 Hour of Elimination of Bias)

Terrance J. Evans will moderate a discussion with leaders on issues of diversity and inclusion in the legal profession. The presentation will focus on the elimination of bias with respect to race, gender, ethnicity, nationality, and sexual orientation. Additionally, the presentation will suggest strategies for building a stronger and more inclusive legal profession.

Speaker:

Terrance Evans, Partner—Duane Morris LLP
3:00 p.m. – 4:00 p.m. | Ethics Update: What You Need to Know About the New Rules (1.0 Hour of Legal Ethics)

A comprehensive set of new Rules of Professional Conduct became effective on November 1, 2018. When these 69 new Rules went into effect, they replaced the 46 Rules of Professional Conduct that previously governed the conduct of attorneys in California. This program focuses on those new Rules of general application to most litigators.

Speaker:

Neil Wertlieb, Principal—Wertlieb Law Corp
Sponsors



---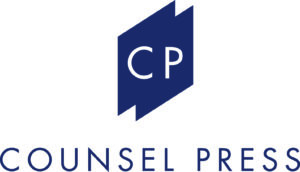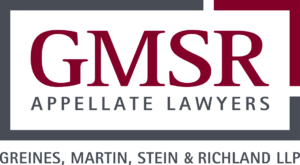 Essential Information
Registration Fees
$185 for Current Litigation Members
$280 for Non-Section Members
(includes enrollment in the Litigation Section for 2020)
How to Register
Register Online Here – Online registration is now closed. Onsite registration will be available. 
Mail completed registration and mail to:
Program Registrations, CLA
400 Capitol Mall, Suite 650
Sacramento, CA 95814
Email completed registration to ProgramRegistrations@calawyers.org. In order to email your registration, credit card information is MANDATORY. Photocopies of checks will NOT be accepted.
On-site registration will be on a space available basis. Call to confirm space availability.
Deadline
In order to pre-register, your form and payment to the California Lawyers Association must be received no later than January 20, 2020.
Cancellations & Refunds
Cancellations and requests for refunds must be received in writing no later than Monday, January 20, 2020 and are subject to a $50 service charge. Refunds will not be available after January 20, 2020.
Special Assistance
For special assistance, please call 916-516-1756.
Questions
For registration information please call 916-516-1757. For information regarding the program please call 916-516-1756.
This event may be recorded. By attending this event, you consent to be photographed, filmed, and/or otherwise recorded, and to any use, by the CLA, of your likeness, voice, and name in any and all media including social media. If you do not want your name or photo to be used, please let us know in advance. We cannot, however, honor requests to opt out of the use of your image or voice if you choose to ask a question during one of the event sessions.
---
Related Content