Meet the Eastern District's Newest District Judge: Jennifer L. Thurston
By Victoria Boesch[1]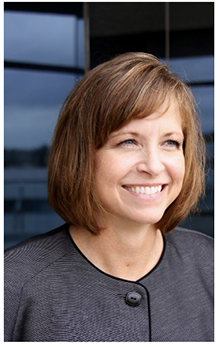 Judge Jennifer L. Thurston received her commission on December 27, 2021, filling the seat formerly held by the Hon. Lawrence J. O'Neill. Likely familiar to many FBA members, Judge Thurston served our district as a United States Magistrate Judge for twelve years before joining the district court bench. Before that, she litigated a huge variety of cases in Kern County including civil rights, personal injury, wrongful death, premises liability, election law, subrogation, and employment disputes. And she was a Certified Appellate Specialist, with more than 100 appeals and writs in the Ninth Circuit Court of Appeals, the Fifth District Court of Appeal, and the California Supreme Court under her belt.
Judge Thurston brought that considerable litigation experience with her into the brand-new Bakersfield courthouse when she began as a Magistrate Judge. She spent the bulk of her time on civil cases, and her prior work helped her understand the perspectives of the lawyers on those cases. In addition to handling preliminary criminal proceedings, arrest warrants, and misdemeanor sentencing, she resolved discovery disputes, set case schedules, presided over trials in consent cases, and conducted settlement conferences.
Overseeing countless settlement conferences made Judge Thurston an expert in how a lawyer can maximize the chance that such a conference will succeed. Prepare yourself and your client. Know your file, know your evidence, know your weaknesses, know the other side's arguments, and know your responses to them. Make sure that your client has a realistic view of what the case is worth. Lay the groundwork for a settlement by putting in the hard work before the settlement conference begins.
And if your case does not settle, advise your client to consider consenting to a Magistrate Judge hearing the case. Judge Thurston had a significant caseload of consent trials during her Magistrate Judge tenure, and she emphasizes the high quality of the Eastern District's Magistrate Judge bench. Our district's limited judicial resources can mean a long wait before getting a civil case to trial – consenting to a Magistrate Judge can solve that problem.
A former Board Member, Treasurer, and Vice President of the Kern County Bar Association, Judge Thurston values bar associations because they build a collegial practice in a community. Bar association activities create and strengthen relationships among lawyers. And those relationships benefit their clients, because it is much easier to communicate and resolve disputes with a lawyer you have taken the time to get to know in another context.
A wide array of relationships within the legal community can also help lawyers maintain perspective. Judge Thurston advises attorneys, especially newer ones, to take a step back and remember that not every point can be the most important. Lawyers should know their strong arguments and put their best foot forward. Including weak arguments can weaken your case. And your tone matters, in every filing. Focusing on personality disputes never serves your client's interests. Instead, view yourself as a problem solver, and help the court figure out how to move the case forward.
---
[1] Victoria Boesch is an Assistant United States Attorney for the Eastern District of California and the Programs Co-Chair of the Sacramento Chapter of the Federal Bar Association. This judicial profile was previously published by the Sacramento Chapter of the Federal Bar Association.
---
Related Content