Interview with Former U.S. Attorney Nick Hanna of the Central District of California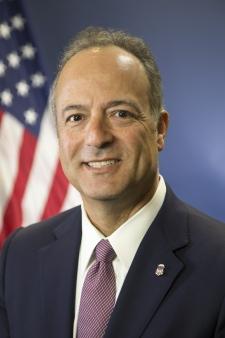 In this interview, Mr. Hanna, who recently returned to private practice at Gibson, Dunn, & Crutcher in Los Angeles, discusses his (now former) Office's accomplishments during his tenure, as well as challenges facing the Central District.
1. You have overseen a number of high-profile matters while in office. What are some of the cases you are most proud of during your tenure and why?
We've had a very a busy three years since I became U.S. Attorney. Before the pandemic hit, we increased the number of criminal defendants charged by over 41% above 2017 levels. And over the past three years, the Office recovered almost $4.5 billion in criminal penalties, civil recoveries, forfeitures, and restitution; an excellent return on investment given that our annual operating budget is a tiny fraction of that amount. I am particularly proud of the fact that since 2018, we've returned over $148 million in restitution to crime victims. We've achieved all this despite facing a myriad of challenges, including the longest federal government shutdown in history, social unrest, and a worldwide pandemic. These achievements are a tribute to the hard work and dedication of our AUSAs and staff.
In terms of specific case work, we've handled some of the most sophisticated and challenging matters in the country. For example, our Public Corruption and Civil Rights Section is pursuing a sweeping investigation into L.A. City Hall, which already has resulted in charges against two former City Councilmen, a former Deputy Mayor, and a billionaire developer. Our Major Frauds Section brought charges against high-profile attorney Michael Avenatti, and worked with our Civil Division to negotiate a $3 billion settlement and Deferred Prosecution Agreement with Wells Fargo. Our International Narcotics, Money Laundering and Racketeering Section created an Opioid Overdose Response Team, which investigates those who deal drugs resulting in death. That program generated dozens of arrests, including charges against West Hollywood resident Ed Buck, as well as the dealers who allegedly provided the drugs that killed rapper Mac Miller. Our Violent and Organized Crime Section brought federal charges against over 300 hard core gang members since 2018, including MS-13 members accused of several grisly homicides. Our Asset Forfeiture team handled the largest asset forfeiture in history, seizing over $1 billion in assets stemming from the 1MBD Malaysian banking scandal. And our Environmental and Community Safety Crimes Section recently filed charges against the Captain of the Conception, a dive boat that burned and sunk off the coast of Santa Barbara killing 34 passengers and crew.
On the National Security front, our team has been equally busy. We obtained a 20 year sentence for the man who supplied the weapons used in the 2015 terrorist shooting in San Bernardino; shut down one of the world's largest dark web marketplaces; convicted a Chinese researcher of economic espionage; and indicted a suspected terrorist who allegedly plotted to bomb a park in Long Beach. And in one of the most sophisticated nation-state cybercrimes in history, our team charged a North Korean hacker behind the Sony Pictures attack.
Our Civil and Tax Division AUSAs have also handled significant matters, including a major False Claims Act settlement with an opioid manufacturer, a civil rights investigation into the conditions at the San Luis Obispo County jail, and pursuing tax and penalties against undisclosed overseas bank accounts.
While I am proud of all these efforts, one case that stands out for me garnered much less publicity. Ali Elmezayen plotted for years to murder his ex-wife Rabab Diab and their disabled children and to profit off their deaths. He acquired $7 million in life and accidental death insurance coverage on his family with eight different companies, and then drove a car containing Ms. Diab and his disabled children off a pier at the Port of Los Angeles. Elmezayen, who had left his window open, quickly swam away. Ms. Diab, who did not know how to swim, survived when a fisherman threw her a flotation device. The two children, strapped into car seats, drowned. Following their deaths, Elmezayen falsely claimed that the crash was an accident and collected on the insurance policies he had taken out on the children's lives.
The state initially declined to file murder charges, concluding that the evidence was insufficient to show the crash was intentional. Not content with that result, two of our newest AUSAs chose to adopt the case and investigate further. Despite lacking jurisdiction for federal murder charges, the AUSAs, working with the FBI, were able to establish that Elmezayen crafted his scheme with the intent to defraud the life insurance companies. They charged Elmezayen with 14 counts of wire fraud, mail fraud, aggravated identify theft, and money laundering. In 2019, after deliberating less than two hours, a jury returned guilty verdicts on all counts. Elmezayen is due to be sentenced in January and faces a statutory maximum of 212 years in federal prison. Our team also shared their new evidence with the D.A.'s Office, which took another look at the case and subsequently filed capital murder charges. Thus, in addition to his federal conviction, Elmezayen will have to answer in state court for the murder of his two children. But for the tenacity of these AUSAs, Elmezayen would have gotten away with murder.
2. What do you hope will be your legacy in the Office and in the District?
First, I've had the good fortune to hire almost 100 new AUSAs over the past three years. These AUSAs will shape the Office for years to come, and some eventually will assume leadership positions. Second, I have worked to streamline our processes, enhance our technology and physical space, and give our team the tools to handle cases efficiently and aggressively. And finally, we've invested significant time and effort to deepen our relationships with our federal, state and local partners. With approximately 280 AUSAs for a population of 20 million people, my Office cannot tackle all of the issues facing this district alone. By leveraging our resources, we can proactively address criminal activity. For example, working with Homeland Security Investigations, we recently formed a multi-agency Financial Crimes Task Force to go after the professional money launderers, internet scammers, and narcotics traffickers who move their criminal proceeds through our banking system. I believe we will see the fruits of this Task Force for years to come.
3. What are some of the bigger challenges facing the District at this time?
Due to the COVID-19 pandemic, there hasn't been a jury trial in this district since March. As a consequence, we have a backlog of hundreds of criminal cases pending trial. Once jury trials resume in 2021, I expect a push to get those cases to trial, which will pose challenges for not just my office, but also the courts and the defense bar.
Moreover, we are seeing a spike in violent crime in certain parts of the district, with homicides surging 30% in Los Angeles this year compared to 2019. Reductions in prison populations due to the pandemic, coupled with relaxed state criminal enforcement, have let a lot of people out of prison who don't belong on the streets. I suspect our local law enforcement partners will be looking for help from the federal government even more than ever in the coming year.
4. What comes next for you after serving as US Attorney?
It has been the honor of a lifetime to lead this Office as U.S. Attorney, especially during these turbulent times. It will be hard to top this experience. But while I have always been drawn to public service, I have also enjoyed working with clients. So I expect to rejoin private practice in the near future.
---