25th Annual Public Sector Conference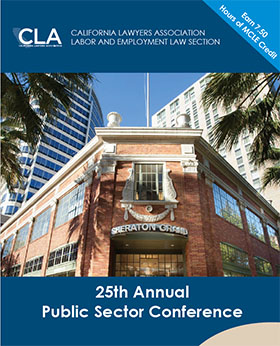 Friday, April 12, 2019
Sheraton Grand Sacramento Hotel
1230 J St.
Sacramento, CA 95814
Earn 7.5 Hours of MCLE Credit
ONSITE REGISTRATION AVAILABLE
More Links: Brochure | Registration Form 
 
Our Sponsors
The Labor & Employment Law Section extends its appreciation to our 2019 sponsors!
Amy Oppenheimer
Atkinson Andelson Loya Ruud & Romo
Best Best & Krieger
EXTTI, Incorporated
Kronick Moskovitz Tiedemann & Girard
Littler Mendelson, P.C.
Mizrahi Law, APC
Rudy Exelrod Zieff & Lowe
Siegel Lewitter Malkani
Sloan Sakai Yeung & Wong
Van Dermyden Maddux
Orrick, Herrington & Sutcliffe
Scholarships
The Labor and Employment Law Section of the California Lawyers Association is committed to encouraging the representation of persons of color, women, the LGBTQ community, people with disabilities, other underrepresented groups and those who work in the area of public service. As such, the Labor and Employment Law Section has committed to provide a full scholarship to those persons who have traditionally been underrepresented in our field in order to become familiar with the Labor and Employment Law Section and to encourage their membership and association.
Click Here for the Application
Scholarships only cover registration fees and not travel expenses. Applications are due by April 1, 2019 to Jinny Kim (jkim@legalaidatwork.org).
Schedule
7:45 – 8:45 a.m. | Continental Breakfast and Registration
8:45 – 10 a.m. | Concurrent Sessions

Putting Humpty Dumpty Back Together Again—the Challenges and Opportunities After Workplace Investigations (1.25 Hours MCLE)

The action plan when an employer receives a complaint of harassment is relatively straightforward. The challenge grows when results must be communicated, behavior modified, and the parties forced to address the conduct that created the "crash". This panel will speak from the perspective of the legal counsel, the executive coach, and the union representative – to identify effective practices to rebound from investigations and rebuild a healthy organization.

SPEAKERS:

Malia Vella, Staff Attorney and Public Policy Coordinator, Teamsters Local 856
Deborah Maddux, JD, SPHR, Senior Partner, Van Dermyden Maddux
Mary Egan, CEO/Managing Partner, Solutions-MRG

MODERATOR: Arlene Prater, Partner, Best Best & Krieger LLP

Keep Calm and Carry On: Post-Janus Case Developments and Legislation (1.25 Hours MCLE)

What's happened to public sector unions since the Janus decision? This panel will update you on the variety of lawsuits, new laws, and issues that have generated interest, debate, and decisions.

SPEAKERS:

Scott A. Kronland, Partner, Altshuler Berzon LLP
Che I. Johnson, Partner, Liebert Cassidy Whitmore
Sheena Farro, Regional Attorney, Public Employment Relations Board

MODERATOR: Ari Krantz, Board Member, Public Employment Relations Board
10 a.m. – 10:10 a.m. | Break
10:10 a.m. – 11:40 a.m. | In One Year and Out the Other: Year in Review (1.50 Hours MCLE)

Experienced and dynamic speakers will provide an overview of the latest developments over the past year in California public sector labor and employment law. The review will include updates on recent court decisions, new legislation, and administrative agency decisions.

SPEAKERS:

Tim Yeung, Managing Partner, Sloan Sakai Yeung & Wong LLP
Kerianne Steele, Shareholder, Weinberg, Roger & Rosenfeld

MODERATOR: Monica Guizar, Weinberg, Roger & Rosenfeld
11:50 a.m. – 12:50 a.m. | Keynote Luncheon:
Public Sector Labor Relations in Times of Strife: Challenges and Opportunities (1.00 Hour MCLE)

SPEAKER: Catherine Fisk, Barbara Nachtrieb Armstrong Professor of Law, Boalt Hall, University of California, Berkeley
1 p.m. – 2:15 p.m. | Concurrent Sessions

Prepare to Agree—PERB Informal Conferences and Impasse Mediations (1.25 Hours MCLE)

They say the way to get to Carnegie Hall is practice, practice, practice. The key to success in PERB informal conferences and impasse mediations is to prepare, prepare, prepare. Join our experienced panel for an animated discussion of practical tips, war stories, and friendly advice. Topics will include obtaining settlement authority, dealing with difficult personalities, helping your mediator help you, confidentiality concerns, drafting agreements, and how to get the best outcome for your client.

SPEAKERS:

Loretta van der Pol, Chief, State Mediation and Conciliation Service
Karl-Fredric J. Seligman, Administrative Law Judge, Public Employment Relations Board
Anita I. Martinez, Former Chair, Public Employment Relations Board

MODERATOR: Marie A. Nakamura, Shareholder, Dannis Woliver Kelley

Key Issues in Public Sector Employment Litigation (1.25 Hours MCLE)

This panel will analyze the nuances unique to public sector employment litigation, including administrative/judicial exhaustion, anti-SLAPP, immunities, punitive damages and more. This panel is appropriate for experienced agency and employee-side attorneys who are primarily engaged in public sector employment litigation or are preparing to be.

SPEAKERS:

David W. Tyra, Shareholder, Kronick, Moskovitz, Tiedemann & Girard
George Acero, Owner, Acero Law

MODERATOR: Kevin K. Hosn, California Department of Justice
2:15 p.m. – 2:25 p.m. | Break
2:25 p.m. – 3:40 p.m. | Bias and the Courtroom: A View from the Bench (1.25 Hours of Recognition and Elimination of Bias in the Legal Profession and Society MCLE)

With the increased recognition of how bias, both explicit and implicit, exists throughout society, we discuss how bias may impact the fundamental fairness of our legal system. Join us for a discussion with esteemed jurists as we discuss the impact of bias in jury selection, the influence of media or social media bias on jurors, reducing implicit bias in decision making, the impact of a diverse judiciary, and intervention strategies to counter implicit bias.

SPEAKERS:

Hon. Shelleyanne W.L. Chang, Judge, Superior Court of Sacramento County
Hon. James Lambden, Justice, Ret., California Court of Appeal, First District; Neutral, ADR Services, Inc.
Hon. Troy L. Nunley, United States District Judge, Eastern District of California

MODERATOR: Anne Giese, Chief Counsel, SEIU Local 1000
3:40 p.m. – 3:50 p.m. | Break
3:50 p.m. – 5:05 p.m. | Concurrent Sessions

Arbitration Remedies: Win, Lose or Draw? (1.25 Hours MCLE)

Experienced advocates and arbitrators will discuss how the union can benefit the most from winning an arbitration; how the employer can avoid a problematic remedy; and what happens when the arbitrator remands a remedy issue to the parties.

SPEAKERS:

Andria S. Knapp, Esq., Arbitration and Dispute Resolution
Susan K. Garea, Shareholder, Beeson, Tayer & Bodine
W. Daniel Clinton, Partner, Hanson Bridgett

MODERATOR: Katherine J. Thomson, Arbitrator, Mediator, Factfinder

Sex, Lies, and Diligence: Ethics in a New Era (1.25 Hours of Legal Ethics MCLE)

Not only are today's lawyers presented with ever-changing opportunities for success in advocacy, but we must also navigate recently changed ethical rules. Panelists will address many things an ethical employment lawyer needs to know but may be afraid to ask, with primary focus on the expanded new rules. Panelists will also discuss common missteps, best practices, and the role of attorney well-being in encouraging ethical conduct.

SPEAKERS:

Daniel J. O'Rielly, Partner, O'Rielly & Roche, LLP
Alison P. Buchanan, Shareholder, Hoge Fenton

MODERATOR: Latika Malkani, Partner, Siegel LeWitter Malkani
5 p.m. – 6 p.m. | Reception (Appetizers and No-Host Bar)

Please join us for a networking reception with conference speakers, Executive Committee Members, and fellow labor and employment attorneys and professionals.
Essential Information
The conference registration fee includes your choice of attendance at the MCLE courses, course materials, continental breakfast, and networking reception. A separate fee will be charged to attend the luncheon program.
Registration Fees
PRE-REGISTRATION FEES
Present through April 5, 2019.
– $270 Labor & Employment Law Section Member
– $365 Non-Section Member*
(*Includes enrollment in the Labor & Employment Law Section for 2019)
REGISTRATION FEES (CHOOSE ONE FEE PLAN)
After April 5, 2019 and onsite – Based on space availability.
– $315 Labor & Employment Law Section Member
– $405 Non-Section Member*
(*Includes enrollment in the Labor & Employment Law Section for 2019)
Ticketed Events (Check to purchase) – Luncheon Keynote x $20
How to Register
ONLINE REGISTRATION IS CLOSED. ONSITE REGISTRATION AVAILABLE.
Or print the registration form and mail to:
Program Registrations
California Lawyers Association
400 Capitol Mall Way, Suite 650
Sacramento, CA 95814
On-Site Registration
On-site registration will be on a space available basis. Call to confirm space availability.
Pre-Registration Deadline
In order to pre-register your form and check, payable to the California Lawyers Association, or credit card information, must be received by April 5, 2019.
Cancellations & Refunds
Cancellations and requests for refunds must be received in writing no later than Friday, April 5, 2019 and are subject to a $50 service charge. Refunds will not be available after April 5, 2019.
Program Materials
Conference materials will be available online prior to the conference and provided on a USB drive at the conference. Wi-Fi will not be available inside the conference rooms.Should you prefer to reference printed materials during the conference, please feel free to access the online information and print out the materials prior to the conference. If you have an electronic device without a USB port or built-in Wi-Fi, please save the online files to your desktop/device so that you may access the materials during the conference. No printed materials will be provided at the conference.
Special Assistance
For special assistance, please call (916) 516-1748. For registration information, please call (916) 516-1757. For information regarding the program, please call (916) 516-1748.
Questions
For registration information please call (916) 516-1757. For information regarding the program please call (916) 516-1753.
California Lawyers Association and the Labor and Employment Law Section are approved State Bar of California MCLE providers.
This event may be recorded. By attending this event, you consent to be photographed, filmed, and/or otherwise recorded, and to any use, by the CLA, of your likeness, voice, and name in any and all media including social media. If you do not want your name or photo to be used, please let us know in advance. We cannot, however, honor requests to opt out of the use of your image or voice if you choose to ask a question during one of the event sessions.
---
Related Content