CLF Signature Speaker Series: Impact Through Non-Profits
January 25
@
6:00 pm
–
7:30 pm
Presented by the California Lawyers Foundation, the non-profit arm of the California Lawyers Association.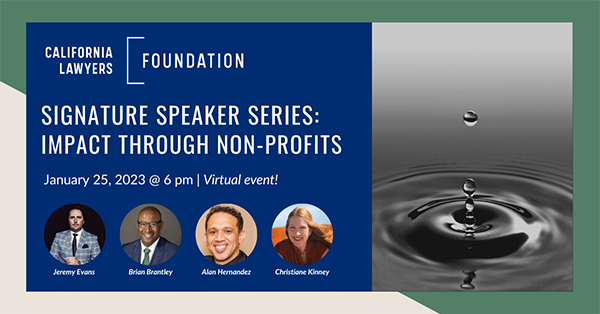 Pricing:
$25 general
free for students and recent grads (2021+)
Join us for an evening with legal and business professionals as we explore the real world impacts possible when working in non-profit organizations. Hear a variety of perspectives and experiences. We hope attendees will leave with inspiration to inform their own paths and pursuits in the legal community.
Moderator: Jeremy Evans, President, California Lawyers Association
Speakers:
Brian Brantley, Director of Major Gifts, Rose Bowl Legacy Foundation
Alan Hernandez, MBA, Director, Corporate and Community Impact, American Heart Association
Christiane Kinney, President and Co-Founder, Hearts Giving Hope Foundation, Inc.; CEO and Founder, Kinney Law, P.C.
The California Lawyers Foundation (CLF) believes in a legal profession that mirrors our population, in access to justice for all and in a society that understands the equalizing role of the rule of law and judicial branch. Specifically, the Foundation works on three core initiative areas: access to justice; civics engagement and education; and diversity, equity and inclusion. As part of CLF's core work, we host a signature speakers series on a variety of topics over the course of the year. In 2022, CLF had a particular focus on educating the next generation and current lawyers about opportunities in the legal profession through this series.
Please note that this event is limited to the live presentation; recording is not permitted.