Pepperdine University Music Modernization Act
Roundtable Panel at the Grammy Museum
Presented by the Pepperdine Institute for Entertainment, Media, Sports, and Culture, and California Lawyers Association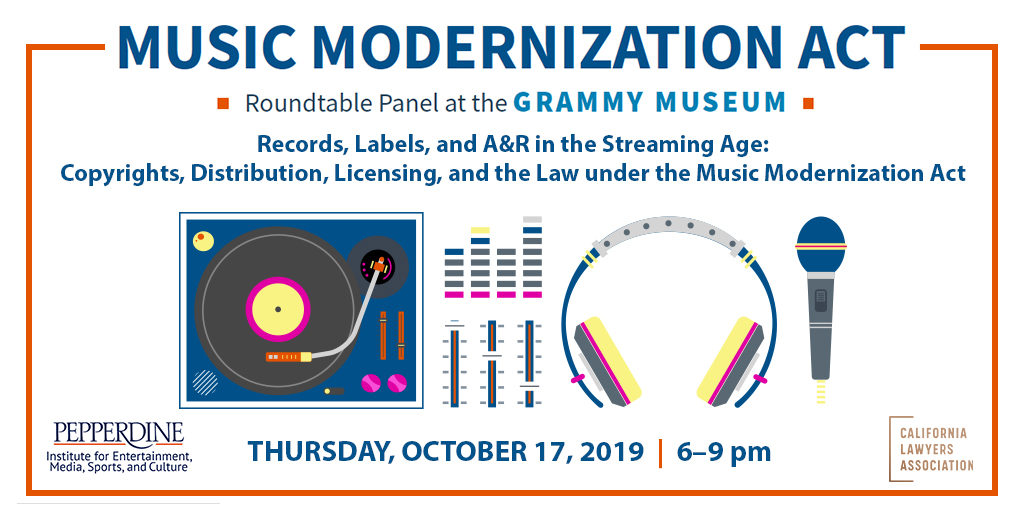 Clive Davis Theater | L.A. LIVE, 800 W Olympic Blvd, Los Angeles, California
Thursday, October 17, 2019
6 p.m. – 9 p.m.
6–6:30 p.m. Networking/Check-In
6:30–8:30 p.m. Roundtable Panel
8:30–9 p.m. Wrap-Up and Networking; Post L.A. LIVE Networking
Earn 2.0 Hours of General MCLE Credit
Producer: Jeremy M. Evans
Records, Labels, and A&R in the Streaming Age: Copyrights, Distribution, Licensing, and the Law under the Music Modernization Act
The Music Modernization Act ("MMA"), signed into law October 11, 2018, is the most extensive revision of the Copyright Act since the Digital Millennium Copyright Act ("DMCA"), almost exactly twenty years earlier. Every industry probably considers itself complex in its nuances, but the Copyright Office, when describing the § 115 Reform Act of 2006 ("SIRA") to the House Judiciary Committee, suggested that "the sheer number and complexity" of issues in music licensing "render a holistic solution improbable, if not impossible." SIRA's attempt at a relatively narrow solution had failed to attract consensus among rights owners in the music industry (performing artists and composers, music publishers and record labels, digital music services, etc.) on how to address certain problems, and what resulted twelve years later was an omnibus approach carefully constructed to balance at least some of the needs and interests of virtually all constituencies in the music business. This panel discusses how the bill came together and what it means for the industry, how it affects lawyers and their clients, and best practices.
Speakers:
Jacqueline C. Charlesworth, Partner, Alter, Kendrick & Baron, LLP
Bill Colitre, Vice President and General Counsel, Music Reports, Inc.
Sarah Rosenbaum, Music Counsel, YouTube
Brigid McNally, Senior Manager, Licensing, Rhino Records, A Warner Music Group Company
Registration Info
Deadline: Pre-registration on the CLA website closes Friday, October 11, 2019. On-site registration is available as space permits; please call (916) 516-1757 to check space availability.
Or mail the registration form to: Mail your completed Registration Form to: Program Registrations, California Lawyers Association, 400 Capitol Mall, Ste. 650, Sacramento, CA 95814
Or email a scan of your completed Registration Form with credit card information to ProgramRegistrations@CALawyers.org. (Photocopies of checks will not be accepted)
Cancellations: All sales are final.
Registration Fees
CLA members – $195
Non-CLA members – $250
CYLA members/students – $100
Academic Faculty/Staff – $100
Light appetizers and refreshments included.
All sales are final.
The California Lawyers Association is an approved State Bar of California MCLE provider.
This event may be recorded. By attending this event, you consent to be photographed, filmed, and/or otherwise recorded, and to any use, by the CLA, of your likeness, voice, and name in any and all media including social media. If you do not want your name or photo to be used, please let us know in advance. We cannot, however, honor requests to opt out of the use of your image or voice if you choose to ask a question during one of the event sessions.
---