Courts Pivot to Deal with COVID-19 Surge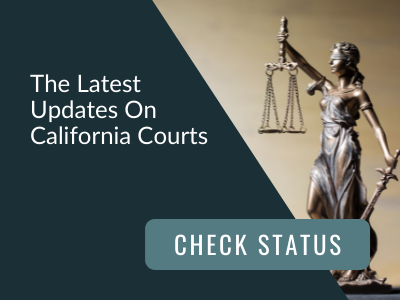 California courts have begun postponing trials and taking other steps to limit the spread of the highly contagious omicron variant, which has sent the state's COVID-19 infection rate climbing to new highs.
Emergency orders previously issued by Chief Justice Tani G. Cantil-Sakauye allow courts across the state to request relief measures to adjust or suspend court operations in the wake of the COVID-19 pandemic.
"I want to thank the Chief Justice for her continued support and recognition of the varying public health conditions in the counties around the state," Los Angeles County Superior Court Judge Eric C. Taylor said in a January 4 statement announcing the court's two-week delay in criminal jury trials. "Her order has given us the flexibility for our trial courts to balance access to justice with local public safety needs."
Here are some of the latest announcements from courts across the state, as of Jan. 6:
Superior Courts
Alameda County Superior Court will temporarily cut back its telephone, drop box, and clerk's office hours effective January 10, 2022. In a January 5 announcement, the court also encouraged parties to appear remotely when possible.
Kern County Superior Court temporarily closed the Shafter Multi-Divisional Courthouse and moved proceedings to Delano Superior Court Division B, effective January 5, 2022.
Los Angeles County Superior Court asked its civil court judges to consider delaying in-person proceedings and bringing back the use of social distancing measures. The request was in addition to the two-week pause on criminal trials.
Orange County Superior Court urged attorneys and litigants to use remote appearances. Through at least the end of January, the court will also reduce the number of jurors reporting at any one time.
Riverside County Superior Court has temporarily suspended criminal and civil jury trials not already in progress and is limiting access to courthouses.
Sacramento County Superior Court, citing a four-fold increase in COVID cases, has restricted the number of jury trials, increased physical distancing requirements, limited in-person proceedings, and encouraged parties to appear remotely when possible through at least January 21, 2022.
San Mateo County Superior Court extended the criminal trial deadline for 30 days. The court has also temporarily closed some in-person court appearances through January 14. All traffic and small claims cases will be rescheduled to a later date.
San Bernardino County Superior Court suspended all new criminal jury trials through January 27, 2022, and civil jury trials through at least February 22, 2022.
Sonoma County Superior Court has postponed all criminal jury trials until after March 1, unless a defendant exercises their right to a speedy trial. Civil jury trials will be rescheduled until after March 31, 2022.
Courts of Appeal
The Fourth District Court of Appeal, Division One, will return to remote-only oral arguments for the January calendar.
The Second District Court of Appeal Clerk's Office in Ventura (Division 6) is open by appointment only, effective January 4, 2022.
Federal Courts
U.S. District Court for the Northern District of California suspended jury trials through Jan. 26.
U.S. District Court for the Central District of California suspended jury trials through Jan. 24.
---