Selected Developments in Business Law — Understanding Fiduciary Duties in Business Entities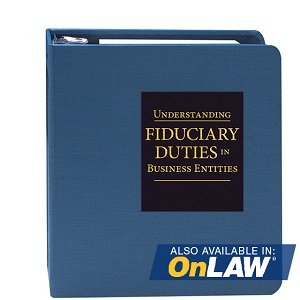 Courtesy of CEB, we are bringing you selected legal developments in areas of California business law that are covered by CEB's publications. This month's feature is from the March 2021 update to Understanding Fiduciary Duties in Business Entities. References are to the book's section numbers. The most significant legal developments since the last update include developments in such important topic areas as fiduciary duties in for-profit corporations, fiduciary duties in family businesses, breach of fiduciary duty litigation, and D & O insurance.
March 2021 Update
Fiduciary Duties in Delaware Limited Liability Companies
It is well settled in Delaware that removal of default fiduciary duties through an LLC agreement must be accomplished with clear and unambiguous language. 77 Charters, Inc. v Gould (Del Ch May 18, 2020, No. 2019-0127-JRS) 2020 Del Ch Lexis 186, *22. "Although fiduciary duties may be disclaimed, agreements' drafters must do so clearly, and should not be incentivized to obfuscate or surprise investors by ambiguously stripping away the protections investors would ordinarily receive." Ross Holding & Mgmt. Co. v Advance Realty Group, LLC (Del Ch Sept. 4, 2014, No. 4113-VCN) 2014 Del Ch Lexis 173, *51. See §3.54.
Fiduciary Duties in For-Profit Corporations
The Delaware Chancery Court in Juul Labs, Inc. v Grove (Del Ch Aug. 13, 2020, No. 2020-0005-JTL) 2020 Del Ch Lexis 264, ruled that a shareholder of a privately held Delaware corporation headquartered in San Francisco could not seek inspection of the company's books and records under Corp C §1601 because Delaware law governed the corporation's internal affairs, the shareholder's inspection rights were a matter of internal affairs, and the shareholder therefore had to pursue any remedy in the Delaware Chancery Court under the exclusive forum-selection provision in the company's certificate of incorporation. The court emphasized the constitutional foundation of the internal affairs doctrine, while conceding that the doctrine does not apply if the rights of third parties external to the corporation are at issue, as in contract and tort actions, or if application of the doctrine is outweighed by a significant interest of the forum state in the corporation and its shareholders. See §4.5.
In both California and Delaware, there are statutory duties of full disclosure when shareholder or disinterested director approval is sought for an interested director transaction or a transaction between corporations with interlocking directors. Delaware courts have also recognized a common law duty of disclosure, which is contextual. See, e.g., Dohmen v Goodman (Del 2020) 234 A3d 1161. See §4.23.
The "entire fairness" test is used if the directors had actual conflicts of interest and, as a result, the challenged decision was not made by a disinterested and independent board majority. See Cede & Co. v Technicolor, Inc. (Del 1993) 634 A2d 345, 361; Salladay v Lev (Del Ch Feb. 27, 2020, No. 2019-0048-SG) 2020 Del Ch Lexis 78 (self-dealing by majority of board members). See §4.31.
Interest in so-called stakeholder capitalism has increased significantly since the onset of the COVID-19 pandemic and the 2020 protests over systemic racism. A consensus seems to be developing that it is permissible for directors to consider, selectively, the interests of nonshareholder stakeholders in their decision making, if there is alignment with the long-term interests of shareholders. See, e.g., Atkins, Kin g, and Gerber, Skadden, Arps, Slate, Meagher & Flom LLP, Stockholders Versus Stakeholders—Cutting the Gordian Knot (Aug. 24, 2020), available https://corpgov.law.harvard.edu/2020/08/24/stockholders-versus-stakeholders-cutting-the-gordian-knot /See §4.59.
To claim the protection of the business judgment rule, a director must be disinterested, sufficiently informed, and diligent to avoid a charge of negligence, and have a rational basis for the decision. It is clear that the business judgment rule "does not shield actions taken without reasonable inquiry, with improper motives, or as a result of a conflict of interest." Berg & Berg Enters., LLC v Boyle (2009) 178 CA4th 1020, 1045 (citations omitted). See also Coley v Eskaton (2020) 51 CA5th 943, 953 (director cannot obtain benefit of business judgment rule when acting under material conflict of interest). See §4.66.
Fiduciary Duties in Family Business Transactions
In Marriage of DeSouza (2020) 54 CA5th 25, 34, the court held that despite a wife's disinterest and lack of involvement in finances during marriage, the husband's nondisclosure of postseparation community investment in bitcoin was a breach of fiduciary duty because "[a] spouse who may be reliant on and trusting of the other during marriage, may well exercise independent judgment and rely on new advisors after separation." See §6.8.
Breach of Fiduciary Duty Litigation
A federal court plaintiff must have standing under Article III of the U.S. Constitution to pursue any kind of breach of fiduciary duty claim. In Thole v U.S. Bank N.A. (2020) ___ US ___, 140 S Ct 1615, the Supreme Court found participants under an ERISA defined-benefit plan did not have standing to sue the administrators for breach of fiduciary duty in their management of the plan's assets because the participants' income from the plan was fixed and their payments were not at risk of nonpayment. See §8.9.
There is no Article III standing requirement in a California superior court. But a state court plaintiff is still required to plead an actual justifiable controversy and have some special interest to be served or some particular right to be preserved or protected over and above the interest held in common with the general public. San Diegans for Open Gov't v Public Facilities Fin. Auth. for the City of San Diego (2019) 8 C5th 733, 738. See §8.9.
In Summers v Colette (2019) 34 CA5th 361, the court held that Corp C §5233(c) provided a nonprofit corporate director standing to sue to address self-dealing by another director, even after the plaintiff-director was removed from her directorship. See §8.9.
In Hodges v County of Placer (2019) 41 CA5th 537, plaintiff's real property was sold by the county at a tax sale and the net proceeds from the sale were paid to the plaintiff. The court affirmed the county's demurrer because the Revenue and Taxation Code did not create a fiduciary relationship, saying: "[that] the statutes direct the County to hold the sale proceeds in a trust fund sheds little light on whether the County is a strict trustee owing fiduciary duties." 41 CA5th at 549. See §8.28.
When an attorney is sued for breach of fiduciary duty, the test for determining whether the 1-year limitations period under CCP §340.6 applies is whether the claim necessarily depends on proof that the attorney violated professional obligations as opposed to some other nonprofessional obligation. Nguyen v Ford (2020) 49 CA5th 1. See §8.36.
In Center for Healthcare Educ. & Research v International Congress for Joint Reconstruction, Inc. (Nov. 30, 2020, No. D076513) 57 CA5th 1108, the court held that because the plaintiff was seeking the equitable remedy of disgorgement of secret profits, not the legal remedy of compensatory damages, the plaintiff was not required to show that it suffered pecuniary harm to establish a right to disgorgement of the profits that the defendants earned from their misconduct. See §8.49.
In Lopez v Escamilla (2020) 48 CA5th 763, plaintiff obtained a money judgment against the corporate defendant for breach of fiduciary and filed a new action to add the sole shareholder as a defendant. The court of appeal held the plaintiff could seek to add the sole shareholder as a judgment debtor by filing a motion in the existing case or by filing a new action. The court also determined that there was no statute of limitations barring the new suit because "the court is not entering a new judgment, but merely inserting the correct name of the real defendant." 48 CA5th at 765. See §8.53.
D & O Insurance
An insurer may rescind a policy on the basis of misrepresentations in policy applications. The fact that the insurer has demanded answers to specific questions in an application for insurance is in itself usually sufficient to establish materiality as a matter of law. Scottsdale Ins. Co. v Computer Sciences Corp. (9th Cir 2020) 804 Fed Appx 722 (applying California law). See §10.59.
---
Related Content