Agribusiness Committee 2019 Water Tour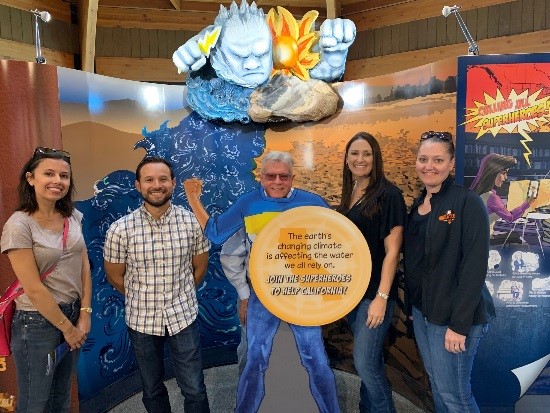 On September 20, 2019, the Agribusiness Committee traveled to the San Luis Joint-Use Complex in Gustine, California. The Joint-Use Complex serves the State Water Project and the Federal Central Valley Project and includes the San Luis Reservoir, O'Neill Dam and Forebay, Gianelli Pumping-Generating Plant, B.F. Sisk Dam, Dos Amigos Pumping Plant, and a 103-mile portion of the California Aqueduct. This project was built by the U.S. Bureau of Reclamation and is operated by the California Department of Water Resources.
The group was greeted by Mr. Mike Cardoza, the HEP Operations Superintendent and Mr. Anthony Ramirez, the Chief Hydroelectric Plant Operator. Mr. Cardoza and Mr. Ramirez led the group out to the Romero Visitors Center where they overlooked the San Luis Reservoir and viewed exhibits and videos that highlighted California's world-renowned water delivery system.
The attendees next drove to the Gianelli Pumping-Generating Plant located alongside the O'Neill Dam and Forebay where they explored the interior workings of this impressive facility. The network of gigantic pipes and motors was truly an extraordinary site as there are eight enormous turbines that pump water back and forth from the O`Neill Forebay and the San Luis Reservoir. Mr. Cardoza and Mr. Ramirez informed the group that the plant operators have to consistently strike the proper balance in deciding when to let water flow into the reservoir for water supply and when to let it flow out of the reservoir to generate electricity and obtain energy credits.
After touring the San Luis Reservoir and the Gianelli Pumping-Generating Plant, the attendees met at the San Luis & Delta-Mendota Water Authority's Office in Los Banos for lunch and additional presentations. Speakers Andrew Garcia, Senior Civil Engineer for the San Luis & Delta-Mendota Water Authority, Lauren D. Layne of Baker Manock & Jensen, and Jarrett Martin of Central California Irrigation District discussed with attendees the various issues related to the Sustainable Groundwater Management Act (SGMA), subsidence impacts in the Delta-Mendota Subbasin, and the next steps for SGMA implementation.
About the Agribusiness Committee
The BLS Agribusiness Committee is involved in all aspects of the agribusiness industry. The Committee's programs and publications are industry driven and its members include outside and in-house lawyers serving agribusiness. This Committee is perfect for lawyers who are either already representing agribusinesses or who practice in any of the many substantive areas affecting agribusinesses such as food safety, water rights, environmental, employment, intellectual property, tax, estate planning, corporate, contracts, marketing, distribution, and business litigation. The Committee invites speakers to address such issues as safe drinking legislation, the future of the Bay Delta and water conveyance, recent actions on Proposition 65, climate adaptation and healthy soils, air regulations, packaging and incentives.
---
Related Content