---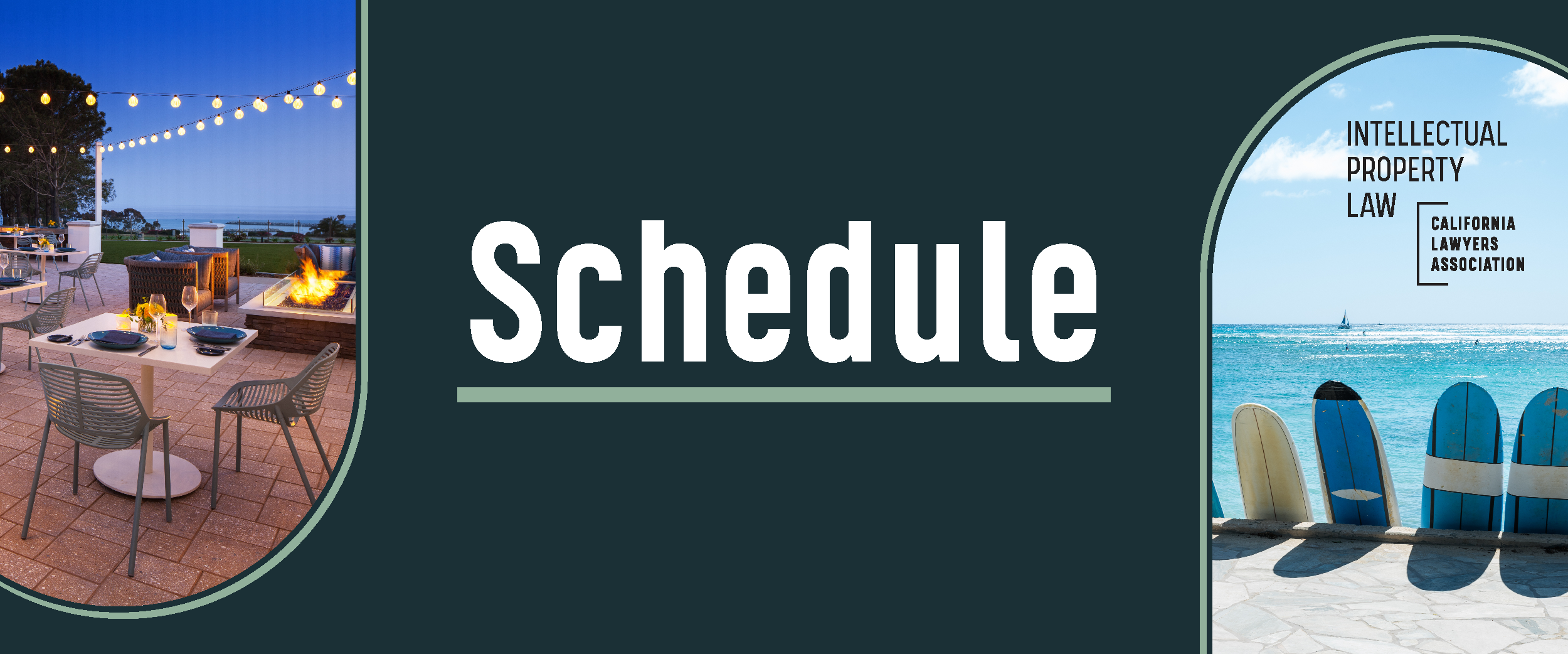 ---
Schedule
Thursday, November 3, 2022
Welcome Reception | 5:00 p.m. – 7:30 p.m.
Friday, November 4, 2022
---
9 a.m. – 10 a.m.
Keynote Speaker: Why The Copyright Act Never Goes Out of Fashion

1 Hour MCLE

Since its passage in 1976, the Copyright Act has seen a large volume of amendments. In fact, Congress has revised its handiwork an average of once every eight months, year in and year out, during those four-plus decades. Some amendments have been limited, even of a technical nature. Others have been massive. The sum total is a gigantic volume of legislation. The current investigation wrestles that large body into manageable form. Through the vehicle of focusing on proposed amendments to Title 17 of the United States Code in order to encompass fashion design within the ambit of copyright law, it aims to draw lessons applicable to the entire corpus of statutory law—and perhaps to offer some guideposts for the future.

Widely recognized as a foremost expert in copyright law, David Nimmer represents clients in the entertainment, publishing and high technology fields. He has twice served as co-counsel representing clients before the U.S. Supreme Court. On the first occasion, a unanimous decision in favor of his client drew the boundaries between copyright and trademark protection. In the second, another unanimous decision in favor of his client set the stage to compensate all freelance journalists in the country for their past articles. Read More
10:15 a.m. – 11:15 a.m.
European Unitary Patent System (UPS) and Unified Patent Court (UPC) … Key Considerations for U.S. Applicants and Patentees

1 Hour MCLE

The Unitary Patent and Unified Patent Court are expected to come into force in the coming months. How does this long-in-the-waiting change affect filing and enforcement strategy for U.S. companies? As with most things there are pros and cons to choosing the new patent system. The UPS can be used to cover many EU countries in one patent application with fewer fees which potentially offer a significant reduction in costs, depending on which EU states you pursue protection in and for how long. Applicants will still have the option to use the current European grant procedure (equivalent to a "bundle" of separate European national patents). The UPC will allow enforcement across most of the EU in a single action with potentially significant reduction in costs. But this benefit may be at substantial risk of a single central revocation action with effect across the same territories. How do you weigh the pros and cons of each process? Our panel of experts will evaluate the strategic considerations in navigating the key considerations.

Adam Pawlowski, European Patent Attorney, EUPATENT Law Firm
Craig Litherland, Head of Intellectual Property, Mainspring Energy
Ilya Kazi, European Patent Attorney, IK-IP LTD Law Firm
Copyright Fair Use Developments Since Google v. Oracle

1 Hour MCLE

Copyright fair use is a dynamic topic with constant, though nuanced, developments in the caselaw. The Supreme Court has taken a renewed interest in fair use – from last year's Google v. Oracle case to the Warhol Foundation case currently before the Court. Join our expert panelists to explore the fluid landscapes of this complex area of copyright law and learn how best to think about the fundamentals of fair use.

Tyler Ochoa
Vijay Toke
Jacqueline Charlesworth
11:30 a.m. – 12:30 p.m.
Getting Value from Your Patent Portfolio: The Business and Dynamics of Patent Licensing, Sale and Other Monetization Techniques

1 Hour MCLE

Do you want to get more value from your patent portfolio? Join our expert dealmakers' panel for an in-depth, wide-ranging and interactive discussion of the business of patent monetization and licensing. There is no "one-size-fits-all" model, and each deal must be carefully tailored to the individual characteristics of patent owner, of the customer, and of the industry dynamics and lifecycle. We will explore a variety of different mechanisms, including exclusive and nonexclusive licensing, cross licensing, patent sales, patent pooling and/or aggregation, litigation, and anything in between. We will dive into the critical differences between these approaches, including revenue expectations, market evolution, deal timing, risk/benefit considerations, customer selection, negotiation dynamics and legal considerations. Each of our panelists has decades of experience in this area, as both in-house and outside counsel, working in a wide range of industries. Come, listen and join the discussion!

Taraneh Maghameh
Joseph Yang
Noel Egnatios
How to Build a Privacy Compliance Program to Address 4, 5,… 20 State Privacy Laws

1 Hour MCLE

While the CCPA and CPRA have been everyone's "favorite" four letter words when it comes to emerging U.S. privacy law, a creeping patchwork of state privacy regimes is spreading across our nation. With four additional state privacy laws coming into effect in the next 18 months, privacy compliance is about to take center-stage. Additionally, in California we are set to see an expansion of privacy rights activity on January 1st as the B2B and HR exemptions expire and new rights relating to sensitive data, cross-context behavioral advertising, and automated decision making come into effect. As in-house or outside counsel, understanding how to approach compliance with these various laws for your clients is becoming an ever more important, complex, and intricate undertaking. Join our incredible panelists for the 360 degree perspective – in-house counsel, outside counsel, and the all-important privacy tech underpinning everything.
12:30 p.m. – 2 p.m.
Lunch with Table Topics

Join the IP Institute to a networking lunch where different table topics will be of choice.
2 p.m. – 3 p.m.
Lawyer Competence in TV and Film: Black and White on the Silver Screen but Shades of Gray in Real Life

1 Hour MCLE; 1 Competence Issues

In this fun and engaging lawyer competence CLE, we will review various issues of lawyer competence through the lens of movie and television cameras. By reviewing some iconic film and TV moments, Neel Chatterjee and Jen Fisher will discuss core concepts of lawyer competence. The presentation will include discussions about mindfulness, imposter syndrome, mental health, substance abuse, temporary impairment, and stigma. This CLE is a great way to learn about multiple issues associated with lawyer competence while being entertained.

Neel Chatterjee, Goodwin Proctor, LLP
Jennifer Fisher, Goodwin Proctor, LLP
3:15 p.m. – 4 p.m.
Interest Group Networking
5 p.m. – 7 p.m.
Evening Harbor Boat Cruise

Join other IP Institute Attendees for a casual harbor cruise, enjoy cocktails and light bites. RSVP required.
8 p.m. – 10 p.m.
Cannabis IP Interest Group Night Cap Networking Mixer

Join the Cannabis IP Interest Group for a night cap at the bar to discuss all things cannabis. First come, first serve, limited to 25 tickets for complimentary drinks. Once tickets are distributed, individuals pay on own.
Saturday, November 5, 2022
---
6:30 a.m. – 7:30 a.m.
Meditation and Yoga on the Lawn

Meet us on the lawn for morning meditation and yoga! Instructors from I Heart Yoga will guide you through a 45 minute meditation and yoga session. RSVP required.
9 a.m. – 10 a.m.
Vanguard Fireside Chat

Each year at the IP Institute, the IP Section honors outstanding legal professionals in the judiciary, private practice, in-house practice, and academia for their contributions to the advancement of intellectual property law. Join us for a fireside chat with the four outstanding award winners. Please visit our website in the coming weeks for updates on the award winners' bios and award titles.
10:15 a.m. – 11:15 a.m.
Patent Law 2022 in Review

Our panelists will take you through the major highlights from 2022 in patent law and recent patent law cases.
DMCA and User-Generated Content: Modern Industry Challenges and Solutions

1 Hour MCLE

The nature of content, especially in industries surrounding user-generated content, has drastically changed since the introduction of the DMCA in 1998. The world has social media platforms, streaming services, video games that allow users to build their own video games, and more. The sheer scope of content has reached levels it is unlikely were ever truly contemplated in 1998 (or likely even in 2008). Join our incredible panel with amazing speakers from companies with unique DMCA challenges such as Facebook, Roblox and Adobe, to dive down on some of these new challenges, industry solutions to those challenges, and future and ongoing trends related the UGC and DMCA.

Speakers:

Brian Smith, Roblox
Christina Doelling, Facebook
11:30 a.m. – 12:30 p.m.
Leveraging Patents and Technology to Grow Your Client's Cannabis Business

1 Hour MCLE

This panel will discuss the wild world of patents and licensing within the cannabis industry. While the phrase cannabis patents invokes the concept of plant patents, they are not limited to plants alone. From pharmaceutical applications to accessories to methods of extraction and purification, there is a wide range of utility patents and technologies available to the growing cannabis industry. This panel combines viewpoints from in-house and outside counsel and will tell you how patent and technology licensing can help grow your business. The panel will cover how a well-executed patent and licensing strategy can help cannabis companies increase enterprise value, attract investors, neutralize competitive threats, and create opportunities for exits.
Bursting the Aesthetic Bubble: Debating Aesthetic Functionality

1 Hour MCLE

Resolved: should a trademark owner be able to prevent third parties from using their trademarks in an aesthetic or ornamental manner? Join the attorneys who represented Redbubble and Atari in debating exactly this topic. The speakers will argue the pros and cons of the recent Redbubble case decision and its impacts on your trademark law practice.
2 p.m. – 3 p.m.
Arbitrating Domestic and Transnational IP Disputes

1 Hour MCLE

Different technology sectors vary widely in their views about ADR, but IP arbitrations are here to stay and will likely grow more common. Delving deeper than a simple "Arbitration 101," this panel will examine advanced issues of particular importance to technology lawyers faced with an actual or prospective arbitration. Topics will include:

Special considerations regarding arbitrator selection in technology disputes;
Best practices in providing for (and seeking) preliminary injunctive relief from courts and arbitrators;
Optimizing the scope of discovery (or evidence exchange) in arbitral proceedings;
Innovative procedures to facilitate early resolution of IP disputes;
Arbitral safeguards for trade secrets and other sensitive information – including preferred strategies in drafting arbitral awards; and
Strategies for correcting and challenging arbitral awards – in the courts and through innovative procedures recently adopted by leading arbitral institutions. Ambassador (r.) David Huebner, Dana Welch, Marcus Quintanilla

Speakers:

Ambassador (r.) David Huebner
Dana Welch
Marcus Quintanilla
Public Display, Embedding, and the Server Test

1 Hour MCLE

Join panelists Stephen Doniger of Doniger/Burroughs and Xiyin Tang of UCLA for a lively discussion of the 9th Circuit's controversial "Server Test:" How its adoption altered the trajectory of both copyright law and technology, a review of the arguments of its many critics (and supporters), and predictions of how its potential demise could alter the relationship between social media platforms and creators.

Speakers:

Stephen Doniger, Doniger/Burroughs
Xiyin Tang, UCLA
John Wierzbicki, Vice-Chair, IP Section Copyright Interest Group
3:15 p.m. – 4:15 p.m.
Patent Examiners: The Good, The Bad, and the Ugly Truth About Patent Prosecution

1 Hour MCLE

At its best, patent prosecution is a collaboration between patent examiners and patent practitioners. Sometimes, it is an adversarial process fraught with disagreement and misunderstanding between examiners and practitioners that can be traced to the "type" of examiner the practitioner is dealing with, and the practitioner lacking the tools to resolve the situation. This panel will address how practitioners can resolve issues and collaborate with examiners while maintaining courtesy and decorum before the USPTO (as required by 37 C.F.R. 1.3) in the course of being an advocate for their client. Various issues will be discussed, including how to deal with US Patent Examiners of varying levels of experience and authority (e.g., New Examiners, Primary Examiners, "English as a Second Language" Examiners, etc.), case law being "ignored" or misapplied by Examiners, Examiners disregarding "mere attorney argument", etc.. There will be discussion of the USPTO's Patent Ombudsman program, and how the Patent Ombudsman can help resolve issues between examiners and practitioners.

Speakers:

Robert Bailey, Senior IP Counsel, NetApp
Tariq Hafiz, USPTO
Matthew J. Spark, Of Counsel, Zuber Lawler LLP
TJ Singh, Partner, Loza & Loza, LLP
Latest Developments in Trade Secrets Litigation and Protection

1 Hour MCLE

Experienced panel of trade secret attorneys, who recently co-edited and co-authored the Section's updated trade secret treatise, will lead a thorough discussion of the latest developments in trade secrets litigation and protection. Highlights of the discussions include, updated pleading standards, tailoring requests for injunctive relief, sufficiency of trade secret identification statements, damages, effectively using forensic evidence, trade secret protection plans, and non-disclosure and restrictive covenant agreements.

Speakers:

Rebecca Edelson, Sheppard Mullin
Robert Milligan, Seyfarth Shaw LLP
Randy Kay, Jones Day
4:25 p.m. – 5:25 p.m.
Avoiding Ethical Wipeouts in IP Practice

1 Hour Legal Ethics

This program covers the button ethics issues that IP attorneys confront on a regular basis. Topics include:

New rules and key opinions
Confidentiality and privilege in IP cases, including issues arising from protective order violations
Duty of loyalty and conflict issues that arise in IP cases
Duties related to candor to the USPTO and courts
Duties regarding third parties
Duties of supervisory and subordinate attorneys
USPTO OED rule changes and disciplinary decisions

Speaker: Michelle Galloway, Cooley