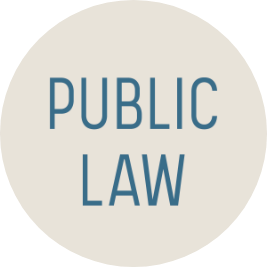 The Public Law Section promotes the practice of public law by attorneys employed by public agencies and attorneys in private practice who represent public agencies or those who have dealings with public agencies.
The Public Law Section seeks to ensure that laws affecting the public sector are clear, effective and serve the public interest; to advance public service through public law practice; and to enhance the effectiveness of public law practitioners. With more than 1,300 members, including law students, the Public Law Section focuses on addressing issues related to all areas of public law – including administrative law, constitutional law, municipal and county law, open meetings/open records laws, political/election law, education law, water law, state and federal legislation, public employment, government contracts, government tort liability, agency regulations, land use/environmental issues, public lawyer ethics, and public finance.
The Public Law Section provides educational programs, seminars and resource materials; presents the annual "Ronald M. George Public Lawyer of the Year Award" to public law practitioners who have made significant contributions to the profession; sponsors the annual Student Writing Competition; and publishes the quarterly Public Law Journal.
Mission
The mission of the Public Law Section is to:
Ensure that laws affecting the public sector are enacted and implemented in a manner which is clear, effective, and serves the public interest.
Advance public service by recognizing the important contributions of public law practitioners.
Provide resources for public law practitioners through publications, continuing education and other projects.
Identify and analyze the unique ethical issues affecting public lawyers.
–Adopted November, 1998
Benefits
Members of the Public Law Section receive the following benefits:
Member discount rates to CLA Signature Events
Member discount rates to CLA webinars
Free printed publication, the Public Law Journal, which includes a self-study article in each issue
Free issues of The Public Law eNews
Writing and presentation opportunities
Leadership, training, and opportunities
Committee Involvement
Recognition
We encourage you to join the Public Law Section.
Contact Us
Public Law Section
California Lawyers Association
400 Capitol Mall, Suite 650
Sacramento, CA 95814
PublicLaw@calawyers.org