AN INTERVIEW WITH WEBINAR PRESENTER WENDY THOMAS
By: Wendy Thomas, Esq. and RPLS E-News Staff.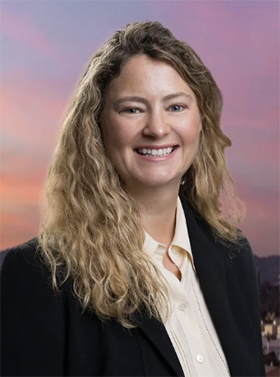 E-News: Can you tell us a little about yourself.
Wendy Thomas: I have been practicing as a civil litigator for 13 years, and I am currently practicing in Los Angeles. My practice focuses on professional liability litigation, including attorney malpractice, real estate broker malpractice claims, and claims against insurance agents, financial advisors, intra-corporate management disputes, and shareholder derivative litigation. Before I started working as a civil litigator, I worked as a state prosecutor in New York and then a federal prosecutor in the Northern District of California.
E-News: You have presented and will be presenting a total of three webinar programs that are hosted by CLA-RPLS this year. On March 14, 2023, you presented, "Compliance With Law on Charging Liens," as well as the April 20, 2023 "Cross-Over Risks for Real Estate Lawyers Who Also Act as Real Estate Brokers," and the upcoming May 24, 2023 "Recent Updates on Legal Malpractice Cases Against Real Estate Lawyers." First and foremost, thank you for your time in organizing and presenting those webinars! Can you tell us how your role in those webinars came to be?
Wendy Thomas: I was contacted by the CLA RPLS chair of education committee (Martin Triano) about participating in a webinar. He knows about my practice areas and encouraged me to pick subjects that I was familiar with that would help elevate the level of practice among the CLA-RPLS membership. Because I get to see the scenarios that give rise to malpractice claims, I proposed a few ideas. I have observed that in many instances the conduct that gives rise to a malpractice claim arises not from malice but instead from a desire to find creative ways to help the client. I wanted to try to give the CLA-RPLS members an idea of common situations where an attorney trying too hard to find ways to help the client outside of a straightforward attorney-client representation can actually result in the attorney slipping into danger without seeing it.
E-News: That sounds exceptionally helpful. Without repeating the entire contents, can you give us a few examples of the kinds of situations that are prominent in your presentations?
Wendy Thomas: Sure. A classic example is the situation in which an attorney that is also licensed as a real estate broker agrees to list a property for sale for an existing or former client. In that situation, the attorney/broker would have potentially inconsistent disclosure obligations. As an attorney the duty to maintain client confidence is very clear, however as the listing broker there are certain disclosure obligations to the buyer that would otherwise compel disclosure. There are similar kinds of problems that arise where the buyer is unrepresented, and out of the structure of broker compensation through a commission create conflicting incentives and obligations. Some of these conflict-of-interest situations are intractable, but others can be resolved through proper disclosure and waiver. I also dedicated one of the webinars to the issue of engaging in business transactions with a current client, like establishing liens against the client's property and/or future recovery, which is typically done by attorneys who are trying to help a client secure litigation funding when they are short on capital but long on legal claims.
E-News: I can definitely see how it would be easy for an unwary attorney to stumble into ethical problems in those situations if they weren't alerted to the risks.  Thank you again for donating your time and sharing your knowledge with CLA-RPLS community to help raise the level of practice in our community.
---