Mayra Joachin to Receive 2020 Jack Berman Award of Achievement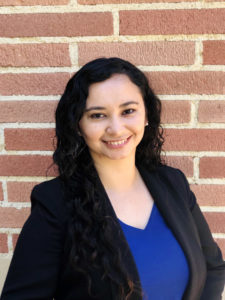 The California Young Lawyers Association is pleased to award the 2020 Jack Berman Award of Achievement to Mayra Joachin.
The California Young Lawyers Association (CYLA) annually confers the Jack Berman Award of Achievement to recognize a new or young California lawyer within their first eight years of practice for distinguished service to the public, the judiciary, or the legal profession. We had an outstanding pool of nominees this year, and we would like to recognize and thank everyone who took the time to send in submissions.
More about Mayra Joachin
Mayra Joachin focuses on advancing the rights of low-income immigrants through impact litigation, direct work with affected individuals, administrative advocacy, and technical assistance. Her passion for immigrants' rights stems from her experiences as a Salvadoran immigrant.
Her main areas of work involve expanding immigrants' access to status and crucial services, including access to health care and to public utilities, for all individuals regardless of race, status, or national origin. Ms. Joachin has appeared as counsel on several cases, including: Batalla Vidal v. Wolf, a lawsuit challenging the DACA rescission which resulted in the Supreme Court setting aside the 2017 Duke Memorandum that ended DACA, allowing hundreds of thousands of DACA recipients to continue to apply for protection for deportation and work authorization; GA State Conference of the NAACP v. LaGrange, a lawsuit in Georgia challenging two discriminatory utility policies that, after obtaining a favorable decision by the Eleventh Circuit, resulted in the Circuit recognizing fair housing act claims for individuals who are discriminated against after they acquire housing; and La Clinica v. Trump, the first lawsuit on behalf of organizations challenging the Trump Administration's public charge regulation and which is currently before a district court.
Ms. Joachin holds a bachelor's degree from the University of California, Los Angeles, and a J.D. from Columbia Law School.
More about the Award
CYLA established this prestigious award in 1992 in memory of Jack Berman. Mr. Berman was a young attorney who performed outstanding service to both the public and profession before he tragically died in a shooting in San Francisco. The Award honors his dedicated service to issues of concern to the profession, especially to its young lawyers.
In conferring the award, the CYLA Executive Committee considers projects or services to the public, the judiciary, and/or the legal profession that the young attorney has taken part in or spearheaded. To be eligible, an awardee must also be an active California attorney in his or her first 8 years of practice. The projects or services may—but need not be—pro bono. The award is intended to recognize an early-career lawyer for his or her individual achievements and contributions.
The award will be conferred upon Ms. Joachin by the CYLA Executive Committee after the CLA Annual Meeting on Saturday, September 26, 2020.
Past recipients of the award, including biographies, can be seen here.
---