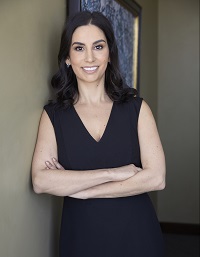 Two years ago, when I assumed my role as Chair of the IP Section, I – like everyone else – could not have imagined what the following two years would hold. My first appearance as Chair was at the last in-person conference the IP Section held, our flagship IP Institute, which was at the Wynn in Las Vegas in November of 2019.  Since that time, the Executive Committee (ExCom) only met in person once, in Oakland in January of 2020. Not surprisingly, we then cancelled our March meeting, and all subsequent meetings have taken place via Zoom. By the summer of 2020, we made two very hard decisions: 1) to ask all Officers, ExCom members, and Interest Group representatives to continue to serve in their positions for another year, and 2) to postpone the 45th IP institute to 2021. There were many bumps along the way, but to say I learned a lot would be an understatement.
 I want to make a last push to encourage you all to get involved in the IP Section. There has never been a better time. You can start small!  Reach out to one of our Interest Group (IG) representatives with an idea for a webinar or discussion topic. You can sign up to receive notifications from the IG(s) that interest you, using the link in this issue of ID, or you can find all of our IG representatives listed on the "IP INTEREST GROUPS" tab on our Section homepage: calawyers.org/IP. As a reminder, our IGs include Cannabis; Copyright; Entertainment & Sports; In-House Counsel; International; Legislation; Licensing & Technology Transactions; Litigation; Patent; Technology, Internet & Privacy; Trademark; and Trade Secrets. If you have questions, please reach out to me. I am happy to hop on a call and make sure you end up in the right hands. 
I will miss being Chair, but I am so excited about what is to come. Sanjesh Sharma will be taking over as Chair, Emily Yu as Vice-Chair, and John Pavolotsky as Secretary.
Signing off for now, but I hope to see you all again soon!
Sincerely,
Heather Antoine
Stubbs Alderton & Markiles, LLP
---