IP Section Internet Conference: Review by Angela Greenspan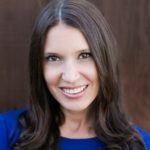 IP Section Internet Conference, June 2019
IP Section Reporter: Angela Greenspan
The California Lawyers Association Intellectual Property Law Section hosted the 2019 IP and the Internet Conference on Thursday, June 6, 2019, at the Luskin Conference Center, UCLA. The conference was a one-day event that began with a delightful breakfast and ended with a networking reception. It was a day packed with learning and sharing pertinent information about industry changes and advancements.
The event opened with the Keynote Speaker, Mike Masnick, Founder of TechDirt and CEO of Floor64 who discussed "Can an open Internet and Copyright Law Co-exist?"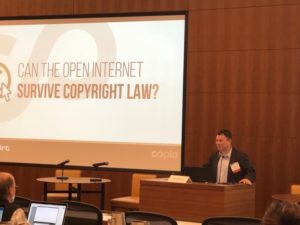 Masnick is not an attorney but shared his valuable experience and perspective on the issues facing copyright law and the internet. One of the big takeaways from this talk was that when you need permission to be creative, you run into problems.
Also covered was the controversial new EU Copyright Directive under Article 13. It mandates that online platforms filter copyrighted material from their websites. We see this happening on Facebook already when someone posts a picture of their child dancing at a wedding. The music playing in the background is protected by copyright so it must be taken down. Many people are outraged that sites like Facebook are now filtering their content. They must take action to pull content if they find it is in breach of copyright. Mike said, "Your ability to communicate can be infringed when it comes to copyright law. It is time to rethink the way copyright law works," which means that the way we use social platforms will drastically shift in the years to come.
Another fascinating topic was "Social Media Influencers as a Practice." The speakers were Denise Howell, TWiT.tv and Hannah Taylor, a partner with Frankfurt Kurnit Klein & Selz.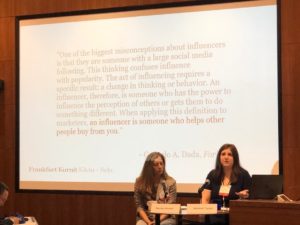 They shared the challenges lawyers face when working with marketing departments who are working with social media influencers.
Social media influencers are similar to celebrities. They may not be thrilled when you tell them they have to do things a certain way. However, like any other advertiser, they must follow FTC regulations. Influencers can get into legal trouble if they do not use the right disclosures in their social media posts. The issue arises when consumers are misled. To avoid this, the speakers advised that the best practice is to place #ad in the body of the post. It is best not to try to bury the hashtag in the bottom with 20 other hashtags. Put it in the body so the average consumer can understand.
Midday we all attended a luncheon. It was structured with discussion table topics. Attendees were able to choose the topic of interest and have a valuable conversation with other experts in their field. Conference speakers and other expert practitioners lead the discussion topics. It was an interactive opportunity for attendees to discuss issues and get answers to pressing questions.
The speakers were engaging and welcomed questions. I had the opportunity to speak with several of them after their sessions. As a student about to finish my law degree, I enjoyed the opportunity to meet with professionals in this educational setting to learn more about IP law. Emily Yu, the conference chair did an incredible job putting on this event. Thank you to her and her incredible team as well as the IP Section for the opportunity to attend this event as a student reporter.
---