Family Law: Anatomy of a Trial
October 13 in Oakland and October 27 in Los Angeles
8:30 a.m. to 4:30 p.m.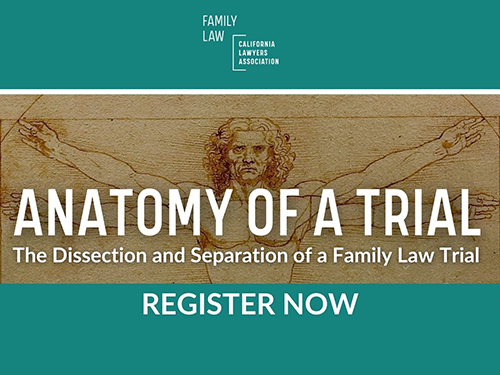 California Lawyers Association's Family Law Section presents an exciting in-person one-day seminar on the various aspects of conducting a family law trial. Each live program is presented by:
Honorable Mark Juhas (L.A. Superior Court)
Honorable Monica Wiley (S.F. Superior Court)
Andrea Palash, CFLS, AAML
Avi Levi, CFLS, AAML, IAFL
Event attendees will benefit from this unique opportunity to learn practical pointers via a dialogue between the Bench and Bar and demonstrations on the most important aspects of trial advocacy. This is an excellent opportunity for you to gain knowledge and insight of:
Judicial officers' perspectives on do's and don'ts during trial
Seasoned practitioners' tips on best practices during trial
How best to develop a theme and theory of your case
Why you should present an opening statement
How to advance your case theory in direct examinations
How to ask engaging questions in direct examinations
What to do with an adverse witness in cross-examinations
How to effectively disprove or counter damaging evidence with rebuttal witnesses
How to impeach an expert witness
Persuasive methods in presenting your expert witness
When to use, admit and exclude evidence
How to overcome potential objections
Most persuasive use of your closing argument
Best practices in seeking relief from the court
Effective use of technology and visual aids in closing arguments.
Learn more about the esteemed faculty of recognized judges and trial lawyers on this web page.
Register for the Oakland seminar or the Los Angeles seminar. 
---
Related Content