The Judicial Appointment Process: What You Need to Know – A Special Program for Riverside and San Bernardino Counties
May 11, 2021
@
5:30 pm
–
7:00 pm
Free event! No MCLE.
Diversifying the profession and our bench is critical for all Californians. Hear from the Governor's Deputy Judicial Appointments Secretary, the new Chair of the Judicial Nomination Evaluation Committee, two sitting judges and a member of the local joint Judicial Selection Advisory Committee about the judicial appointments process and how to plan your path to the bench.
This program is collaboratively presented by the Riverside County Bar Association, the San Bernardino Bar Association, the California Lawyers Association, and the Judicial Council of California.
Speakers include:
Gonzalo C. Martinez, Deputy Judicial Appointments Secretary, Office of California Governor Gavin Newsom
Stella Ngai, Chair , Judicial Nominees Evaluation ("JNE") Commission
Hon. Corey Lee, Member of the joint Riverside and San Bernardino Judicial Selection Advisory Committee
Introductions by the Riverside County Superior Court Presiding Judge Hon. John Monterosso and San Bernardino County Superior Court Presiding Judge Hon. Michael Sachs
Moderated by Hon. Raquel Marquez, Riverside County Superior Court
To submit questions in advance:
Please email questions to ellen.miller@calawyers.org by May 5, 2021.
Sponsors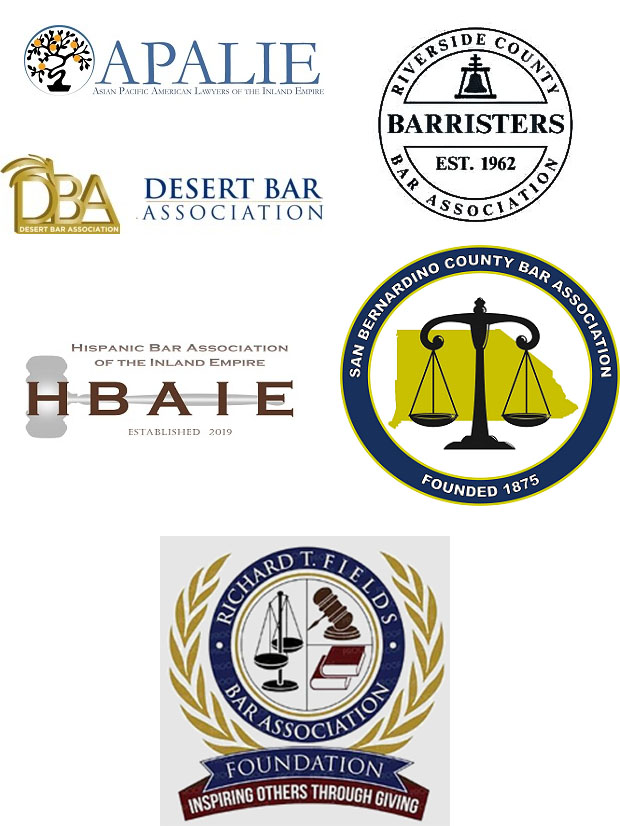 Asian Pacific American Lawyers of the Inland Empire
Desert Bar Association
Hispanic Bar Association of the Inland Empire
Riverside County Barristers – Riverside County Bar Association
Richard T. Fields Bar Association Foundation
San Bernardino County Bar Association
Southwestern Bar Association