CLF Signature Speaker Series: High Stakes Litigation with Celebrity Clients
July 26
@
5:30 pm
–
6:30 pm
Presented by the California Lawyers Foundation, the non-profit arm of the California Lawyers Association.
Students & Recent Graduates (since 2021) | Free
Suggested Donation General Admission | $25
Elective Donation General Admission |  $1+
No Donation General Admission | Free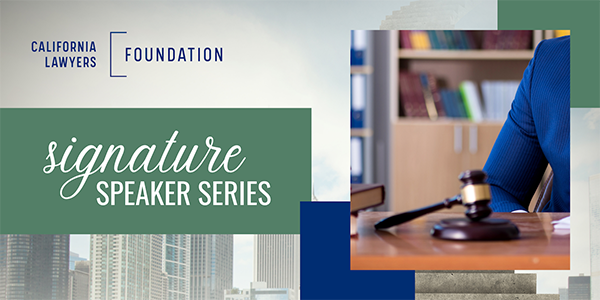 Preparing for litigation is a difficult task. Preparing for litigation with the press and high-profile clients can be even more difficult. From Marsha Clark to Johnnie Cochran and Robert Shaprio, to Camille Vasquez and Ben Chew, to Jeffrey Kessler and Mark Geragos, attorneys have often led the way with their clients or when representing the state using tactics that have worked and not worked. Oftentimes, it is the trial within the trial or the personalities within the trial that garner attention, but our speakers will highlight the skills necessary to zealously advocate for your client and share lessons learned with tips on best practices in advocacy. Join the two attorneys who litigated, prosecution and defense side, the New York Harvey Weinstein case!
The California Lawyers Foundation (CLF) believes in a legal profession that mirrors our population, in access to justice for all and in a society that understands the equalizing role of the rule of law and judicial branch. Specifically, the Foundation works on three core initiative areas: access to justice; civics engagement and education; and diversity, equity and inclusion. As part of CLF's core work, we host a signature speakers series on a variety of topics over the course of the year. CLF has a particular focus on educating the next generation and current lawyers about opportunities in the legal profession through this series.
If you would like to support the Foundation and our work, you can click here or use the button below to make a tax-deductible donation to our 501(c)3 organization.
Speakers:
Donna Rotunno, Partner, Law Office of Rotunno & Giralamo PC
Joan Illuzzi-Orbon, Of Counsel, Perry Law
Moderator: Jeremy M. Evans, President, California Lawyers Association; Founder and Managing Partner, California Sports Lawyer®

Donna A. Rotunno is a Chicago-land native who has been practicing criminal law for twenty-three years, and is the founding partner of her own law practice. Ms. Rotunno began her legal career as a prosecutor in the Cook County State's Attorney's Office. As a prosecutor, Ms. Rotunno litigated hundreds of cases in multiple divisions of the Circuit Courts of Cook County.
After three years as a prosecutor Ms. Rotunno left the State's Attorney's office to pursue a career as a private criminal defense attorney. In 2005, she became the principal member of her own law firm in Chicago. Since then, her practice has grown in both size and prominence. Ms. Rotunno is widely regarded as a leading authority on criminal litigation in Cook County. She has secured numerous judgments of acquittal on behalf of clients in both state and federal court. Her work on behalf of her clients has garnered several professional accolades, as well as a feature-story and professional biography in the February 2018 issue of Chicago Magazine titled "Why Donna Rotunno Defends Men Acussed of Rape."
She has represented several high-profile clients in cases that have made local, national, and even global headlines. Most recently, she gained extensive media attention and was profiled by publications such as The New York Times, The Guardian, and Vanity Fair for her role as lead counsel in the New York criminal sex assault trial of former Hollywood producer Harvey Weinstein. Currently, Ms. Rotunno represents hundreds of defendants facing the most serious of criminal charges in not only the State of Illinois, but around the country as well. A portion of her practice is also devoted to serving as a strategic advisor to individuals in the public eye who find themselves in contact with the criminal justice system.
When she's not pursuing her professional endeavors, Ms. Rotunno spends her time doing charity work, traveling, spin class, and being with her fourteen godchildren.
Joan Illuzzi-Orbon recently retired from law practice and now serving as a fellow at the Manhattan Institute, has been called one of the top prosecutors in New York. She worked at the Manhattan district attorney's office for 33 years, where her roles included trial lawyer, senior trial counsel, chief of hate crimes, then executive assistant and chief of the trial division. A graduate of New York University and St. John's University School of Law, she entered the district attorney's office upon graduation, and has spent her life in an urban environment, building a career in public service.
Illuzzi-Orbon has tried some of the most complex and high-profile cases in New York, such as the murder of "realtor to the stars" Linda Stein, the double murder at Scores nightclub, the kidnapping and murder of six-year-old Etan Patz thirty years after his disappearance from lower Manhattan, and most recently the prosecution of Hollywood producer Harvey Weinstein. For over three decades in the district attorney's office, she has conducted intricate, exhaustive investigations into murders, conspiracies, kidnappings, and serial killings. During many of these investigations she has cooperated dozens of felons, monitoring them for extended periods of time, and providing structure and security to prevent repeat criminal activity.
A fellow with the prestigious American College of Trial Lawyers, Illuzzi-Orbon is a public service awardee, recognized by her peers in the legal community, both prosecutors and the defense bar, for her trial accomplishments and dedication. Eager to share her skills, she has mentored students and lawyers, supervising 400 lawyers in her last role at the district attorney's office, and providing advice and opportunities to other young professionals. She has been called upon to lecture lawyers regularly on topics such as the role of the prosecutor, and the preparation, writing, and delivery of summations. She has also guest lectured before numerous New York state judges, at Columbia Law School, and at Fordham Law School, and is an adjunct in St John's University graduate program on homeland security and criminal justice.
Jeremy M. Evans is the Chief Entrepreneur Officer (CEO), Founder & Managing Attorney at California Sports Lawyer®, representing entertainment, media, and sports clientele in contractual, intellectual property, and dealmaking matters. Evans is an award-winning attorney and industry leader based in Los Angeles and Newport Beach, California.
His clients range from Fortune 500companies to entrepreneurs, athletes, entertainers, models, directors, television showrunners and film producers, studios, writers, individuals and businesses in contractual, intellectual property, formation, production, distribution, negotiation, and dealmaking matters. Evans is a graduate of the University of California, Los Angeles (UCLA) with a Bachelor of Arts in Political Science with an Emphasis in American Politics (BA '05), Thomas Jefferson School of Law with a Juris Doctor (JD '11), Pepperdine University Rick J. Caruso School of Law with a Master of Laws in Entertainment, Media, and Sports Law (LLM '18), and Pepperdine University George L. Graziadio School of Business and Management with a Master of Business Administration in Entertainment, Media, and Sports Management (MBA '20).
Prior to opening California Sports Lawyer®, Evans worked as a Graduate Law Clerk at the Superior Court of California, advising judicial officers in civil and criminal law and motion matters. Prior to law school, he worked as the associate director for corporate finance at Quinn Emanuel Urquhart & Sullivan LLP. He has also worked as a legislative aide and field representative in the California State Legislature and continues to work on local and national campaigns.