#CLAWellnessChallenge: Daily Express
January 13, 2021
@
7:00 am
–
7:45 am
Join this free Daily Method class to start your day off right as part of the #CLAWellnessChallenge! This will be a 45-minute class that combines Pilates, strength training, and yoga to fun, upbeat music. This class is good for all levels of ability. The cuing and pacing is relatively quick but options and modifications are given regularly to enable all students to be successful. Students are encouraged to work at their own level and to make the positioning the priority for each exercise. 
Suggested equipment/surroundings include: 
Light weights (2 – 5 Lbs.) if available 
Mat or carpet area for floor work
Stable surface (chair, wall, etc.) 
#CLAWellnessChallenge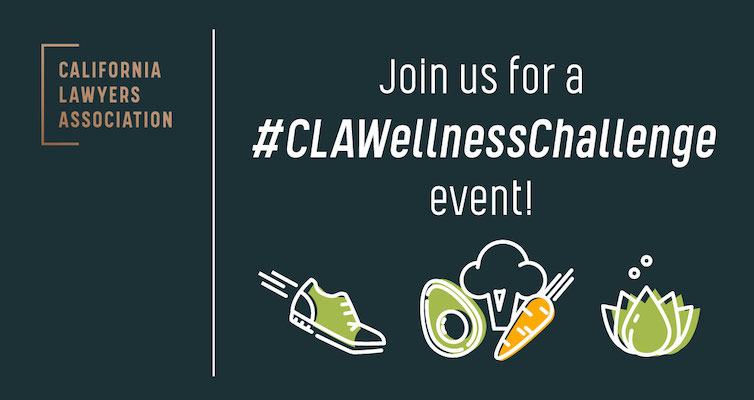 Join lawyers and legal professionals from around the state in this 25-day challenge starting January 4th. Join us each week for live events, like this Daily Method class. Select resources from the Health and Wellness page to support your journey.
Follow the #CLAWellnessChallenge on Facebook, participate in the Facebook group for updates and inspiration, and invite a friend to join you as your wellness buddy! Follow our daily guide or create a 25-day journey of your own by printing our Wellness Matrix. The Wellness Matrix can be your desktop guide for completing the month-long challenge. On one side you can follow along with the CLA's daily prompts, or use the blank side to create and track your own challenge experience.
Take a picture of yourself and your completed Wellness Matrix, and post it to the Facebook group or email it to us at Wellness@calawyers.org to receive a #CLAWellnessChallenge water bottle to keep you inspired for the rest of the year! In the spirit of 2021, completion of only 21 challenge prompts is needed to be eligible for a water bottle. Available while supplies last.