California Lawyers Foundation Signature Speaker Series – Front Office Roundtable: Leadership in Sports
March 3
@
6:00 pm
–
7:30 pm
Join the California Lawyers Foundation for the second webinar in our speaker series. This program is a fundraiser to support the California Lawyers Foundation (https://calawyersfoundation.org/). Recommended Donation is $50.00 and will support Diversity Fellowship programs in rural communities.
TO DONATE: https://calawyersfoundation.org/speaker-series-donation/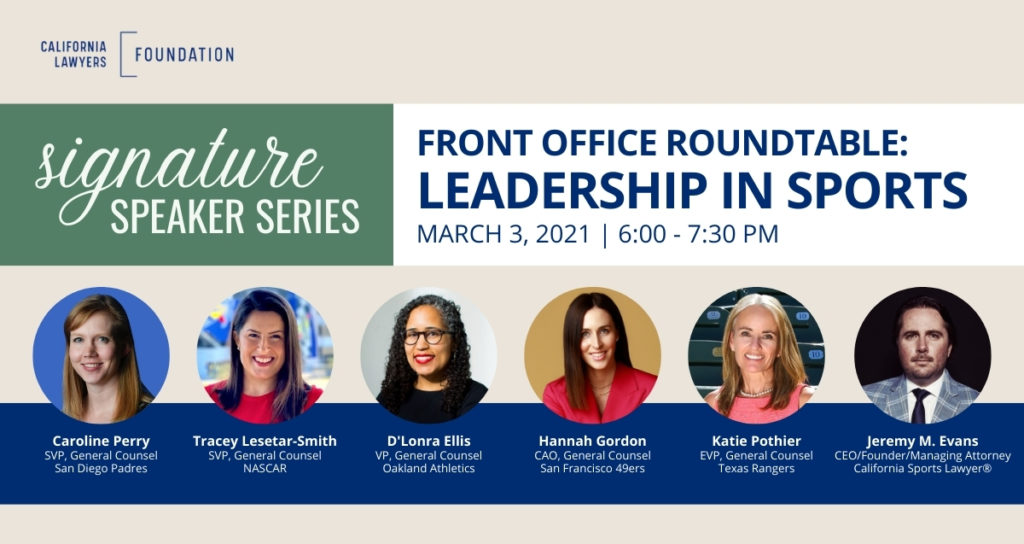 Front office executive and attorney Branch Rickey (MLB Hall of Fame) who invented the farm system, introduced batting helmets, and broke the color barrier by bringing Jackie Robinson to the Dodgers, once said baseball (and sports in general) would be run by lawyers. Today, many front offices of professional sports teams are run by lawyers leading legal departments, including an increasing number of women. Hear from the best and brightest in the business on how to lead, excel, and succeed in sports. Topics include stadium and real estate development, human resources, contracts, intellectual property, and helping to run a front office as an attorney and executive in professional sports.
Panelists:
Caroline Perry, SVP/GC San Diego Padres & CLF Board Member
Tracey Lesetar-Smith, SVP/GC NASCAR
D'Lonra Ellis, VP/GC Oakland Athletics
Hannah Gordon, CAO/GC, San Francisco 49ers
Katie Pothier, EVP/GC, Texas Rangers
Moderator:
Jeremy M. Evans, CEO/Founder/Managing Attorney, California Sports Lawyer®
CLA Vice President and CLF Secretary
Speakers Bios
Caroline Perry
Senior Vice President, General Counsel, San Diego Padres (MLB)
(https://www.mlb.com/padres/team/front-office/caroline-perry)
Caroline Perry was promoted to her current position of senior vice president, general counsel in December 2018. The 2020 season marks her 10th with the Padres after originally joining the club in April 2011. In her current role, Perry oversees the Padres' legal department, IT department and public affairs.
Perry has been involved in many large-scale projects for the Padres, including negotiations with the City of San Diego surrounding the All-Star Game and the management of Petco Park, extension of the Padres' Peoria Spring Training lease and the sale of the team to the current ownership group in 2012.
Prior to joining the Padres, Perry worked as a corporate attorney for Davis Polk & Wardwell LLP in the Bay Area and Cravath Swaine & Moore LLP in New York, where she focused primarily on corporate finance and general corporate matters. Prior to graduating from law school, Perry was an account management associate at BlackRock, the world's largest asset manager.
A native of San Diego, Perry graduated with honors from Stanford University with a Bachelor of Arts degree in Human Biology. Perry earned her law degree from Columbia University, where she was a James Kent scholar and managing editor of the Columbia Business Law Review. She serves on the board of directors of the New Children's Museum, Make-a-Wish San Diego and the Association of Corporate Counsel. Perry and her husband, Adam, live in La Jolla with their two daughters, Adeline and Amelia.
Hannah Gordon
Chief Administrative Officer, General Counsel, San Francisco 49ers (NFL)
(https://www.49ers.com/team/front-office-roster/hannah-gordon)
Hannah Gordon is the Chief Administrative Officer and General Counsel of the San Francisco 49ers. Named by NFL.com as one of the most influential women in football, Gordon advises on all legal issues involving both the football team and Levi's® Stadium and leads the team's public affairs and strategic communications, risk management, community impact, and fan engagement work. Gordon is a Presidential Leadership Scholar and was named to Silicon Valley Business Journal's 100 Women of Influence and Corporate Counsel Diversity Champion. She was recently honored to PureWow's 20 in '20 list honoring 20 Up-and-Coming Leaders Working to Better Our World. She is also a published author and her book, SZN of CHANGE: The Competitor's Playbook for Joy on the Path to Victory, will be available November 2020. Gordon earned her B.A. from UCLA and her J.D. from Stanford.
D'Lonra Ellis
Vice President, General Counsel, Oakland Athletics (MLB)
(https://www.mlb.com/athletics/team/front-office)
D'Lonra Ellis serves as Vice President and General Counsel of the Oakland Athletics. In her role, she oversees the Legal, People Operations and Technology functions. Since joining the A's in 2017, then as Assistant General Counsel, Ellis has provided a unique perspective and vision to the club's business and its efforts to build a new ballpark on the Oakland waterfront.
Prior to joining the Club, Ellis was the General Counsel of Aspire Public Schools, a nonprofit charter management organization that runs over 35 schools in California and Tennessee. She has additional experience as a Director and Senior Corporate Counsel in the intellectual property, marketing, and advertising group at Gap, Inc.; and as an associate in the litigation practice of Howard Rice Nemerovski Canady Falk and Rabkin (now Arnold & Porter).
Ellis is an Adjunct Professor at UC Hastings College of Law, where she teaches sports law and the corporate counsel externship program. She sits on the board of directors of Bay Area Legal Aid and Seven Stories Institute, which runs a nonprofit bookstore collective in the Washington Heights neighborhood of New York City. She received her BA in Architecture, Preservation, and Planning from Columbia University and her JD from Stanford Law School.
Tracey Lesetar-Smith
Senior Vice President, General Counsel, NASCAR
Tracey Lesetar-Smith currently serves as SVP and General Counsel of NASCAR, where she leads the legal team and is a business executive for the major sports property.
Prior to joining NASCAR, Lesetar-Smith served as General Counsel and Vice President of Business and Legal Affairs for Bellator MMA, building and leading the legal team and expanding her oversight to additional sports properties within the Viacom portfolio. She was responsible for Bellator's global content distribution rights and oversaw contracts, international property expansion, litigation, production, and intellectual property rights, among other key business operations. Prior to Bellator, she was an attorney at Orrick, Herrington & Sutcliffe.
Tracey earned her B.A. from Duke University in Political Science and Public Policy and her J.D. from The George Washington University Law School.
Katie Pothier
Executive Vice President, General Counsel, Texas Rangers (MLB)
(https://www.mlb.com/rangers/team/front-office/katie-pothier)
Katherine (Katie) Pothier joined the Rangers organization as Executive Vice President and General Counsel in September 2016 and directly oversees all legal, human resources, and risk management functions for the team. She also has extensive interaction with the Rangers' baseball, finance, business operations, minor league affiliates, real estate development and the Texas Rangers Baseball Foundation.
Pothier has over 25 years of legal experience, of which over a decade has been spent working in professional baseball. She previously served as Executive Vice President and General Counsel for the San Diego Padres from 2002-2010. During her tenure as an Executive with the Padres, she played an important part of team's completion of construction and opening of its ballpark, PETCO Park, in 2004. Later in her tenure, she transitioned and positioned the Padres in its sale to a new ownership group. Her oversight at the Padres included advising the club in business operations, labor and employment, human resources, litigation, government affairs, corporate governance, baseball and international operations. Additionally, Pothier had the unique opportunity to represent at hearing the team during salary arbitration.
Pothier brings her experience to Texas where she serves as a key advisor on all aspects of the team's transition to its new home at Globe Life Field as well as the repurposing of Globe Life Park. Additionally, Pothier serves as an advisor to the team on its development projects, including Texas Live! and Live! by Loews. Pothier also advises ownership on all corporate governance matters, joint ventures, real estate development, acquisitions, organizational structuring, strategic planning, international affairs and litigation.
Pothier also serves on Major League Baseball's Diversity Pipeline Program Committee, an initiative focused on improving the recruitment and development of diverse and female employees for leadership roles in the baseball operations and the front offices of MLB's Clubs.
Pothier's wide-ranging work for the team was recognized in 2019 when Pothier was selected by D Magazine as one of the 500 most influential business leaders in North Texas in 2020 Dallas 500 and also as Corporate Counsel of the Year.
Pothier is committed to her community, serving as a Board Member for the Texas Rangers Baseball Foundation and having served previously as a Board Chair and Board Member and volunteer for the Make-A-Wish Foundation for more than ten years.
Before coming to Texas, Pothier spent six years as a Partner with Wilson Turner Kosmo LLP in San Diego. Prior to joining the Padres, she worked in private practice specializing in civil litigation and white-collar criminal litigation for more than ten years.
Katie is a native of New Jersey and earned both a B.A. in History and her J.D. from Rutgers University.
Katie and her husband Mark, have two children, Abigail (17) and Mark Jr. (13). The family resides in Southlake with their beloved dog Melody.
MODERATOR
Jeremy M. Evans
CEO, Founder & Managing Attorney, California Sports Lawyer®
CLA Vice President and CLF Secretary
Jeremy M. Evans is the Founder & Managing Attorney at California Sports Lawyer®, representing entertainment, media, and sports clientele. Evans is an award-winning attorney and industry leader based in Los Angeles. He currently serves as Vice President of the California Lawyers Association and Secretary of the California Lawyers Foundation.
His client's range from Fortune 500 companies to athletes, entertainers, models, television and film producers, studios, entertainment, media, and sports businesses in contractual, intellectual property, formation, distribution, negotiation, and dealmaking matters. Evans is a graduate of the University of California, Los Angeles (UCLA) with a Bachelor of Arts in Political Science with an Emphasis in American Politics (BA '05), Thomas Jefferson School of Law with a Juris Doctor (JD '11), Pepperdine University Rick J. Caruso School of Law with a Master of Laws in Entertainment, Media, and Sports Law (LLM '18), and Pepperdine University George L. Graziadio School of Business and Management with a Master of Business Administration in Entertainment, Media, and Sports Management (MBA '20).
Prior to opening California Sports Lawyer®, Evans worked as a Graduate Law Clerk at the Superior Court of California, advising judicial officers in civil and criminal law and motion matters. Prior to law school, he worked in accounting and finance for the number one business-only litigation firm in the world, Quinn Emanuel Uquhart & Sullivan LLP. He has also worked as a legislative aide and field representative in the California State Legislature and continues to work on local and national campaigns.