2022 Golden State Antitrust and Unfair Competition Law Institute and Antitrust Lawyer of the Year Reception and Dinner
November 10, 2022
All day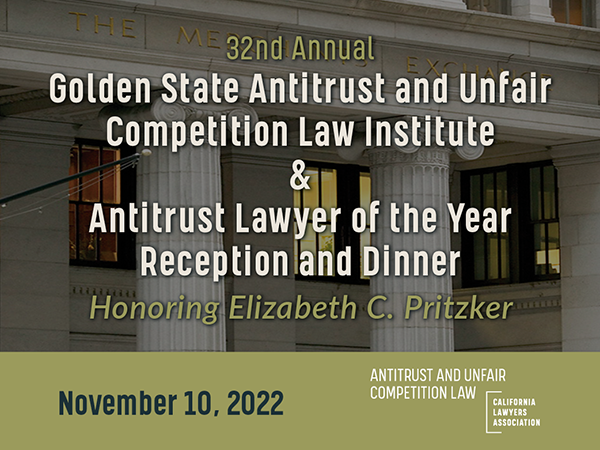 November 9, 2022
5:00 p.m. – 7:00 p.m.: Welcome Reception
November 10, 2022
7:30 a.m.: Breakfast and Registration


Sponsored by Analysis Group

8:30 a.m. – 5:15 p.m.: Golden State Antitrust & UCL Institute
5:30 p.m.: Hosted Cocktail Reception
7:00 p.m.: Antitrust Lawyer of the Year Dinner and Award Ceremony Honoring Elizabeth C. Pritzker of Pritzker Levine LLP.
The Antitrust and Unfair Competition Law Section hosts the Golden State Antitrust & Unfair Competition Law Institute (GSI) each year at the Julia Morgan Ballroom in San Francisco. This is the Section's marquee event and brings together private and public sector attorneys, academics, experts, judges, and law students for a multi-session conference on recent developments in the law, trials, and enforcement, followed by a cocktail reception and dinner honoring the California Antitrust Lawyer of the Year.
This year's GSI program features all-star sessions on:
Keynote Speaker: Jonathan Kanter, Assistant Attorney General, United States Department of Justice
Fireside Chat: Elizabeth Wilkins, Director, Office of Policy Planning, Federal Trade Commission
Judges Panel: Hon. Jacqueline Scott Corley, Hon. James Donato, Hon. Susan Illston, U.S. District Court for the Northern District of California
Recent Developments in Antitrust and Unfair Competition Law
The Future of Digital Platform Litigation
Can Sustainability Efforts Thrive Under the Current Antitrust Framework?
Antitrust Economics: Developments in Economics Theory and Analysis
UCL Remedies: "You Can't Always Get What You Want"
For more information on GSI sponsorships, please contact Belinda Lee at belinda.lee@lw.com.