2020 Annual California Bar Leaders Conference
November 17, 2020
@
1:00 pm
–
5:00 pm
Conference via Zoom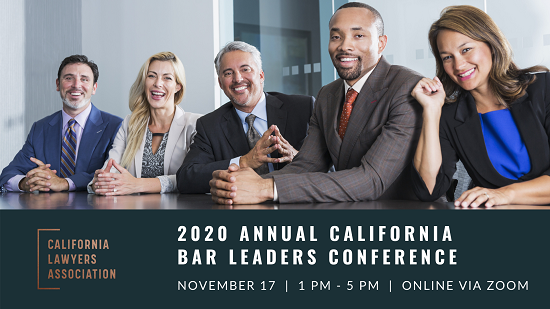 Building Your Best Board and Remaining Strategic to Achieve Results
Most bar associations adhere to some form of board structure whether the association is staffed or not, and the board members are often responsible for consistent duties. Keynote speaker, Bob Harris, CAE, reviews meeting best practices, agenda do's and don'ts, and meeting minute tips before touching on financial awareness. Mr. Harris discusses nuances of committees and the necessity of a strategic plan. In addition to the examples reviewed in the presentation, Mr. Harris provides steps to begin drafting your own strategic plan in addition to a template. This presentation is packed with free resources to help you, your board, and your association thrive. Program Materials PDF.
What Does an Inclusive Association Feel Like?
This 60-minute panel, moderated by Michael Rhoads, was a discussion focused on cultivating inclusion within the leadership of California's bar associations, identifying common hurdles and obstacles to inclusion, and recognizing successful avenues for sustained inclusion practices. Speakers on this panel included Daniel H. Galindo, Jason Parnell, and Renee N. Stackhouse. The group discussion included examples of systemic issues, or traditional bar association practices, that may be counterproductive, in addition to suggested fixes or improved approaches to avoid tokenism and truly include your members.
Finding/Honing Your Association's Civic Voice
The bar association community has been slow to embrace formal statements on current civic events. Yolanda Jackson and Carl Smallwood joined Ellen Miller in a discussion about what an association's civic voice can be and when it could be appropriate to invoke it. The group clarified the options for both 501(c)3 and 501(c)6 organizations and discussed with attendees some of the ways to navigate board buy-in while considering the policies your association may have in place. The full group discussed the grey area that exists between silence and being very vocal, like the Bar Association of San Francisco, landing on … "When we speak, we are afraid our words will not be heard or welcomed. But when we are silent, we are still afraid" – Audre Lorde
Suggested resources on this topic:
The 2020 Annual California Bar Leaders Conference did not offer MCLE credit. Written materials were prepared only for the keynote panel (see the panel description above to download the materials).
All three panels of the conference were recorded. To request access to the recordings, please send an email to Bar.Relations@calawyers.org indicating which panel(s) you would like to view.
Sponsor