Mark A. Moore Receives Business Law Section's 2021 Lifetime Achievement Award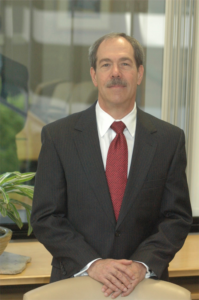 By Paul J. Pascuzzi*
The Business Law Section is pleased to announce that Mark A. Moore has been selected to receive the Business Law Section's 2021 Lifetime Achievement Award. This prestigious award is given annually to a California lawyer "who over an extended period has made significant contributions to the Business Law Section or to business law generally in the State of California and who has achieved high status in the legal community." Mark joins an impressive list of California business attorneys and legal scholars who have received this award. If you are looking for career inspiration, scroll over to the Business Law Section's website to review the list of luminaries who have received this award. For those of us who know Mark, it is no surprise that he joins that honorable list.
Mark's work in consumer financial services was at the cutting edge of what in essence was a brand new, and today very powerful, sector of the United States economy. Mark's early work supported banks and other financial service providers as they sought to comply with consumer-facing disclosure and other consumer protection requirements, particularly for their credit and debit card programs. In the early 2000s, Mark's practice expanded to include new innovations in payment platforms for co-operative consumption. He soon found himself focused on electronic environments and advocating the view that the Electronic Signatures in Global and National Commerce Act (E-Sign) served as an enabling statute rather than as a limiting mandate. Mark's clientele grew to include fintech disruptors in Silicon Valley who faced novel and unexplored 50-state money transmitter and other licensing mandates. While advising providers of pre-paid card and electronic settlement services, Mark was heavily involved with the next generational wave of advances. Mark's career is replete with experience working on first impression legal and business issues. Mark's contributions to the California legal community and the Business Law Section stand out, making him an easy and unanimous choice for the 2021 Lifetime Achievement Award.
Mark was born in Fairfield, California. He is the oldest of three children. He has two younger sisters, Carolyn and Laura. His son, Russell Jacobie, lives in Fresno and his grand-daughter, Jaida Jacobie, lives in Clovis. Mark says that the COVID pandemic is his one complaint because it has resulted in less time in-person with the family.
Mark spent most of his childhood in the San Fernando Valley back when the orange groves were still there. Mark's father, Bill, served in the United States Air Force during the Korean War and worked with specialty radar. After the Air Force, Bill worked in the emerging area of mobile phone systems at a time when law enforcement and first responders were the only ones using mobile phones. His father's fascination and passion for developing technology was passed along to Mark and, as you will see as you read on, planted a seed for how Mark's legal career developed.
Mark's mother, Betty Lou, also had a big influence on him. Betty Lou was a strong woman who believed in self-reliance and had clear lines about what was right and wrong. She was one of the first women to graduate from Pierce Community College in Southern California, having earned an Associate degree in Business. Mark's mother raised him to be kind to others, to always help others, and to abide by the Golden Rule ("Do unto others as you would have them do unto you"). She worked full-time supporting a family of four as a residential real estate agent for Century 21. Any of you who know him know well that Mark is the epitome of kindness, respect and putting others before him. Betty Lou's influence on Mark has certainly been evident throughout his life.
Mark attended the University of California, Irvine (UCI) in the early '70s. This was an interesting time at college campuses in the United States, with the country's role in the Vietnam War being vigorously protested almost everywhere. He embarked on his undergraduate studies with a plan to be a poet. The atmosphere of the early '70s provided a fertile backdrop for Mark to explore his rebellious and poetic side. However, Mark also discovered that hard work and commitment would indeed pay off for him. He also began to see the wisdom in his mother's teachings. Mark graduated magna cum laude in 1975 with a degree in English Literature.
After UCI, Mark spent two years as a Peace Corps Volunteer. Going to college during the tumultuous times of the Vietnam War inspired Mark to want to explore political systems of other countries and other cultures. Although he requested an assignment to French speaking Africa, Mark was stationed in the Republic of Korea instead. Mark taught English to South Korean middle school students and served in a variety of positions for the Peace Corps and within the Department of Education for Gyeongsangnam Province. Mark worked with the South Korean teachers, many of whom were his senior by many years, to develop effective techniques to teach English as a foreign language. One of Mark's innovative ideas was to use the existing pairing of the American volunteers with the South Korean English teachers as an opportunity for the volunteer to be a pedagogical facilitator, helping to "train the trainer," rather than simply supplement the Korean classroom experience with a more fluent English speaker. Mark's ideas helped use the strengths of the existing teachers, but also improve their educational tools and techniques. Mark authored two publications for which the Provincial Department of Education awarded him a "Kam Sa Pai" (or "thank you medal") and presented him with a special certificate of service. Mark notes that the Peace Corps gave him opportunity to participate in a good organizational structure.
So how did Mark end up in a legal career? While Mark was in the Peace Corps, he had his sights set on being a Foreign Service Officer (FSO). Mark sought out the advice of an FSO friend who was a Columbia law school graduate. The advice was to go to law school. Mark decided to follow that advice, but he needed to figure out how to pay for it. Mark came back to the United States, took the LSAT, and then to fund his law school plans obtained a job at Northrop Corporation as an English teacher in Saudi Arabia. Once again, Mark embarked on living overseas for two years, this time to train Saudi Air Force warrant officers to speak English. He was saving his money for law school.
With Mark's stellar grades at UCI and an excellent LSAT score, Mark was accepted at the University of Chicago Law School. This was the early '80s, during the heyday of the introduction of economic theory to the study and understanding of law. The Law and Economics movement advocated using economic analysis and principles when creating legal rules or faced with statutory interpretation. This approach asked for an analysis of how the law decides who wins disputes, and how those results impact society, to maximize economic advances and to decide whether to respect consensual risk allocation. Using law to mitigate against adverse externalities also took firm root during this period and continues to be useful as we address challenges such as climate change and global warning, says Mark. While Mark was a student, the University of Chicago Law School had professors like Richard Posner and Frank Easterbrook who were thinking, writing about, and teaching these innovative ideas. These teachings and cutting-edge legal concepts affected Mark mightily and paved the way for his legal career in business law.
Having spent years away from his family, Mark returned to southern California after law school to work as an associate at Morrison & Foerster in 1983. With his law degree from the University of Chicago, it is no coincidence that Mark's legal career began in business law. At that time, financial institutions were presented with the challenges of complying with new and developing regulations governing consumer financial services, primarily those centered around consumer disclosures and consumer protection in credit and debit card programs.
When asked who influenced him the most in his early legal career, Mark names three Morrison & Foerster lawyers, Henry Fields, Richard Fischer, and Roland Brandel. Henry Fields, Senior Counsel at Morrison & Foerster in Los Angeles, taught Mark what it takes to be a good lawyer. Mark credits Mr. Fields for teaching him how to think analytically to facilitate the client's decision making. That means being able to give the client the answers and analysis that it needs to assess risk and the likelihood of outcomes so that the client can make an informed business decision.
Richard Fischer is another Senior Partner at Morrison & Foerster who Mark credits with helping him develop into the lawyer he became. Mr. Fischer helped Mark develop and perfect his writing skills and showed him how much fun the law could be. More important, Mr. Fischer introduced Mark to the financial institution payment processing area of law that became one of Mark's specialties in his career.
Mark also credits Morrison & Foerster Senior Counsel Roland Brandel. Mark describes Mr. Brandel's guidance as showing him the light after Mr. Fields and Mr. Fischer opened the door. Mr. Brandel used his patient approach to spend the time to help Mark understand the Electronic Funds Transfers Act, how that law developed, the differences in types of payment methods, different risk allocations under the law, and understand the reasons why different payment methods treat losses differently under the law.
One other person in Mark's life deserves mention here, Mark's wife Linda. Mark met Linda in 1984 during his first year at Morrison & Foerster. Mark was smitten instantly although he says it took a bit longer for the feelings to be mutual. To get a date with Linda, Mark made the smooth move of giving her his business card at the laundromat and asking her to lunch. Linda, a former Miss Wisconsin, took the bait and they were married four years later. Mark speaks of Linda as his guiding light and source of inspiration and dedication in his life. Mark notes how important Linda's love, trust and friendship is and has been to him throughout his life and career.
During his time at Morrison & Foerster, Mark absorbed as much as Mr. Fields, Mr. Fischer and Mr. Brandel could teach. This gave Mark just what he needed to take the next step in his career. He knew how to practice law, he understood his area of law better than most, and he had a burgeoning area of expertise.
Mark's travels next took him to the boutique law firm of Aldrich & Bonnefin, PLC, where he became a partner and then a named partner. Mark served as the firm's President and CEO for eight years and managed the firm's Banking Operations Practice Group for over a decade. He worked with the many smaller community banks that were competing with the larger financial institutions. Mark helped develop the firm's Bankers Compliance Group, founded by his partner Mark Aldrich. That group provided a platform for local and smaller regional banks to ensure regulatory compliance using an innovative cost-sharing model. Mark's work helped the community bank industry survive in California by providing them with the advice, tools, and ability to compete with the larger financial institutions while maintaining regulatory compliance at an affordable price.
Mark is perhaps most proud of the work he did helping banks and others navigate electronic signatures and e-contract formation under the E-Sign Act. This federal statute was designed to enable e-contracts and provide legal certainty for e-commerce transactions. At the time, the E-Sign Act was often misinterpreted as invalidating e-contracts not strictly meeting the E-Sign Act's technical provisions. Mark published and spoke regularly on his view of the E-Sign Act as a safe harbor for valid e-contracts and disclosures, but not the exclusive manner to validly make an enforceable e-contract.
Having risen to new heights at Aldrich & Bonnefin and nearing the twilight of his career, Mark satisfied a long-held desire to be an in-house counsel for a bank when he went to work for Silicon Valley Bank (SVB) in 2014. At SVB, Mark met developing and disruptive technology in full force as he delved into the evolving world of electronic payments. Once again, the passion for new and developing technology he obtained from his father served him well. Mark helped SVB and its customers understand the rules, regulations, risks, and benefits of using electronic payment systems.
Throughout Mark's stellar career, he was a frequent speaker on topics in the areas of his practice. At Aldrich & Bonnefin, Mark frequently spoke to clients and others not only to build business, but to give back to others, fulfilling the principle his mother taught him when young. Mark also regularly presented to groups of up to 200 bank examiners at the Federal Financial Institution Examination Council in Washington, D.C. He guided bank examiners on operational and compliance risks associated with automated clearing house and credit/debit card processing. Mark regularly spoke at the California Bankers Association Regulatory Compliance Conferences and annual Bank Counsel Seminars on electronic banking and smart-phone payment systems. Mark also served on the California Bankers Association legal affairs committee, a committee that typically consists only of senior in-house lawyers from the major financial institutions and the professional staff of the CBA. It is rare that counsel affiliated with private law firms are invited to become members. Not only was Mark invited, but he served for eight years as an active member and twice as Chairman of the Bank Counsel Seminar
In addition to recognition by the leaders in his field, his clients and his peers as an expert, Mark also has received other top awards for excellence. In 2011, Mark was presented with the Robert Franzel Award by the California Bankers Association, given for "superior and noteworthy legal assistance by outside counsel to the California banking industry." Mark has served as an Adjunct Professor of Law at Thomas Jefferson School of Law, where he taught classes on Consumer Compliance. In 2014, Mark was named a Fellow of the prestigious American College of Consumer Financial Services Lawyers. Only a small number of lawyers, academics, and government officials are so honored.
Mark's high status in the legal community and significant contributions to California business law clearly qualify him for the Business Law Section's Lifetime Achievement Award. But, with no disrespect to prior recipients, Mark also has made notably substantial contributions to the Business Law Section over several decades of service. Mark served on three different Business Law Section standing committees: Cyberspace, Financial Institutions, and Consumer Financial Services, chairing both the Financial Institutions and Consumer Financial Services committees. Mark's service to the Business Law Section continued with his membership on its Executive Committee, for which he also served as chair in the 2005-2006 Bar year. Mark served as chair of the Business Law Section Long Range Planning Committee for several years and even served as chair of the Lifetime Achievement Award Selection Committee. Mark's service to the Section has been an inspiration to many of us who followed his path, including your author.
Perhaps most notable in his service to the Business Law Section, Mark was the Section's representative on the State Bar's Council of State Bar Sections, contributing at a high-level to the collective good of the then State Bar sections (now California Lawyers Association sections) in a markedly non-disruptive, cordial manner. This was important because it was shortly following a rough patch when the State Bar dues bill had been vetoed, causing much disruption for the Sections. The Business Law Section had become embroiled in disputes with the other Sections as to how to navigate through this difficult time. Mark gained the trust and respect of the other Section leaders at such a high level that he was elected co-chair and led the Council. Mark's service to the Business Law Section continues to this day as he remains an advisor to its Executive Committee.
Mark's intellect, expertise, experience, willingness to venture into uncharted territory, innovative approaches, kindness, and humble nature all make him well qualified and deserving of this year's Business Law Section Lifetime Achievement Award winner. Congratulations Mark, and on behalf of the Business Law Section, we thank you for all you have done for the business and legal community in the State of California!
*Paul Pascuzzi (Felderstein Fitzgerald Willoughby Pascuzzi & Rios LLP) served as chair of the Business Law Section in 2009-2010, currently serves as an advisor to the Executive Committee and serves as chair of the Lifetime Achievement Award Selection Committee.
---