JOHN F. HARTIGAN RECEIVES BUSINESS LAW SECTION'S 2023 LIFETIME ACHIEVEMENT AWARD
August 2023
For a PDF version of this article, click here.
Written by John Murphy*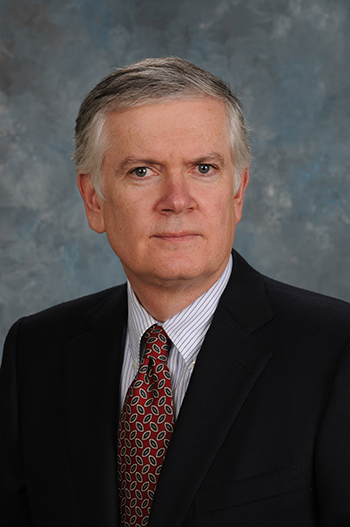 The Business Law Section is pleased to announce that John F. Hartigan will receive the Business Law Section's 2023 Lifetime Achievement Award. This prestigious award is annually presented to a California attorney "who over an extended period has made significant contributions to the Section or business law generally, or both, in the state of California and who has achieved high status in the legal community." John is the latest addition to an impressive list of business attorneys and legal scholars who have received this recognition.
Background
Both of John's parents were born and raised in Brooklyn, New York. His mother, Ann Patricia O'Neill, was the daughter of Irish immigrants, and his father, James ("Jim") J. Hartigan, was descended from Irish immigrants and was also related to George Washington's mother, Mary Ball Washington. The oldest boy of 10 children, Jim had to take on the responsibility of supporting his family when his father unexpectedly passed away, providing for his family through a variety of jobs as well as prizes won as a champion bicycle racer with the Empire City Wheelmen. In 1942, Jim went to work as a junior passenger agent at United Airlines, ferrying passengers from the midtown Manhattan air terminal to the airfield on Long Island.
During World War II, Jim joined the U.S. Navy as an aviation cadet and went on to become the youngest Navy flight instructor at Pensacola, Florida. When the war ended, Jim returned home to Ann and his role at United Airlines.
John's childhood was heavily influenced by his father's career as an airline executive. Over the course of a 46-year career at United Airlines, Jim assumed increasingly important management positions, ultimately becoming the Chairman, President, and CEO of United Airlines. As Jim rose through the executive ranks of United, John's family relocated six times, to cities in the Northeast, two transfers to northern California, and two moves to the suburbs outside of Chicago, where United Airlines had its headquarters.
John attended junior high school in San Rafael, California and the first three years of high school at Marin Catholic in Kentfield. After the family moved, John spent his senior year of high school in Arlington Heights, Illinois. John next attended the University of Illinois in Champaign/ Urbana, where he received a B.S. in Finance in 1972, earning recognition as a James Scholar, making the Dean's List, and graduating with University Honors. John attended law school at Georgetown University in Washington D.C., graduating in 1975. While at Georgetown, he served as the Case and Notes Editor of the law journal The Tax Lawyer. During his second year, John interned for U.S. Senator John V. Tunney, working on Senate Commerce and Judiciary Committee matters. In his third year of law school, John participated in a Georgetown clinical program that included an internship at the Securities and Exchange Commission. In 1975, John accepted a position as a staff attorney in the Division of Enforcement at the SEC headquarters in Washington D.C.
John first met his wife, Laurie Kirkwood, on a blind date when he was in San Francisco working on an SEC enforcement investigation. Laurie had recently graduated from Stanford University and was taking a year off to work as a paralegal at Brobeck, Phleger & Harrison in San Francisco before attending law school. During the week John was in San Francisco, he and Laurie went out three times — they then didn't see each other for two years.
In 1979, after her second year of law school at the University of California at Davis, Laurie clerked in the General Counsel's office at the National Science Foundation in Washington D.C. She and John reconnected that summer and were engaged the following April. Laurie accepted an internship at the SEC and spent the first semester of her third year of law school in Washington D.C. After she completed law school, Laurie and John were married in 1980, in La Habra, California. Laurie moved to Washington and accepted a position in the General Counsel's office of the National Science Foundation, where she primarily worked on grants and contracts.
John and Laurie have three grown daughters, all of whom attended Harvard-Westlake School in Los Angeles. Their oldest daughter, Erin, graduated from Georgetown University, where she majored in English Literature. After graduating, Erin became a lifestyle writer and editor, working on-staff as the Food and Dining Editor at The Washington Post, where she met her husband, Marc Lavallee. Erin subsequently worked at the Food Network, and now runs content for the wellness site Sleep.com. After the Washington Post, Marc worked at other media companies, including the New York Times, where he was head of research and development. He now is the Director of Technology Product and Strategy/Journalism for the Knight Foundation. Erin and Marc live in Maplewood, New Jersey, and have one son, who is almost five.
John and Laurie's middle daughter, Caitlin, attended the University of Pennsylvania and graduated with degrees in Art History and French. Caitlin then did further graduate studies at Oxford University, where she received an M.S.T. in Medieval Studies and a Doctor of Philosophy in History of Art. She subsequently completed a post-doctoral fellowship at the Huntington Library in San Marino, California. Caitlin is married to Adam Weiss, who is a partner at Munger, Tolles & Olson in Los Angeles. They have two daughters, ages six and two.
John and Laurie's youngest daughter, Tess, attended Stanford University and graduated with a degree in history. She then joined Belvedere Trading, a Chicago based proprietary trading firm that specializes in equity index and commodity derivatives. Tess was elected a partner at Belvedere and served as the Director of Product Development. She recently returned to California, and is currently attending the Graduate School of Business at Stanford University.
Securities and Exchange Commission
As previously noted, upon graduation from Georgetown law school in 1975, John went to work for the Division of Enforcement at the headquarters of the SEC, located two blocks away. He began his tenure at the Commission as a Staff Attorney, and, after only three years, was promoted to a Branch Chief position. In 1981 he was appointed an Assistant Director.
John chose to work in the enforcement division because it presented the opportunity to work on a wide variety of securities matters involving the various divisions and offices of the SEC. During his eight-year tenure at the SEC, John worked with the Division of Corporation Finance on a range of disclosure and reporting issues under the Securities Act of 1933 and Securities Exchange Act of 1934, the Division of Market Regulation regarding broker dealer and trading practices, and the Division of Investment Management on matters involving investment advisor and fund regulation under the Investment Advisors Act of 1940 and Investment Company Act of 1940.
Another inducement to work in enforcement was the opportunity to work for Stanley Sporkin, the Director of the Division of Enforcement. Under Sporkin, the Division brought a new focus to a number of previously undisclosed activities involving public companies, including enforcement actions relating to a company's payment of bribes to government officials in overseas markets and failure to publicly disclose in various SEC filings certain compensation and other benefits received by management and members of the board of directors, which came to be known as "perquisites." These enforcement actions led to the adoption of the Foreign Corrupt Practices Act of 1977 and new proxy statement and periodic report compensation disclosure requirements under the Securities Exchange Act of 1934.
During his time at the SEC, John was responsible for many high-profile enforcement matters, involving financial and accounting fraud, market manipulation, insider trading, Foreign Corrupt Practice Act violations, proxy contests, green mail, and tender offer abuses. Among the many highprofile matters he worked on with the assistance from a team from the Division of Corporation Finance was a proxy contest initiated by Curtiss-Wright Corporation for control of Kennecott Copper Company, described by the New York Times as one of the most fiercely fought takeover struggles in corporate history. Another prominent matter involved the investigation and enforcement action arising from payments to foreign government officials by Occidental Petroleum Corporation and its then Chairman, Armand Hammer.
As Assistant Director, John also oversaw the SEC's market surveillance, delinquent filing, and trading suspensions programs. He also served as the Co-Chair of the Intermarket Surveillance Group. An example of a prominent case brought by the market surveillance team involved the trading in options of Sante Fe International shortly before the announcement of its acquisition by an entity controlled by the government of Kuwait. The matter led to the development of an accord between Switzerland and the United States that improved access to brokerage accounts and other financial information to help identify and prosecute parties involved in insider trading.
Private Practice
During their time in Washington D.C., John and Laurie discussed staying in Washington D.C. or returning to California. Laurie had a strong family connection to the state, as a fifth-generation Southern Californian whose Quaker ancestors helped found the City of Whittier, where she was born. John also had connections to California, having lived in San Rafael and Hillsborough while his father was an executive in San Francisco at United Airlines.
While at the SEC, John interacted with numerous attorneys at law firms in New York and Washington D.C. and around the country. Morgan, Lewis & Bockius, a Philadelphia-based law firm with a national practice, had always impressed him with the quality of its work and the professionalism of its attorneys. At that time, Morgan Lewis had a relatively small office of approximately 30 attorneys in Los Angeles, but was strongly committed to growing its presence in Los Angeles and California. John felt that L.A.'s rapidly growing financial community presented an opportunity to represent broker dealers, investment advisors, public and private investment funds, and other similar entities. John knew he would need the support of a large law firm to service the practice areas he envisioned targeting, and believed that Morgan Lewis had a firmwide wealth of talent in these practice areas and a strong culture of supporting its various offices.
One of John's first engagements in private practice was representing a savings and loan association that had recently formed a broker-dealer subsidiary. This was a relatively new business model for depository institutions, and they had concerns as to whether they were fully in compliance with the wide range of regulations applicable to such a business. While at the SEC, John had worked on such matters and had become familiar with the rapidly developing regulations, legislative initiatives, and new court decisions potentially applicable to this business model, including regulatory interpretations of provisions of the Glass-Steagall Act, Securities Exchange Act of 1934, and various federal and state banking laws. During the course of this engagement, John worked closely with the client to develop operating procedures, compensation models, marketing materials, sales practices, approved product lists, and compliance policies.
John quickly gained a national reputation as an expert in this area and was frequently retained by numerous banks, savings and loans, credit unions, and third-party marketers to advise and help them structure and develop their programs. Clients with a significant California presence included California Federal Bank (CalFed), First Interstate Bank, American Savings, Washington Mutual, and Great Western Bank. His involvement in this area also included serving as the general counsel and a member of the board of directors of several industry associations.
During the mid to late 1980s, John was involved in a number of high-profile enforcement matters involving investment banking firms. One of his most significant engagements involved Drexel Burnham Lambert, which had been the target of a major investigation by the Department of Justice and the SEC. As part of the settlement with those two agencies, Drexel was required to retain an independent outside consultant to review its policies, procedures, and controls as specified. Morgan Lewis & Bockius was chosen by the Department of Justice and SEC to conduct a review of Drexel Burnham Lambert's internal controls, including its compliance policies and procedures.
As leader of the Drexel review, John oversaw a comprehensive evaluation of Drexel's high yield bond offerings, trading practices, and investment banking activities. After completing much of the review of the United States operation, John turned his attention to Drexel's overseas operations. John was in Tokyo to review Drexel's Japan business operations when he received a 4:00 a.m. phone call from Drexel's General Counsel advising him that the Company had just filed for bankruptcy, thus bringing an end to the review.
In 1990, John began to represent Apollo Advisors, a newly formed private equity and advisory firm with offices in New York and Los Angeles. His work initially involved creating policies, procedures, and internal controls and representing it in transactions, including the purchase of debt in distressed companies and other entities. One significant development occurred early in the relationship with Apollo, in 1991, when California Insurance Commissioner John Garamendi put Executive Life Insurance Company into conservatorship.
John was engaged by Apollo and an investor group to lead a Morgan Lewis team in connection with the proposed acquisition of the junk bond portfolio and the rehabilitation of the assets of Executive Life. The proposed junk bond portfolio was put up for sale in a court-supervised process that became the subject of numerous legal challenges and many rounds of bids and negotiations with the California Insurance Commissioner, state guarantee associations, and Executive Life's numerous creditor groups. Final approval of the junk bond purchases was received, and the transaction closed in March 1992. Morgan Lewis also was one of the primary law firms that represented Aurora National Life Insurance Company in connection with the acquisition of most of the remaining assets, liabilities, and insurance policies of Executive Life, closing the transaction in September 1993.
Another noteworthy transaction involved John's representation of the City of San Diego in connection with investigations by the SEC and the U. S. Attorney. The focus of the investigations involved the adequacy of disclosure in the city's bond offerings, as well as internal controls and procedures related to its pension and retiree healthcare systems and obligations. The matter was resolved, with the City of San Diego consenting to a settlement with the SEC without admitting or denying the allegations and no monetary or operating restrictions. Importantly, the City of San Diego never defaulted, and fully paid all of its obligations under each of the bonds that were the subject of the investigation.
In the past several decades, John has primarily been involved in practicing corporate and securities law in two areas. The first involves serving as counsel to private equity and other entities in connection with planning and formation, raising capital, disclosure and reporting requirements, investment practices, and structuring the purchase and sale of portfolio companies and assets. The second practice area involves advising public companies their boards of directors, and their special committees on a wide range of issues, including government inquiries and investigations, acquisition and sale of assets proposals, responses to corporate activists, governance and disclosure issues, and overseeing investigations.
Professional Activities
John has had a long and distinguished career in outside activities in local, state, and national professional organizations. His activities have included serving as the chair of numerous working committees and holding senior leadership positions in the California State Bar Business Law Section, Los Angeles County Bar Association (LACBA) Board of Trustees, LACBA Bar Business Law Section, Association of Securities and Exchange Commission Alumni, Board of Visitors of Georgetown University Law Center, Georgetown Corporate Counsel Institute, and the Bank Insurance and Securities Association.
John's first involvement in outside professional activities in California occurred in 1984, shortly after he joined the Los Angeles office of Morgan, Lewis & Bockius. Jerry Boltz, the former Director of the SEC's Los Angeles office, invited John to join the executive committee of the Business Law Section of the LACBA. Shortly thereafter, John was recruited to serve as chair of the Education Committee of the California State Bar Business Law Section by John Murphy, who was a member of the Section's Executive Committee. John went on to become very active in both organizations, ultimately becoming the Chair of the LACBA Business Law Section and Vice-Chair of the Executive Committee of the California State Bar Business Law Section.
For over twenty years, John has chaired the Annual Securities Regulation Seminar sponsored by the SEC and the LACBA Business Law Section and co-sponsored by the California Department of Financial Protection and Innovation and FINRA. This nationally recognized program, now in its fifty-fifth year, provides a forum for senior officials from various federal, state, and self-regulatory organizations, as well as highly experienced practitioners from Southern California and throughout the country. John first became involved in the program in 1984.
In addition to his outside activities with various professional organizations, John has served as a chair, moderator, and speaker at numerous programs sponsored by various legal, educational, and business associations, including programs sponsored by the California State Bar Business Law Section, LACBA Business Law Section, ABA Business Law Section, ALI-ABA, Northwestern University Corporate Counsel Institute, UCLA Anderson School of Business, Practicing Law Institute, Georgetown Corporate Counsel Institute, and Los Angeles Venture Association. John has also written numerous articles on business law issues and has been a regular contributor to legal and business publications.
During the course of his career, John has received recognition for his professional activities and legal achievements from various legal and business organizations and institutions, including the LACBA (recipient of the Business Law Section Lifetime Achievement Award, Outstanding Trustee Award, Outstanding Section Chair Award, and Marvin Greene Distinguished Service Award) and the Association of Securities and Exchange Commission Alumni (West Coast Dinner Honoree, Career Achievement).
Acknowledgment of People Who Influenced John's Career
While there were many talented and experienced professionals at the SEC, there were three people at the SEC who had a significant influence on John's career– Enforcement Director Stanley Sporkin, SEC Commissioner Irving Pollack, and Director of the Division of Corporation Finance Alan Levinson.
During most of John's eight years at the SEC, the Division of Enforcement was led by the legendary Stanley Sporkin. Although certain members of the American business community viewed Sporkin as an overly aggressive regulator, John has a different perspective. First as a newly hired Staff Attorney and later as a Branch chief and Assistant Director, John had extensive dealings with Sporkin in a wide variety of situations that often required thoughtful analysis and a measured application of remedies. John offers the following observation on Sporkin, "I had the pleasure of seeing the contemplative side of Stanley, who took a thoughtful and judicious approach to each enforcement matter. He was generous with his time and sharing his knowledge. He taught me to always to consider leaving 'something on the table' in negotiations and giving a second chance to reward cooperation, particularly for those who demonstrated genuine remorse and a commitment to following the rules on a go-forward basis."
John also spoke very highly of his colleagues at Morgan Lewis, many of whom previously worked at the SEC, and credits them for their many important contributions to his career. While he had a long list of those he would like to recognize, he particularly noted two of the firm's great leaders, Al Sommer and Bill Curtin, each of whom had a significant impact on his professional development.
*A. John Murphy served as chair of the California State Bar Business Law Section in 1989-1990.
---