BLS Roadshow Visits Cal State Fullerton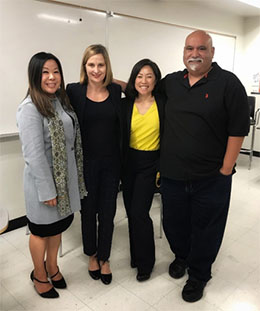 On Friday, December 6, 2019, the BLS brought its roadshow to students at California State University Fullerton. After introductions, Professor Robert Castro moderated a discussion on the twists and turns on the educational and professional paths to law. Then CSUF undergraduate students participated in a lively round of Q&A.
Pre-Law Advisor and Professor in the CSUF Division of Politics, Administration and Justice, Professor Robert Castro, PhD, JD facilitated this visit by panelists Kyra Andrassy, Smiley Wang-Ekvall, LLP, Soyeun D. Choi, SoyeunEsq, PC, and Caroline Djang, Best Best & Krieger, LLP. The roadshow concluded over refreshments, when panelists and students alike mixed and mingled.
The BLS organizes roadshows to educational institutions in order to provide students with the opportunity to learn about legal careers directly from practitioners. BLS has a long tradition of community enrichment through strengthening the legal profession. The BLS Executive Committee oversees these efforts, and its roadshows are organized by the BLS Diversity Initiative Coordinator and Members Services Committee, with the generous support from volunteer panelists.
To volunteer for future roadshows or other service opportunities, contact Diversity Initiative Coordinator/Member Services Chair, Soyeun D. Choi, Soyeun@SoyeunEsq.com.
---