Thank you for being a member
---
18 Hours of Free MCLE with your CLA Membership
Every month, CLA offers a free webinar for MCLE credit, and each year, we also provide a set of self-study credits. Access free MCLE here.
CLA members also receive $20 off all CLA programs: live webinars, OnDemand videos and podcasts, and self-study articles. View our entire catalog here.
---
CLA is Your Professional Community
To help you develop the relationships you need in order to thrive in your legal career, we have created multiple touchpoints for members to network and connect.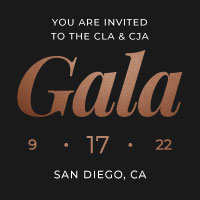 Black Tie Gala With CJA
This brand new, black tie affair brings together lawyers and judges to celebrate and to fundraise for our respective foundations. September 17 in San Diego!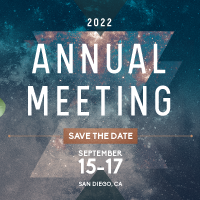 2022 Annual Meeting
Save the date for our biggest event of the year! We'll be back with an in-person conference in sunny San Diego this September 15-17.
Online Community
Open 24/7, year-round, the Online Community is a brand new forum where you can post questions, share your experiences, and meet other CLA members. Log in here.
To see the latest networking events, visit the CLA calendar.
---
We Advocate For You
We harness your voices to create favorable policy changes, resist unfavorable policy changes, and advocate for you. Our advocacy team serves legal professionals like you, improving the legal profession and advancing the fair administration of justice. To learn more about our advocacy efforts, visit this page, or reach out to governmental.affairs@calawyers.org.
---
Volunteer & Pro Bono Opportunities
CLA members have many volunteer opportunities such as public speaking and writing opportunities for statewide audiences as well as leadership opportunities in CLA-wide and Section-level committees.
We also have pro bono projects such as FreeLegalAnswers which provides limited scope pro bono assistance to low income Californians. Keep an eye out for our weekly emails and monthly eNews for the most up-to-date opportunities.
---
CLA Awards
Help us celebrate attorneys, judges, and programs that demonstrate an extraordinary commitment to promoting justice and high ethical standards. Learn more about the awards and nominate someone.
---
Fastcase Legal Research
A free subscription to Fastcase (valued at $995/year) is included in your membership. Fastcase is the leading next-generation legal research service that puts a comprehensive national law library and powerful searching, sorting, and data visualization tools at your fingertips.
Print journals and publications rich in quality insight, expertise, and updates from all of the Sections are also now available in a digital format via Fastcase. Try out Fastcase.
---
Career Center
Looking for a new job opportunity or have a role to offer? Check out our Career Center to connect with employers and qualified candidates. We all offer comprehensive resources covering all aspects of the job search. Start today.
---
CalBar Connect Discounts
Access exclusive discounts on professional services and products at CalBar Connect.
---
Legal Perspectives Digital Publication
Featuring articles from CLA leadership, the Sections, and more, Legal Perspectives is our new digital publication. It showcases the diverse array of work being undertaken to advance the legal profession and fulfill the mission of CLA. Read now.
---
Your Personal Dashboard: CLA Account Center
You can access all of these benefits and more at any time in the CLA Account Center. Log in to your account.