7th Annual Young Tax Lawyers Conference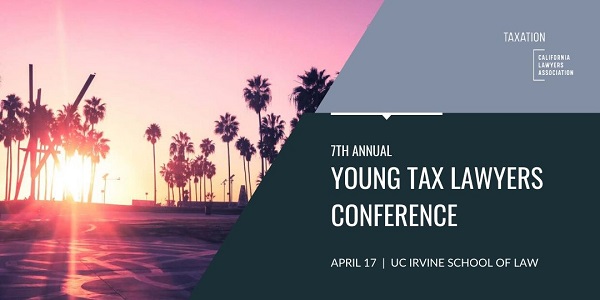 Education, Professional Development, Reinforcement of Your Inspired Idea to Become a Tax Lawyer
** Note: This program is canceled **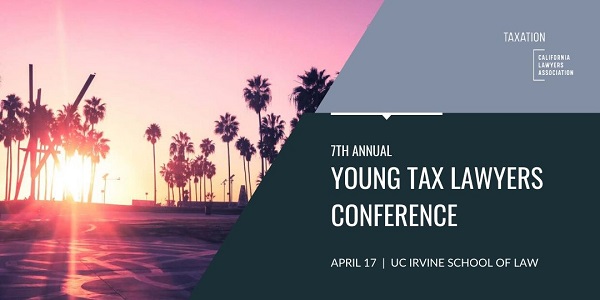 Friday, April 17, 2020
UC Irvine School of Law
401 E. Peltason Dr., EDU 1131
Irvine, California, 92697
Earn 3.0 Hours MCLE Credit; Includes Specialization and
1.0 Hour of Legal Ethics
Schedule | Essential Info | Brochure | Registration Form
Sponsors
A Special Thanks To Our Sponsors For Their Generous Contributions:
Diamond Sponsors
The Law Offices of Hochman Salkin Toscher Perez P.C.
The Law Offices of A. Lavar Taylor
Wagner Kirkman Blaine Klomparens & Youmans, LLP
Platinum Sponsors
Law Offices of Jeffrey Titus
Law Offices Of Sanford Millar APC McLaughlin, APC
Pillsbury Winthrop Shaw Pittman LLP
Price & Associates, LLC
RJS Law
Venue Sponsor
Reception Sponsor
Orange County Young Tax Lawyers (OCYTL) Committee
Schedule | Registration Open 11:30 a.m. – 4:30 p.m.
12 noon – 12:30 p.m. | Welcome – Networking Luncheon
12:30 p.m. – 12:45 p.m. | Opening Remarks from Paula Brunoro
12:45 p.m. – 1 p.m. | Remarks from Adria Price Regarding CLA Taxation Section
1 p.m. – 2 p.m. | IRS Audit: From Exam To Tax Court

The program will provide guidance to young lawyers entering the field of tax litigation practice. The panel will provide a roadmap on how to navigate the procedural rules when representing clients in tax matters, and best practices for lawyers. The program will start off covering the main types of IRS examinations, how to proceed with each type of examination, statute of limitation issues, and the closing of each type of exam. Upon the conclusion of the IRS exam, the next portion of the program will cover the appeals process for unagreed cases. The program will also review proceeding to Tax Court for unagreed cases where Notice of Deficiency has been issued. The panel will share tips on exam strategies, how to proceed with 5th amendment issues, and ethical considerations.

SPEAKERS: Ani Galyan & Jonathan Armitrano
2 p.m. – 2:15 p.m. | Break
2:15 p.m. – 3:15 p.m. | Tax Collections – When Bankruptcy May Be a Better Option

When providing a client with a comprehensive strategy to resolve their tax issues, there are times that your client may be better off going into bankruptcy. This presentation will discuss bankruptcy considerations from a tax controversy practitioner's perspective and how such a tool can be helpful to your clients. This presentation will provide an introduction into what analysis is needed to determine whether bankruptcy may be a better option for your client or when it may not be an option for your client. Timing is key in this area and it is important to understand common pitfalls in this area.

SPEAKER: Lisa Nelson
3:15 p.m. – 3:30 p.m. | Break
3:30 p.m. – 4:30 p.m. | Ripped from the Headlines: How Not to Practice Tax Law from Those That Should Have Known Better (1.0 Hour Legal Ethics)

This presentation will take real life examples of tax practitioners behaving badly, who have run afoul of various legal and ethical rules, and dissect what they did wrong and why. Circular 230, ABA Model Rules of Professional Conduct and the California Rules of Professional Rules of Professional Conduct will be discussed. This presentation is a must for any practitioner wanting to keep their law or accounting license!

SPEAKERS: Adria Price & Kim Nguyen
4:30 p.m. – 6 p.m. | Networking Reception at the UCI School of Law Courtyard

Reception Sponsor: Orange County Young Tax Lawyers (ocytl) Committee
Essential Information
How to Register
Register Online Here (** Note: This program is canceled **)
Send this form to: Program Registrations, California Lawyers Association, 400 Capitol Mall, Suite 650, Sacramento, CA 95814
Email Program Registrations at ProgramRegistrations@CAlawyers.org. In order to email your registration, credit card information is MANDATORY. (Photocopies of checks will NOT be accepted.)
On-site registration is subject to availability. Call to confirm space availability.
Registration Fees
$40 Student
$65 Young Tax Lawyer Member */Government Attorney
$90 Taxation Section Member
$115 Non-Section Member
* Young Tax Lawyer Members are current paid members of the Taxation Section of the California Lawyers Association who are either under 36 years of age or are in their first 8 years of practicing law.
**Onsite registration fee is $125 for anyone registering the day of the conference.
Cancellations/Refund Policy
Cancellations and requests for refunds must be received in writing no later than April 10, 2020 and are subject to a $50 service charge. Refunds will not be available after April 10, 2020.
Questions
For registration information call 916-516-1757. Telephone registrations will not be accepted. For program content and/or Section information call 916-516-1754.
SPECIAL ASSISTANCE
For special assistance, please call 916-516-1754.
This event may be recorded. By attending this event, you consent to be photographed, filmed, and/or otherwise recorded, and to any use, by the CLA, of your likeness, voice, and name in any and all media including social media. If you do not want your name or photo to be used, please let us know in advance. We cannot, however, honor requests to opt out of the use of your image or voice if you choose to ask a question during one of the event sessions.
California Lawyers Association is an approved State Bar of California MCLE provider.
---