Racial Justice Committee and Resources

21-Day Racial Equity Challenge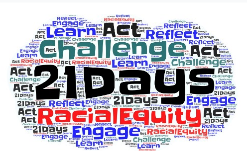 An antiracist society depends on the actions of each of us, independently and together. So, what are you doing about that?
CLA's Racial Justice Committee invites you to join us for a 21-day racial equity challenge. It's a challenge from you . . . to you. John Lewis reminded us that "Together we can redeem the soul of our nation." One way to get started, or to continue your work, is with the 21 Day Racial Equity Challenge. Racial justice advocates at The Privilege Institute teamed up with ProHabits to create this action plan that offers a simple activity you can do daily to pursue racial justice in your workplace and in your community.
Sign up to receive a daily email (on your time; you say what time it hits your inbox every day) with a link to a small 5-10 minute activity, such as an article to read, a video clip to watch, or a concept to consider. When you have completed the challenge, let us know! We will send you a Equal Justice Initiatives Calendar to keep up the daily work.
About the Committee
The Racial Justice Committee addresses issues regarding racial injustice and reform. All CLA members are welcome to join. We focus on four main areas of content: public education, member education, member engagement, and legislative/other advocacy efforts.
We thank the Criminal Law Section, the Litigation Section and the CLA's Diversity Outreach Committee (DOC) for taking the lead on founding the CLA Racial Justice Committee in 2020.
Leadership
Adrieannette Ciccone
Leif Dautch
Terrance Evans
Marjaneh Maroufi
Subcommittees & Projects
Policy Sub-Committee
Programming Sub-Committee
Resources Sub-Committee
California Criminal Trial Recurring Errors Project
Police Interaction Video Project
Statements From Sections
Publications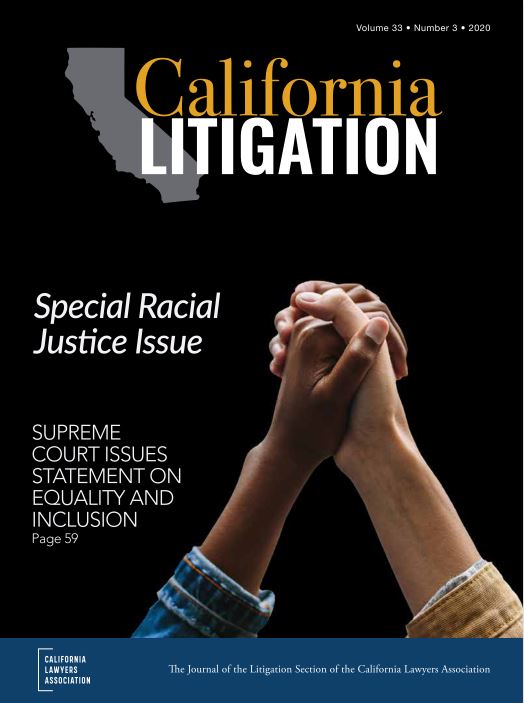 Upcoming Events
The History of Black Lawyers, Black Judges, and Black Bar Associations in California
February 24, 2023 @ 12 – 1:15 pm
Free non-CLE virtual event limited to the live presentation.
The Honorable Judge Charles Smiley will discuss his in depth research over the past 25 years regarding the rich, triumphant, and sometimes heartbreaking history of Black lawyers, Black judges, and Black Bar Associations in California and the United States. This is one very educational Black History Month Program that you do not want to miss.
Featured Webinars
Lawyers as Part of the Solution to Racial and Societal Tensions: Yes, it is Your Responsibility
Presented at the 2020 Annual Meeting
1.0 Hour MCLE Credit ,including 1.0 Hour Recognition and Elimination of Bias
This panel explores the role of attorneys in the pursuit of racial and social justice with all four Co-Leaders of CLA's Racial Justice Committee. As officers of the court, attorneys are tasked with participating in the functioning of the judicial system as a whole, forging justice out of the law, and simultaneously pursuing the legitimate interests of all parties and the general good of society. Panelists will explore how all kinds of attorneys can promote racial and social justice within and outside of their law offices.
From the Author: Race Results
October 2020
1.5 Hours MCLE Credit ,including 1.5 Hours Recognition and Elimination of Bias
Justice Eileen Moore compares and contrasts U.S. Supreme Court cases with Hollywood movies, discussing how each institution has treated African Americans throughout the decades. Which body has been more progressive, the conservative court or the liberal movie industry, may surprise you. During the presentation, Justice Moore shows numerous film clips, placing them in context with supreme court cases of the time.
Stay current with racial justice legislation in California thanks to our up-to-date bill tracker
Upcoming Events of Other Organizations
More events coming soon! Let us know about your organization's events by sending us a message at RacialJustice@calawyers.org.
Racial Justice Resources
Click on the topics below to see the full collection of resources available.
Racial Justice Program Recordings from Other Organizations

"A Courageous Conversation About Women and Race" – This 2-hour zoom session, hosted by WALALA, was held on 08/22/2020. To view, click the title, enter your name and email on the zoom web page, and enter the password provided below. CLA RJC was pleased to co-sponsor this live event!
Password: b*z3PZ$K
APAs vs. Hate Conference – This eight-session conference was held over the course of seven weeks during March and April 2021. The California Lawyers Association was pleased to co-sponsor this live event!

Volunteer for APAs vs. Hate: If you are an attorney interested in helping, please volunteer for the APAs vs. Hate pro bono referral panel.

ACBA Barristers and CHBA Civil Rights Series – They are working on a free series of CLE programs related to civil rights and racial justice issues to provide lawyers with information, resources, and tools necessary to effectively advocate for racial justice and systemic reform. The past programs of this series are still available for viewing online.
Disenfranchisement of Voter Rights
Intersectionality & LGBTQ+ Resources

Resources

Parivar celebrates the intersectionality of our Trans and Queer South Asian identities and builds a community of light, love, and acceptance.
The Sylvia Rivera Law Project (SRLP) works to guarantee that all people are free to self-determine their gender identity and expression, regardless of income or race, and without facing harassment, discrimination, or violence. SRLP is a collective organization founded on the understanding that gender self-determination is inextricably intertwined with racial, social and economic justice.
TGI Justice Project is a group of transgender, gender variant and intersex people – inside and outside of prisons, jails, and detention centers – creating a united family in the struggle for survival and freedom.
Other Resources

Videos

Articles

Additional Resources
Podcasts
Raising Anti-Racist Children
Resources/Information From Other Bar Associations and Organizations
RJC Town Hall Recordings and Other Programming
June 24, 2020 | Introduction and Personal Encounters
Hear from Adante Pointer, a civil rights attorney who has also been the subject of police brutality, and other CLA leaders such as Demetria Graves, Terrance Evans, Dianne Jackson McLean and Otis Bruce, Jr. Esq. who will share their stories.
July 1, 2020 | Role of Race in Our Criminal Justice System
This Town Hall focuses on the role of race in our criminal justice system. Join prosecutors and defense attorneys from across California who will discuss the role that race plays in our criminal justice system, and their experiences as attorneys of color navigating the complicated politics of race in the profession featuring Otis Bruce, Jr., Esq. Marin County Deputy District Attorney, Brooke Jenkins, Marjeneh Maroufi and Lei-Chala I. Wilson.
July 23, 2020 | Know Your Rights
This Know Your Rights Town Hall featured insight and statistics based on arrest and incarceration rates of African Americans in comparison with the majority population; a brief history of the prison population increase of African Americans; information on what to do if one is stopped by law enforcement; and a question and answer period. Co-sponsored by the Charles Houston Bar Association featuring Terry Wiley (Alameda County DA), Kwixuan Maloof (San Francisco PD) and Nichelle Holmes (Contra Costa County DA).
July 27, 2020 | Intersectionality
In this Town Hall, moderated by Staff Attorney Michael Rhoads, our speakers share personal and professional experiences they have had through the lens of Racial Justice, Intersectionality and specifically their LGBTQ identity. Our speakers included Honorable Victoria Kolakowski, Deputy Attorney General Basil Williams, and Co-founder of Parivar, Anjali Rimi.
August 18, 2020 | Racial Bias Obstacles in Selecting and Litigating Police Cases
In this Town Hall moderated by Adrieannette Ciccone, hear from John Burris, a renowned and accomplished civil rights lawyer who has prevailed in some of the most notorious cases of police misconduct and civil rights violations in recent history.
September 17, 2020 | Building a Coalition for Racial Justice and Civil Rights During a Time of Crisis
In extraordinary times like these, it is critical that Americans of all walks of life come together to face the challenges of the day. In this panel, moderated by Terrance J. Evans and Will Mosley we will hear from Adrieannette Ciccone, Ruthe Catolico Ashley, Professor Maria Linda Ontiveros and Nichelle Holmes who will explore how the African American, Asian American, and Latinx communities can be effective allies for one another in the pursuit of racial and economic justice during a period of crisis.
October 9, 2020 | Reparations: More Than Financial
Reparations are a vehicle many groups who have been oppressed have used to provide some recompense. Reparations are a good place to start with dealing with the harm inflicted on marginalized groups, but they are more than just financial. The State of California is currently studying how Reparations for African Americans will look. In this panel we'll hear from Dr. Nicholas L. Baham III, Adrieannette Ciccone, and Terrance Evans who will provide a historical perspective of Reparations; the far reach that Reparations would provide recompense for; and much more.
November 9, 2020 | Cooking on Camera with Adrieannette Ciccone
Please join us for an evening of cooking and conversation with Adrieannette, who goes by the name of Chefsquire while cooking. You will learn how to make food from the African Diaspora with a healthy twist and incorporating your favorites into your recipe repertoire.
December 1, 2020 | COVID-19's Disparate Impact on Black and Brown Communities
In light of the COVID-19 pandemic, and recent increased health measures, it is high time we discuss the intersectionality between COVID-19 and race. Specifically this Town Hall will focus on the disparate impact that COVID-19 is having on black and brown communities. Moderated by Adrieannette Ciccone, this Town Hall features a line up of heavy hitting speakers including Pascal Dabel, MD, Larissa Estes-White, PrPH, Alexander Martos, Ph.D, and Maria Dominguez, Esq.
January 28, 2021 | Judaism, Law, and Social Change
This panel will explore the role that Jewish lawyers have played in social justice efforts from the Civil Rights Movement to the labor movement. Panelists Stan Levy, Seth Brysk, and Marlene Trestman will share their own personal stories tackling inequality and antisemitism, and discuss how Jewish faith and culture inspired their careers in public service.
March 25, 2021 | Veterans Voices: Experiences of African Americans in the Armed Forces
Presented by Duane Morris. African Americans have served honorably in the U.S. Military since its inception. Even while enslaved, and subsequently during the height of anti-Black Jim Crow discrimination, Black service men and women put their lives on the line to protect a country that has often not treated them with the dignity and respect that they deserve. This Town Hall will honor the service of Black veterans and provide insight into the African American military experience. We will feature retired enlisted service members, retired and active duty JAG officers, a California Appellate Justice who served in combat, and members of the civilian community. Please join us for this amazing program. Elimination of Bias MCLE credit is pending. **CLA has been granted permission to host and share this video by Duane Morris, the program provider
April 8, 2021 | A Closer Look: Hate Crimes Targeting the Armenian Community: the Legacy of Genocide, the Denial of Justice and the Ongoing Struggle to Survive
Leaders of the Armenian legal community, Alex Bastian, Lucy Varpetian, and Armen K. Hovannisian, will provide a historical basis for why, along with superficial welcome and acceptance, attacks have been directed against the Armenian community in California and around the globe; why hate crimes persist in the present; and solutions for what attorneys and community members can do to support and protect the Armenian community and to help in their ongoing struggle to survive.
May 27, 2021 | RJC Roots of Racism Part 1 Our Black Communities
Systemic racism — sometimes called institutional or structural racism — can be defined as a form of racism woven into society through laws and institutions that treat people differently based on race, contributing to perpetual inequalities in power, wealth, education, medical care, housing, dignity, and opportunity. These inequalities endure, even after the laws have changed and often without conscious animus. In a multi-part series, we examine the historic causes and continuing effects of systemic racism from the perspective of our Black, Latinx, Asian, and Native American communities, followed by a final program discussing potential responses. It is our hope that by understanding the past, we can better evaluate the present, and more wisely build toward a future of racial justice.