Workers' Compensation Section Spring Conference
April 17, 2021
@
9:00 am
–
5:00 pm
6 Hours MCLE; 6 Legal Specialization in Workers' Compensation Law
Get the bundle and save big! Get 35% off each webinar when you purchase all six! Offer ends April 17, 2021, 11 a.m.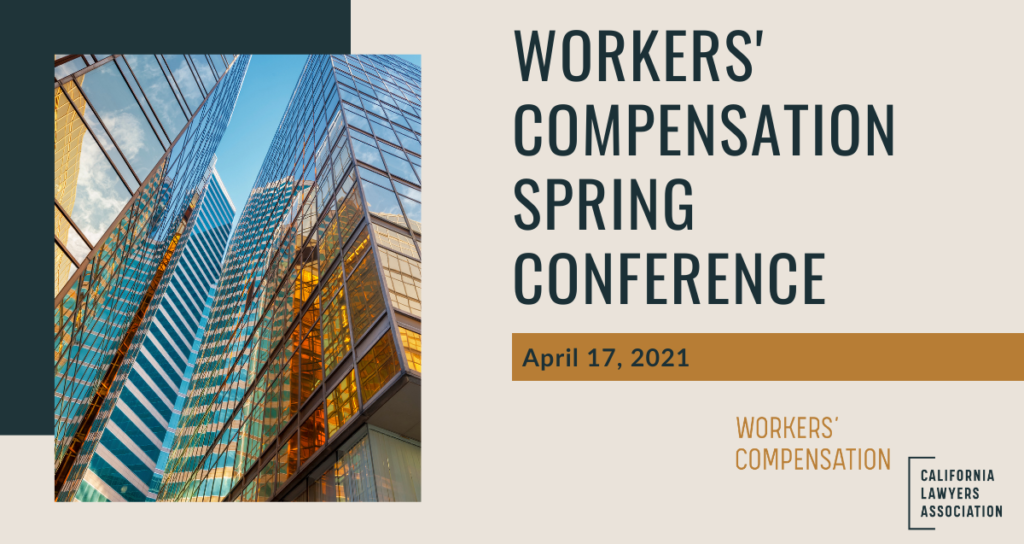 Session 1: HOT, HOT, HOT! What's Hot in Workers' Compensation Litigation Right Now!
9 a.m. – 10 a.m. | REGISTER HERE
As we all sit in our COVID-19 silos, it's a good time to take a panoramic view of what's hot on the litigation landscape in 2021. In this 1 hour presentation given by Randy Pollak, you'll learn about what other litigants in the work comp field are fighting over so you are well versed in the issues when they come knocking at your door. Speaker: Randy Pollak.
Session 2: What You Need to Know About Litigating Covid -19 Workers' Compensation Cases
10:15 a.m. – 11:15 a.m. | REGISTER HERE
A panel of esteemed experts, Yvonne Lang, Cheryl Wallach and Judge Josephine Broussard, will cover all of the hot topics in COVID-19 litigation including: statutory presumptions, emergency legislation, industrial causation outside of the presumption, temporary disability issues, and the QME evaluation process.  This is a must have course for attorneys litigating COVID-19 issues. Speakers: Hon. Josephine Broussard, Yvonne Lang, Cheryl Wallach.
Session 3: Employment & Insurance Coverage Purgatory: Navigating General/Special, PEO's, and Exclusionary Endorsements
11:30 a.m. – 12:30 p.m. | REGISTER HERE
It may be the most infamous card in the game: "Go to arbitration. Go directly to arbitration. Do not pass Go. Do not collect $200." Everyone wants to avoid litigation purgatory. An employment or coverage dispute can instantly derail a workers' compensation case for months if not years.
This panel will cover some of the hot topics of our time including general / special employment, the increasing use of PEO's, and exclusionary endorsements. Panelist Carrie Dixon, Adam Dombchik, and Judge Mehrpoo-Jacobson will dissect the various issues surrounding our evolving definitions of employment and coverage, and help you keep your case on track.
Session 4: Essential Elements Substantial Vocational Expert Reports
1:30 p.m. – 2:30 p.m. | REGISTER HERE
Permanent total disability cases are the biggest cases a comp attorney will handle. Most of these cases require the analysis of a vocational expert. Don't let a poorly drafted vocational expert report turn your permanent total disability case into a permanent total disappointment. This panel will cover some of the most common mistakes in drafting vocational expert reports, including traps to avoid. Panelist John Hernandez, Jamilla Harris and Judge Martha Henderson will provide tips, tricks, and suggestions to get the best evidence and prove your case.
Session 5: What We Can Learn From Each Other: Perspectives from all sides: Judge, Applicant, and Defendant
2:45 p.m. – 3:45 p.m. | REGISTER HERE
Workers' Compensation is a specialized area of practice. The Judge, Applicant and Defense counsel see one another regularly at the Board and are constantly communicating back and forth on litigated cases. But how often do we take the opportunity to listen to each other about general case handling and the reasons why we take certain actions and adopt certain positions? We tend to assume on these issues but we often don't really know for sure why our counterparts do what they do. Join Judge Boriolo, Megan Cheng and Richard Green for an engaging discussion on this valuable topic that will enhance your ability to work effectively and efficiently and communicate better with each other. Speakers: Hon. Katie Boriolo, Megan Cheng, and Richard Green.
Session 6: Causes and Prevention Of Fatalities In Lien Litigation
4 p.m. – 5 p.m. | REGISTER HERE
Judge William Carero, a seasoned veteran on lien litigation, will explain the tips and tricks to maneuver through this potential mine field. Lots of common issues can easily be avoided if you have the right tools and training. Filing fees, EORS, SBRS, declarations, filing fees, activation fees and deadlines all have hidden hazards attached to them if parties are unprepared. In this program, you will learn how the subtle differences between curable and incurable defects, excusable and inexcusable neglect can have a significant impact on the outcome of the litigation. Join this in depth discussion on IBR, Non-IBR, Cost Petitions and lien litigation issues. Speaker: Hon. William Carero.