Wellness Wednesday: Essentials of Walking
July 21, 2021
@
4:00 pm
–
5:00 pm
Presented by the CLA Health and Wellness Committee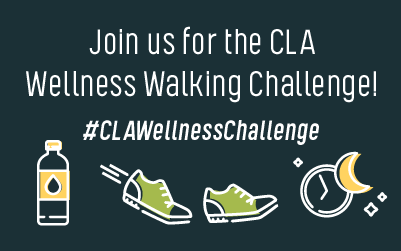 In 2021 you can count on the Health and Wellness Committee on the 3rd Wednesday of every month for programming and activities focused on the wellbeing of our members and the legal community.  
From your couch to a 5K and beyond!  Join us for a virtual presentation with Walking/Yoga Instructor, Jacki Elledge. This talk will help you prepare for safe and effective fitness walking in time for the upcoming CLA Wellness Walking Challenge which begins on August 1st – register now! 
Presenter: Jacki Elledge
Jacki Elledge, a fitness instructor and master coach, has worked in the natural health, nutrition and fitness industries for the past 29 years. She began as a certified massage therapist and childbirth doula, then became a Nordic Walking Trainer and Coach before becoming a Yoga Instructor and Instructor Trainer.
Jacki progressed in her devotion to movement by opening Moving with Jacki, a business that provides Yoga and Nordic Walking education and community movement-based opportunities. Through demos, classes, consultations, and trainings, Jacki can coach adult movers of all ages, shapes, sizes and fitness levels. Her passion is lifestyle wellness. Her philosophy is being active at any size.
Additional Fields of Study: Positive Body Yoga, Experiential Anatomy, Non-violent Communication, Eating Disorder Recovery
Advanced Certifications: RYT500 and E-RYT200, ACE, Relax and Renew® 1&2, Yoga Warriors®, S.O.A.R., Y12SR, Fitness and Sport Level Nordic Walking Trainer, Nordic Walking Now Team Trainer, Keenfit Coach, Balance Walking Master Coach, Nordic Walking Instructor of the Year
---
Click here to learn more about the Committee, discover resources, or view a recording of a past wellness program. You are also invited to join the CLA Health and Wellness Facebook Group, a casual online environment to share resources and provide encouragement/support as we pursue our own paths to wellness. You may contact the CLA Health and Wellness Committee at Wellness@calawyers.org – we welcome suggestions for future Wellness Wednesdays or general programming, questions, and feedback about past programming and activities. #CLAHealthAndWellness