#WellbeingWeekInLaw: Making Professional Relationships More Human and Less Transactional
May 4
@
3:00 pm
–
4:00 pm
On day four of Well-being Week In Law we turn our attention to connection and our social well-being. Executive coach and former lawyer Michael Urtuzuástegui Melcher will share insights and practical tools from his book, Your Invisible Network, and from his years coaching lawyers, executives, and leaders of all backgrounds.
Michael will talk about:
How building relationships with intention can improve well-being and fulfillment (and incidentally make you more successful)
How relationships are a form of wealth that is under your control, and how you can develop them even if you start from nothing
The 7 types of relationships you need for your career, and what it means to build a relationship portfolio
How to fit building authentic relationships into your life as it is right now—in 20 minutes a day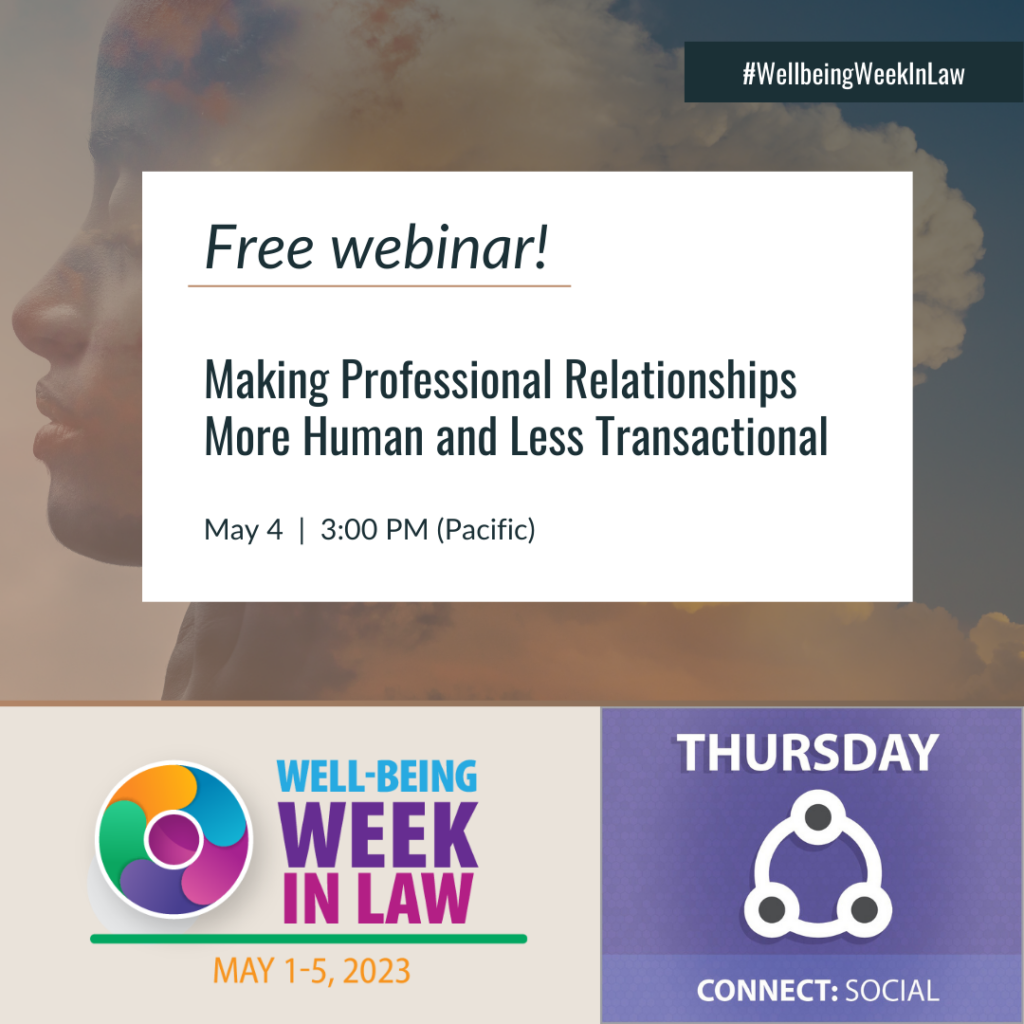 ---
Speaker Michael Urtuzuástegui Melcher is an internationally known executive coach and leadership expert. Over the past 20 years, he has helped senior executives, entrepreneurs, attorneys, investment bankers, White House appointees, tech wizards, healthcare leaders, community activists, board chairs, parents returning to the workforce, and young people just starting out. He has delivered hundreds of keynotes and workshops, including at Camp David, Google, and leading universities around the United States, and in a dozen countries on five continents.
Melcher attended public schools before earning a BA from Harvard and a JD/MBA from Stanford. He began his legal career at Davis Polk & Wardwell in New York. He was raised by a Mexican American single mother who was the first Hispanic woman in America to earn a doctorate in accounting. He is a gay dad and lives in Manhattan with his twin sons, Nicolás and Mateo.
Moderator Dee Dee Dickey is a former environmental lawyer who works as an executive and career coach. As the founder of Dickey Coaching and Consulting. Dee Dee focuses on helping her clients thrive at work–and in the rest of life. Dee Dee is a member of the California Lawyers Association's Health and Wellness Committee and is helping to develop a wellness program for the Bar Association of San Francisco. She is an advisor to the CLA Environmental Law Section and provided coaching to the law students who part of the Section's summer 2022 Diversity and Inclusion Fellowship Program.