Webinar: Where Our AI Policy Is Headed – A Discussion with the Copyright Office and the Patent and Trademark Office
October 26
@
12:00 pm
–
1:00 pm
1 Participatory MCLE Credits
Please join us for a discussion with the USPTO and the US Copyright Office on the formulation of AI policies. This webinar will address the US Copyright Office's and USPTO's recent requests for public comments, which touch on several novel and hotly contested issues regarding the development and use of AI, including:
Fairness – Determining how to incorporate copyrighted works in datasets used to train AI models

CO: Should copyright owners be compensated for use of their works in AI training and, if so, how? 
PTO: How could AI model developers retain freedom to innovate?

Transparency – Tracking and disclosing AI models and the input and output data of AI models

CO: How could individual data points, including copyrighted works, included in datasets used to train AI models be identified?  How could outputs generated by AI models be identified? 
PTO: How can AI models be more explainable or interpretable?

Accountability – Assigning liability for outputs produced by AI models

CO: Should data collectors, end users, or others be liable for infringement of copyright or right of publicity or other issues?
PTO: Should developers of AI models or AI systems be liable for incorrect, deep-fake, or harmful AI output or other issues?
Speakers: Nicholas Bartelt and Meredith Schoenfeld
Moderator: Agatha H. Liu
Non-Member Price
$75.00
Member Price
$55.00
---
Nicholas Bartelt advises on litigation matters, rulemakings, and government amicus briefs, including the government's brief filed in Andy Warhol Foundation for the Visual Arts v. Goldsmith. In addition, Nick contributes to the Office's AI initiative, works with the Copyright Review Board, and maintains the Copyright Office's Fair Use Index. Nick serves as product counsel on development of the Office's Enterprise Copyright System (ECS), including the electronic Recordation System and the Copyright Public Records System (CPRS).
Before joining the Office, Nicholas Bartelt was the Distinguished Senior Fellow at the Fordham IP Institute, where his work focused on researching IP law and policy, with an emphasis on copyright. In this role, he contributed to appellate amicus briefs and authored articles on the since‐enacted Music Modernization Act and copyright protection for pre‐1972 sound recordings. Nick earned his JD from Fordham University School of Law, and he holds a BA from Roosevelt University, where he was a Presidential Scholar.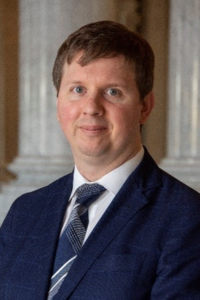 Meredith Schoenfeld is an Associate Solicitor at the United States Patent and Trademark Office (USPTO), where she serves as legal counsel on intellectual property law matters. At the USPTO, Ms. Schoenfeld defends decisions by the Patent Trial and Appeal Board, among other responsibilities. Ms. Schoenfeld is a founding member of the USPTO's Artificial Intelligence (AI) and Emerging Technology (ET) Working Group. This working group is comprised of AI experts from across the agency and has been responsible for several initiatives at the USPTO, including the issuance of request for comments, reports on AI and intellectual property policy, and the formation of the AI/ET Partnership, which was announced by Director Vidal in June 2022. Ms. Schoenfeld also acts a government liaison to the National AI Advisory Committee (NAIAC).
Prior to her position at the USPTO, Ms. Schoenfeld worked as a senior patent attorney at Los Alamos National Laboratory in New Mexico and as an associate at a large IP law firm in Washington D.C.
Ms. Schoenfeld is a graduate of Georgetown University Law School and holds a BSE in Mechanical Engineering and Applied Mathematics from the University of Pennsylvania.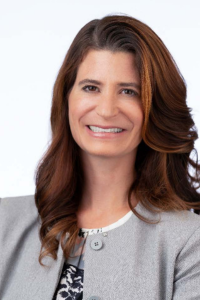 Agatha H. Liu, Ph.D. practices in the area of intellectual property law, focusing her practice on IP analysis, portfolio management and strategic counseling. She routinely advises investors, business owners, and technologists on all aspects of IP related to computers and the Internet, ranging from enterprise software development to online data privacy. She also speaks and writes extensively on different IP topics, such as eligibility for IP protection, the value of IP associated with emerging technology, and global IP management.
Prior to entering the legal profession, Dr. Liu held positions in technology and management consulting. She has a significant research background in artificial intelligence as applied to internet communications, database system management, computational biology and speech recognition.