Webinar: Online Platforms for Bar Associations
April 29, 2020 @ 12:00 pm
-
1:00 pm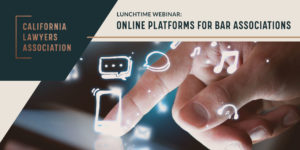 Join us for the FREE Q2 2020 Lunchtime Webinar on April 29 at 12:00 p.m., jointly sponsored by CLA's Office of Bar Relations and Executives of California Lawyers' Associations (ECLA).   This webinar will further explore some of the platforms being used by bar associations during the COVID -19 pandemic and that can be used going forward.  The session will cover the Zoom, GoToMeeting, Google Hangouts, Slack and Groupvine platforms.  We will also address steps and processes necessary to adequately prepare speakers and participants for using various video platforms.
Please note that once you register, the confirmation screen will include the Zoom link for this meeting. We will also send a reminder the day prior.
---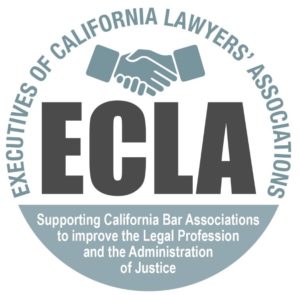 Executives of California Lawyers' Associations (ECLA) is a nonprofit organized in 1983 to provide a forum of exchange, support and unity among voluntary bar associations in California. The membership is comprised of executives of the State Bar, county bars, local bars, specialty bars and minority bar associations throughout the State of California.
ECLA has a presence as an organization with the California State Bar by representing executives and their views on various issues the State Bar may undertake that have an impact on ELCA members' bar associations.
ECLA offers members information and resources to facilitate the administration of organized bar activities, office management, and financial and business administration.
Member benefits include a yearly retreat, listserv, member directory, and annual meeting in conjunction with the CLA annual meeting.
For more information, visit www.eclanet.org.
---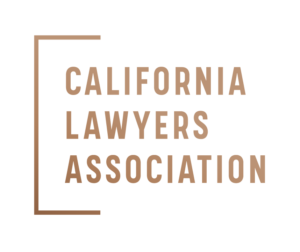 The California Lawyers Association (CLA) is a member-driven, mission-focused organization dedicated to the professional advancement of attorneys practicing in the state of California.
Established in 2018, CLA is a nonprofit, voluntary organization and the new home of the Sections of the State Bar of California and the California Young Lawyers Association. Our extensive membership represents the vast diversity of California's legal community and the various areas of law practiced throughout the state.
Bar Relations is an important function for CLA. Whether we are facilitating connection between bars, partnering with bars, or providing resources, information and support to bars, our goal is to help bar leaders and the organized bar succeed. With over 300 local, specialty, diversity, affinity and identify bars in California, there are numerous opportunities for connection and communication.