Running for Public Office | CLF Signature Speaker Series
April 26
@
5:30 pm
–
7:00 pm
Presented by the California Lawyers Foundation, the non-profit arm of the California Lawyers Association.
Students and Recent Graduates (since 2021+) | Free
General Admission Suggested Donation | $25
General Admission Elective Donation | $1+
General Admission sans Donation | Free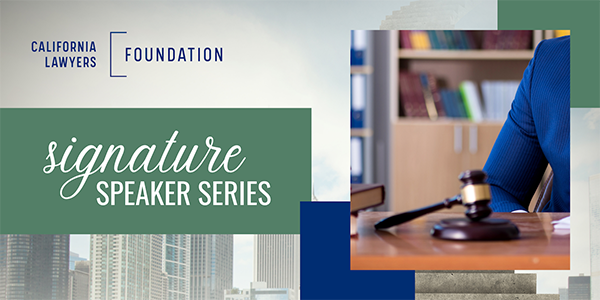 This program features terrific speakers and elected officials from some of the most well-known cities in the state. California is a large state and the politics vary, but the process is essentially the same in terms of getting elected. However, the panelists will discuss their experiences, the processes of campaigning, contributions, and electability. The panelists will also discuss what it takes to be a great elected official and the personality traits, morals, and ethics needed to lead.
Moderator: Saul Bercovitch, Associate Executive Director of Governmental Affairs, California Lawyers Association
Speakers:
Sabrina Ashjian, President, National Women's Political Caucus of California
Will O'Neill, Mayor Pro Tem, City of Newport Beach, California; Partner, Ross, Wolcott, Teinert & Prout LLP
The California Lawyers Foundation (CLF) believes in a legal profession that mirrors our population, in access to justice for all and in a society that understands the equalizing role of the rule of law and judicial branch. Specifically, the Foundation works on three core initiative areas: access to justice; civics engagement and education; and diversity, equity and inclusion. As part of CLF's core work, we host a signature speakers series on a variety of topics over the course of the year. In 2022, CLF had a particular focus on educating the next generation and current lawyers about opportunities in the legal profession through this series.
Please note that this event is limited to the live presentation; recording is not permitted.