Legislative Day
April 14, 2021
@
8:45 am
–
12:45 pm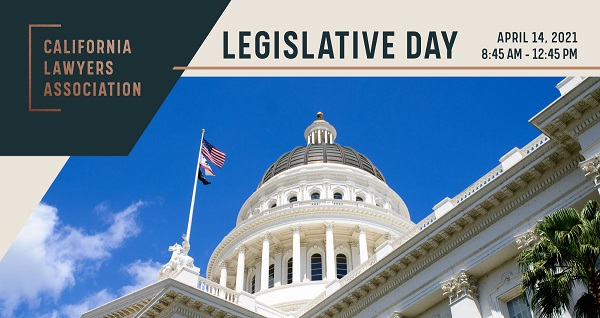 Please join the California Lawyers Association for our Legislative Day on April 14, 2021. Free & virtual event!
Legislative Day provides an excellent opportunity to interact directly with key decision makers about potential changes on the horizon. The day begins with an exploration of legislative issues that have an impact on all attorneys and their clients.
The event begins at 8:45 a.m. with presentation of Legislator of the Year Award to Assemblymember Mark Stone. Other speakers include:
Jessica Devencenzi, Deputy Legislative Secretary, Office of the Governor
Senator Tom Umberg, Chair, Senate Judiciary Committee
Cory Jasperson, Judicial Council of California, Director of Governmental Affairs
Assemblymember Ash Kalra
Assemblymember Laurie Davies
For those who are interested in additional discussions with speakers about legislative issues in specific subject matter areas, this will be followed by two special breakout sessions hosted by CLA Sections:
Business Law Section | 1:30 PM – 3:30 PM – Sign up now >>
Privacy Law Section | 2:30 PM – 5:00 PM – Sign up now >>
Privacy Law Section Speakers:
Nichole Rocha, Chief Consultant for the California Assembly's Committee on Privacy and Consumer Protection, chaired by Assembly member Ed Chau – 3:30 – 4:00 p.m.
Melissa Immel, Deputy Legislative Secretary & Chief of Legislative Operations, Office of Governor Gavin Newsom – 4:00 – 4:30 p.m.
Ariel Fox Johnson, Senior Counsel, Global Policy at Common Sense Media 4:30 – 5:00 p.m.