Confronting Climate Change: In California and Beyond 
April 7
@
9:00 am
–
6:15 pm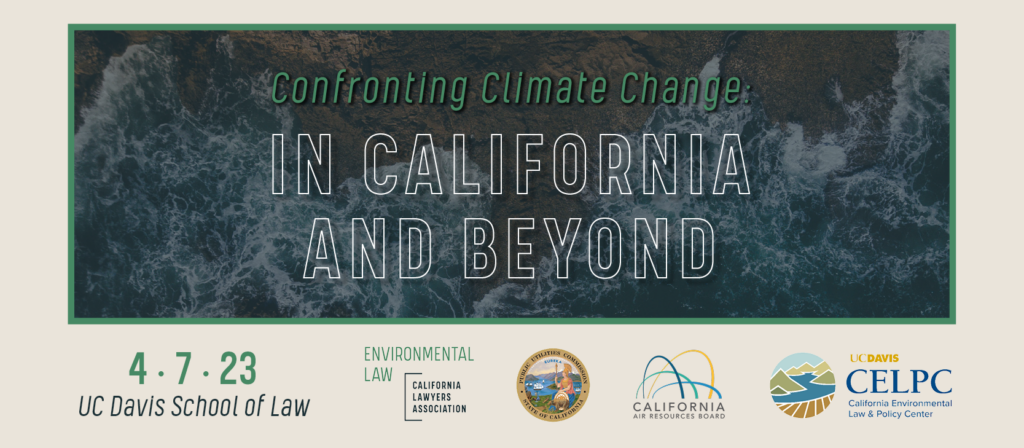 Law School at UC Davis
King Hall, Room 1001
400 Mrak Hall Dr
Davis, CA 95616
(NOTE: Daily Parking Fee is $10)
Earn 6.25 hours of MCLE Credits
Join us on Friday, April 7, 2023 for the Environmental Law Confronting Climate Change: In California and Beyond.

Pricing
CLA Members – $75.00
Non-Section Members – $150.00
Government, or Non-Profit – $25.00
Students – $0
Pre-Registration Deadline: The deadline to pre-register is March 31, 2023
Cancellations/Refunds: Requests must be received in writing by March 31, 2023. A $15 processing fee will be charged for requests received after March 31, 2023. For more information, call (916) 516-1757.
On-Site Registration: On-site registration is subject to availability. Call to confirm space availability.
Program Materials: Registrants will receive a link with information on how to review and download the program materials. This website is not available to the public, and access is given only to conference registrants. Late-breaking supplemental materials not available before the conference will be added to the website at a later date.
Special Assistance: For special assistance, please call 916-516-1732
Questions: For registration information call (916) 516-1757. Telephone registrations will not be accepted. For program content and/or Section information call 916-516-1732.
This event may be recorded. By attending this event, you consent to be photographed, filmed, and/or otherwise recorded, and to any use, by the CLA, of your likeness, voice, and name in any and all media including social media. If you do not want your name or photo to be used, please let us know in advance. We cannot, however, honor requests to opt out of the use of your image or voice if you choose to ask a question during one of the event sessions.
Agenda
9:00 – 9:15 a.m. | Welcome & Introductions

Speakers:


Dean Kevin Johnson, UC Davis School of Law
Kim Bick, Chair, CLA Environmental Law Section
Ellen Peter, Chief Counsel, CARB
9:15 – 9:45 a.m. | Morning Keynote Address

Keynote Speaker:
Yana Garcia, Secretary, CalEPA
9:45 – 11:00 a.m. | Panel #1 – Adapting California to a More Challenging & Unpredictable Climate    

This panel will focus on the challenges California faces in adapting to the unavoidable impacts of climate change: rising sea level, megadrought, severe floods, etc.  The panel will also address the ways local and regional jurisdictions in California are planning to confront these challenges.  Speakers will include representatives from local and federal governments, the insurance industry and other perspectives.

Speakers:
Nuen-Tara Key, WTW Insir/ Consulting & Technology
Krystal Laymon, FEMA
Danielle Ngo, Senior Planner, City & County of San Francisco

Moderator:
Jeannie Lee, Asst. Chief Counsel, CARB
11:15 a.m. – 12:30 p.m. | Panel #2 – Transitioning California to a Carbon-Free Transportation Sector

This panel will address how California should decarbonize its transportation sector, which currently contributes fully 40% of the state's aggregate greenhouse gas emissions.  Panelists will include representatives from the private sector, academia, California regulators and the environmental justice community.

Speakers:
John Boesel, CalSTART
Vivian Rahwanji, Director, Community Housing Development Corporation of North Richmond [invited]
Dan Sperling, Director, Institute for Transportation Studies, UC Davis

Moderator:
Jennifer Helfrich, Center for Law, Energy & the Environment, U.C. Berkeley School of Law
12:30 – 1:00 p.m. | Lunch
1:00 – 2:15 p.m. | Panel #3 – California's Climate/Energy Trifecta: CARB, CEC & CPUC

This panel will examine the critical nexus between California's climate change and energy policies—specifically, how California can transition toward increased reliance on renewable energy resources and away from fossil fuels.  Panelists will include attorneys and regulatory officials from the California Air Resources Board, California Public Utilities Commission and California Energy Commission.

Speakers:
Linda Barrera, Chief Counsel, CA Energy Commission
Rajinder Sahota, Deputy Executive Director for Climate & Research, CA Air Resources Board
Leuwam Tesfai, Deputy Executive Director for Energy & Climate Policy, CA Public Utilities Commission

Moderator:
Tom McHenry
2:15 – 3:30 p.m. | Panel #4 – Assessing Key Patterns in U.S. Climate Change Litigation

This panel will explain and analyze climate change litigation trends in California and throughout the United States.  Those trends will include the numerous state common law claims being advanced by state and local governments who seek damages from the fossil fuel industry for harm those jurisdictions have suffered due to a wide array of adverse climate change impacts; theories non-government organizations are utilizing to vindicate their climate change-related interests and concerns; and the numerous constitutional and other theories the regulated community (and some states) are invoking to challenge California's climate change policies in court.  Attorneys from the private, NGO and government sectors will serve as panelists.

Speakers:
Elaine Meckenstock, Deputy Attorney General, CA Department of Justice
Vic Sher, Sher Edling LLP
Kassie Siegel, Director, Climate Law Institute, Center for Biological Diversity

Moderator:
Rick Frank [or alternate]
3:45 – 5:00 p.m. | Panel #5 – International Climate Change Litigation and Diplomatic Initiatives            

This panel will explore international climate change initiatives with an emphasis on subnational and NGO efforts, highlighting California and equity focused activities. Speakers will highlight coalition building and negotiations at the UN Conference of Parties (COP) and the sustaining efforts between that enhance this work beyond global events.

Speakers:
Cliff Rechtschaffen, Commissioner Emeritus, California PUC
Jessie Buendia, Vice President of Sustainability & National Director, Green for All , Dream.org
Fan Dai, Director, California-China Climate Institute

Moderator:
Leuwam Tesfai, California PUC
5:00 – 5:15 p.m. | Closing Remarks
5:15 – 6:15 p.m. | Reception

More information coming soon.
Thank You to Our Generous Sponsors