CLF Signature Speaker Series: How to Become a Judge
July 27, 2022
@
5:00 pm
–
6:30 pm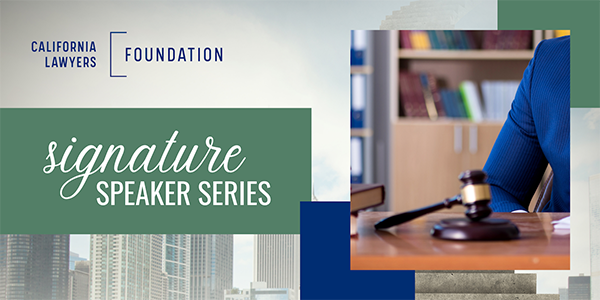 Presented by the California Lawyers Foundation, the charitable non-profit arm of the California Lawyers Association.
Join us for an evening with Governor Newsom's Judicial Appointments Secretary, two sitting judges, and a judicial candidate for a discussion about how to become a judge in the great state of California.
General Admission: $45 registration fee
Students and Recent Graduates (2020): Free
Moderator: Jeremy Evans, CLA President
Speakers:
Judge Marissa A. Bejarano, Superior Court of California, County of San Diego
Judge Rupert Byrdsong, Superior Court of California, County of Los Angeles
Luis A. Céspedes, Judicial Appointments Secretary
Mr. Michael Flemming, Deputy Public Defender and Judicial Candidate
The California Lawyers Foundation (CLF) believes in a legal profession that mirrors our population, in access to justice for all and in a society that understands the equalizing role of the rule of law and judicial branch. Specifically, the Foundation works on three core initiative areas: access to justice; civics engagement and education; and diversity, equity and inclusion. As part of CLF's core work, we host a signature speakers series on a variety of topics over the course of the year. In 2022, CLF has a particular focus on educating the next generation and current lawyers about opportunities in the legal profession through this series.
Please note that this event is limited to the live presentation; recording is not permitted.