6th Annual Women in Leasing Law Symposium
December 7, 2020
@
11:45 am
–
December 11, 2020
@
1:00 pm
Commercial Leasing in the Time of Covid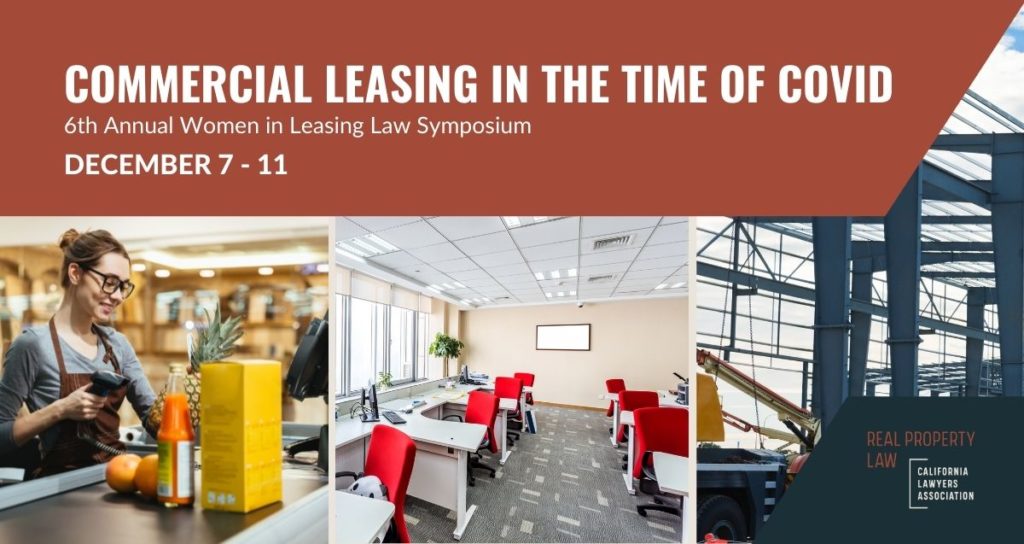 Co-sponsored by the CLA Real Property Law Section Commercial Leasing Practice Area Subcommittee
Note: Free for law students! Email RealProperty@calawyers.org for the code.
Monday, December 7
Session 1: Roundtable – Commercial Leasing Brokers Discuss Current Market Conditions for Retail, Office and Industrial Sectors
11:45 a.m. – 1 p.m. | Free! No MCLE
Moderator: Lisa Gooden, Senior Vice President & Consultant, Landmark Equity Properties LP
Panelists:
Carrie Bobb – CEO, Carrie Bobb & Co.
Jennifer Frisk – Senior Managing Director, Newmark Knight Frank
Gina Guarino – Director of Real Estate at Held Properties, Inc.
Paulette Toumazos – Principal, Lee & Associates
Tuesday, December 8
Session 2: It's a Tenant's Market: Tenant-Friendly Commercial Lease Provisions in the COVID-19 Leasing Market
12 noon – 1 p.m. | 1 Hour MCLE
The post-Covid era will be characterized by high vacancy, a rise in bankruptcies and falling rents resulting in a more tenant-friendly market than we have seen in many years. This webinar will discuss tenant-friendly lease provisions (taking into account evolving case law and legislation) which tenants should consider incorporating into their commercial lease transactions. Speakers: Krista Kim and JJ S Sherman.
Wednesday, December 9
Session 3: The New Force Majeure Clause in Commercial Leases
12 noon – 1 p.m. | 1 Hour MCLE
The purpose of this workshop is to exam the force majeure clause in commercial leases in the pre-Covid-19 era (including relevant case law) and the modifications that we anticipate seeing in the marketplace during the Covid era. Speakers: Chan Stroman and Jo Ann Woodsum.
Thursday, December 10
Session 4: Condemned by COVID: The Lease Takings Clause in 2020 – Hero or Dud?
12 noon – 1 p.m. | 1 Hour MCLE
A basic overview of the takings clause in commercial leases, relevant case law with a primer on how it may beat force majeure to help tenants in COVID-19 related lease negotiations … or not. Speakers: Maria V. Bernstein, Robert Martin, and Kristen Steinke.
Friday, December 11
Session 5: Roundtable – Retail Business Forecast
2 p.m. – 4 p.m. | Free! No MCLE
A roundtable discussion on Retail Business Forecast
Panelists:
Mar Diteos – CEO, Chilli Beans USA
Eileen Rinaldi – CEO, Ritual Coffee Roasters, Inc.
Natalia Bushyager – Founder, Picnic on Third
Kathryn Swimm – Director, Associate Counsel, HBC Properties & Investments, Hudson's Bay Company
Sponsors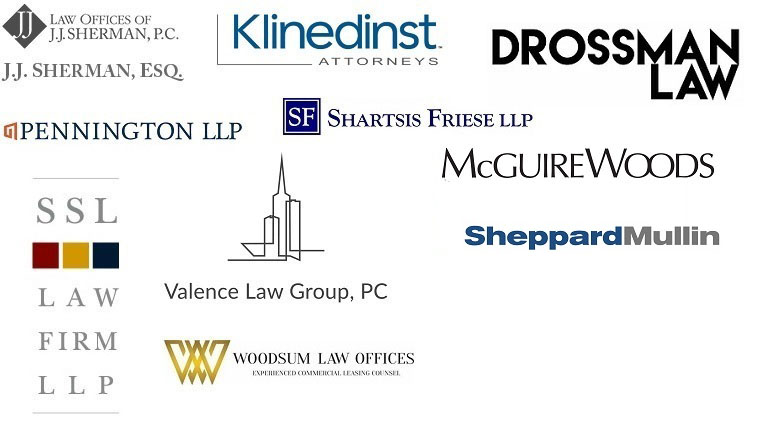 Drossman Law
Klinedinst Attorneys
Law Office of JJ Sherman
McGuireWoods LLP
PenningtonLLP
SSL Law Firm LLP
Shartsis Friese LLP
Sheppard Mullin
Valence Law Group
Woodsum Law Offices