Renew Your MCLE Effortlessly with This Specialty Credits Bundle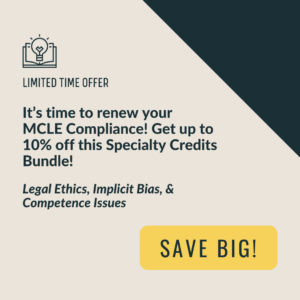 We made it effortless during your time to renew your MCLE! Act now to take advantage of a 10% discount toward our exclusive handpicked Specialty Credits Bundle. Dive into key topics like Legal Ethics, Implicit Bias, and Competence Issues and more. Hurry as this offer expires on 1/31/2024. Do not miss this chance to stay ahead in your legal journey. Renew today!
Limited-Time Offer ends 01/31/2024.
Featured Programs:
Ethical Issues in Working with Pro Bono Clients
Bias and Stereotypes; 2023 Solo & Small Firm Summit
Best Practices for Successful Client Relations
Impaired Colleague? Addressing Attorney Competence…
Where Can Lawyers Go and What Can They Share?
The Ethics of Social Media in Litigation and Court
Don't miss out on this limited-time opportunity to save up to 10% off!