Sixth Annual Young Tax Lawyers Conference
Education, Professional Development, Reinforcement of Your Inspired Idea to Become a Tax Lawyer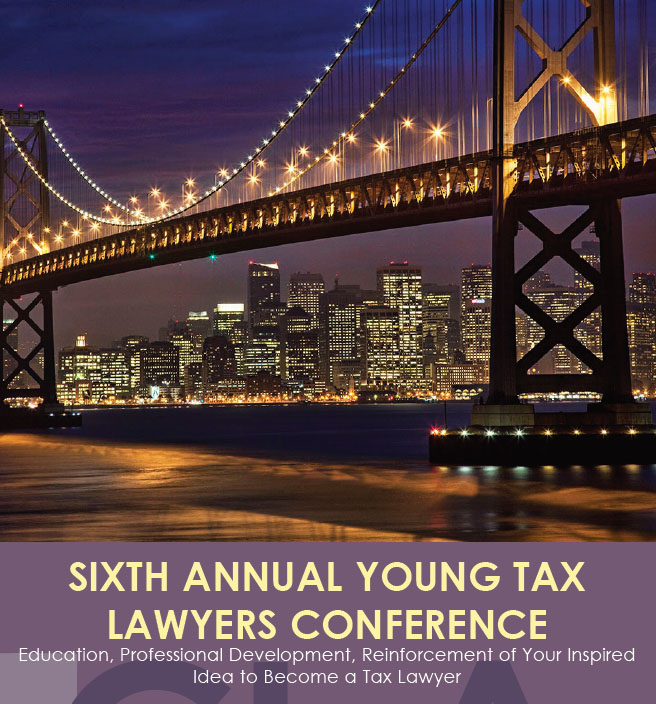 Monday, May 13, 2019
Golden Gate University
536 Mission St.
San Francisco, CA 94105
Earn 3.0 Hours MCLE Credit, Includes Legal Specialization and 1.0 Hour of Legal Ethics
More Links: Brochure | Registration Form
Schedule
11 a.m. | Registration

Registration starts at 11 a.m.
12 p.m. – 1 p.m. | Welcome – Network Luncheon

Start things off with a network luncheon!
1:15 p.m. – 2:15 p.m. | The California Franchise Tax Board – A Look at California Conformity to Federal Law, an Overview on the Process of Disputing a California Income Tax Liability, and a Few Other California Unique Tidbits

This presentation will discuss California tax law conformity with Federal tax law, current FTB litigation, and a few important California law differences. The speaker will also discuss the process of disputing a California income tax liability, and the role of the FTB settlement bureau in resolving FTB disputes.

Speaker: Michael Cornez, FTB Tax Counsel
2:15 p.m. – 2:30 p.m. | Break
2:30 p.m. – 3:30 p.m. | Ethical and Professional Responsibilities in Maintaining a Tax Practice (1.0 Hour Legal Ethics)

The presentation will focus on a practical overview of professional and ethical responsibilities-and potential pitfalls—in maintaining a tax practice for newer tax attorneys and tax attorneys in smaller firms. Topics will include client selection, engagement agreements, confidentiality, joint representation, conflicts of interest, maintaining client records, client management, the use of technology, and issues involving practice before the IRS and other taxing authorities.

Speakers: Jason Galek, Galek Law; James Hastings, Law Office of James Hastings PC.
3:30 p.m. – 3:45 p.m. | Break
3:45 p.m. – 4:45 p.m. | An Introduction to Criminal Tax Representation

This discussion will concentrate on strategy and practical tips in representing a client in a criminal matter. The subject matter will cover how criminal tax cases begin, proceed administratively and then into a formal court case. Sentencing procedure will also be discussed.

Speaker: Martin A. Schainbaum, Founder, Martin A. Schainbaum, PLC
5 p.m. – 7 p.m. | Networking Reception – Appetizers and Cash Bar

Everyone is welcome at the Young Tax Lawyers post-conference celebration! Hosted appetizers and cash bar at the SALT House restaurant: at 545 Mission St., San Francisco, CA 94105.
Essential Information
Brochure
We've provided a printable brochure for your convenience.
How to Register
Or fill out this registration form and mail To: Program Registrations, California Lawyers Association, 400 Capitol Mall Way, Suite 650, Sacramento, CA 95814.
In order to pre-register, your form and check, payable to the California Lawyers Association, or credit card information, must be received by Monday, May 6, 2019.
Or email to: ProgramRegistrations@CAlawyers.org
Or fax To: Program Registration at 916-516-1757. In order to fax your registration, credit card information is MANDATORY. (Photocopies of checks will NOT be accepted.)
On-Site Registration
Onsite registration will be on a space available basis. Call to confirm space availability.
Registration Fees
$40 Student
$65 Young Tax Lawyer Member*/Government Attorney
$90 Taxation Section Member
$115 Non-Section Member
— Young Tax Lawyer Members are current paid members of the Taxation Section of the California Lawyers Association who are either under 36 years of age or are in their first 10 years of practicing law.
— Onsite registration fee is $125 for anyone registering the day of the conference.
Cancellations/Refund Policy
Cancellations and requests for refunds must be received in writing no later than Monday, May 6, 2019 and are subject to a $25 service charge. Refunds will not be available after Monday, May 6, 2019.
Program Materials
Registrants will receive a USB storage device with an electronic version of all program materials the day of the conference. Before the Conference, Registrants will receive a link with information on how to review and download the program materials. It may be helpful to review a program's reference material before the class. This website is not available to the public, and access is given only to Conference registrants. Late supplemental materials not available before the Conference will be added at a later date.
Sponsors
A Special Thanks to our Sponsors for Their Generous Contributions:
Diamond Sponsor
The Law Offices Of A. Lavar Taylor
Platinum Sponsors
Morgan, Lewis & Bockius, LLP
Pillsbury Winthrop Shaw Pittman LLP
Procopio
Wagner Kirkman Blaine Klomparens & Youmans, LLP
Gold Sponsors
Galek Law
Law Offices of Jeff Titus
McLaughlin Legal, APC
Venue Sponsor
Golden Gate University
This event may be recorded. By attending this event, you consent to be photographed, filmed, and/or otherwise recorded, and to any use, by the CLA, of your likeness, voice, and name in any and all media, including social media. If you do not want your name or photo to be used, please let us know in advance. We cannot, however, honor requests to opt out of the use of your image or voice if you choose to ask a question during one of the event sessions.
---
Related Content