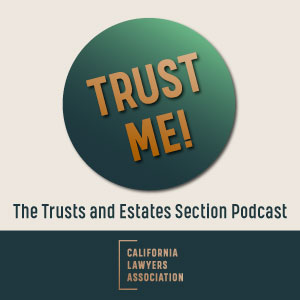 In January 2021, the Trusts and Estates Section launched a new podcast, Trust Me!
Trust Me! is produced by the Executive Committee of the Trusts and Estates Section of the California Lawyers Association ("TEXCOM").
The Podcast Committee is composed of Anna Soliman, Herb Stroh, Ciarán O'Sullivan, Ryka Farotte, Jeff Galvin, Kimberly McGhee and Kevin Bryce Jackson.
Suggestions for topics or other feedback can be sent to Anna at asoliman@ftci.com. We value your input so please, let us hear from you.
Episodes
You can also listen to all episodes on Buzzsprout, Apple Podcasts, Overcast, Spotify, and other podcast players.