It's Hard To Be A Trial Lawyer When You Are Hung Over All The Time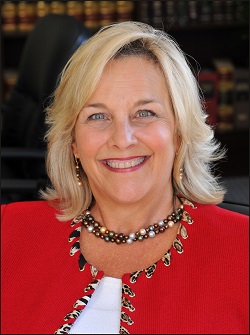 By Denise Asher
It's hard to be a trial lawyer when you're hung over all the time. Or wondering how soon you can get finished with that discovery/pleading/deposition/trial day so you can get something — or rather a whole lot of something — to drink. But that's precisely the life I endured and finally escaped on my birthday: February 27, 2001. Not my belly-button birthday, of course. My sobriety birthday. The first day of a life filled with miracles since I learned how to stop drinking, one day at a time.
My life was a textbook case for someone destined to become an alcoholic/addict. I come from a long line of alcoholics and a "broken home." My mom and stepfather were amazing, and gave me a wonderful young life after a tumultuous start. But my biological father was an abusive, angry drunk who made the early years pretty terrifying. He then left us all for another woman/family, so I had the abandonment thing down cold. The resulting insecurity drove me to try to be the best at everything, and when I couldn't, I desperately needed something to numb the feelings. By 10th grade, I was drinking and dabbling in other recreational substances popular in the 70s.
Life went on, and I never addressed the underlying issues which were causing me to drink. Instead I married a wonderful guy, had two beautiful children, and "managed" my drinking. I was usually a "fun" drunk, although on occasion I'd overdo it a bit. Everyone, most of all me, just laughed it off and chalked it up to "blowing off steam."
Things changed pretty dramatically when I started law school in my early 30s. Those old insecurities came roaring back. I'd work all day, go to class at night, then come home and study — with a beer firmly in my grip. Toward the end, I started seeing a therapist to deal with all my "stress." She tried valiantly to help me see the main problem was my drinking. I'd get angry, tell her to focus on the real issues, and defiantly go my way.
Law school ended, and so did my marriage. I worked very hard at becoming a great trial lawyer like those I admired so much, and some early successes spurred me on. But the insecurities were eating away at me, and one particularly difficult trial loss pushed me closer to the edge. My personal life was out of control, and I was putting myself and my beautiful girls in dangerous situations. I hadn't "hit bottom" yet as many describe it: the drunk driving arrest, the crash that hurt or killed someone, the blown statute or other mistake that hurt one of my clients. But the key word was "yet," and I knew it was only a matter of time.
Then came February 26, 2001. At 9:30 that beautiful Monday morning, I was laying on the couch with a monster hangover wondering how I was going to get up and go to work. From somewhere deep within I groaned: "God, help me." And He did. I found the strength that morning to call my therapist, who got me admitted to an intensive outpatient program through Scripps Hospital the next day. (An inpatient program wasn't a viable option due to parenting responsibilities and a heavy case load.) As part of that program, I started attending classes three nights a week, four hours a night, as well as Alcoholics Anonymous (AA) meetings on a daily basis.
When I started, I didn't see how I was going to get through a day without a drink, much less live the rest of my life without drinking. I'd tried to quit so many times before. I'd white-knuckle it for a few days, and then get really drunk, and be right back in the pit. How was I supposed to do life without drinking? How would I get through a trial without a drink each night to calm me down so I could prepare for battle the next day? How would I deal with a loss without drinking to drown my sorrows? How would I celebrate a victory? How would I attend a party without a couple drinks to loosen me up first? The answer to every question turned out to be very simple: Just don't drink today, and worry about tomorrow when it comes.
By the grace of God, and the AA program, I have not had to have a drink or other mind-altering substance in 15 years, one month, and five days. It hasn't always been easy, but every single one of those days has been a gift. I now get to really live life — feel every emotion, confront every situation with a clear head, really be there for my family and friends.
My husband and I remarried. We get to enjoy weddings, grandkids, and all the years to come as a family. Six years into my sobriety, I left my thriving trial practice to be able to spend more time with my family. I've been blessed with a new career in mediation in which my friends and colleagues allow me to help them resolve their cases.
If you are now where I have been, please know you are not alone. You do not have a defect of character. You have a disease, and there is treatment that can help you live a better life. You only have to take the first scary step of asking for help. Then just wait for the miracles to happen!
Denise Asher (denise@ashermediation.com) is a mediator with Judicate West.
---