By: RPLS Chair Frantz Farreau, Esq.
I am grateful and humbled to be the 2023-2024 chair of the California Lawyers Association Real Property Law Section. From the first time I attended an RPLS mixer as a brand-new lawyer, I felt a connection to the members. Everyone was welcoming, open, and encouraging. Over time, I became part of the executive committee, then became Treasurer, then Vice Chair, and now Chair. I am extremely excited about working with the incredible CLA staff and RPLS ExComm members this year. I will take this opportunity to highlight some of the aspects of RPLS that excite me the most this year.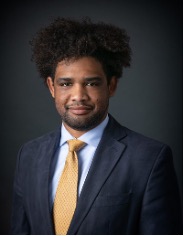 First, a tremendous shout out to our webinars. These webinars provide value to our members by giving them current, up to date information on critical topics. I, for one, greatly benefitted from these webinars during the COVID pandemic, when landlord tenant law was undergoing significant shifts. RPLS helped me stay current and confident when dealing with these issues. I also knew that the presenters were generous with their time and willing to help fellow members with questions. Throughout the year, we will continue these programs, and are now adding in person components as well. Please be sure to be on the lookout for webinars and in person programs.
Second, another tremendous shout out to our retreat. This year, it will be taking place in Rancho Mirage in March 2024. March 8, 2024 – March 10, 2024. RPLS is hosting the retreat in conjunction with our Women in Leasing Practice Area Committee. Women in Leasing is very much tied to our goal of increasing diversity within the legal profession. It was formed with the goal of increasing speaking opportunities for women in commercial real estate. Since then, Women in Leasing not only provided support to commercial real estate practitioners, but also has elevated many female commercial real estate practitioners who have contributing significantly to the profession.
Third, I want to give a shout out to the practice area committees. The practice area committees are an excellent opportunity to become involved in the Real Property Law Section. Our PACs, as we call them, are available on our website. PACs help RPLS with programming, help bring ideas to fruition, and generally ensure that we both understand the needs of our section members, as well as meet them.
In addition to these specific shouts, I want to give a shout out to our several written publications. If you are reading this message, you are aware of our e-news. I also want to give a shout out to our journal. Our journal produces current, meaningful, scholarly articles on various topics. These are excellent opportunities for people who want to publish scholarly articles in a reputable journal.
Lastly, we have a monthly podcast, currently available as a playlist on the CLA's YouTube channel. This podcast is a complimentary benefit to our members that includes current case updates, relevant information, and discussions with topic experts. Be sure to check it out!
If you made it this far in my message, thank you for reading everything. I am looking forward to a great year as chair. If you have any questions, I am here to serve our RPLS and CLA members. Please feel free to reach out to me at realtorfrantz@gmail.com.
I look forward to our amazing achievements in 2024.
– Frantz
---