International Law and Immigration
Ca. Int'l Law Journal 2016, vol. 24, no. 2
Report by the Vietnam Lawyers Association on its Successful Visit with The State Bar of California International Law Section and Others
Based on the Friendship Agreement with the International Law Section of The State Bar of California signed in October 2015, a delegation of the Vietnam Lawyers Association (VLA) visited and worked with representatives of the State Bar of California and other legal organizations in California from June 7 through 12, 2016. The delegation, led by VLA President Nguyen Van Quyen, included delegates from the National VLA and its branches in Bac Giang, Vinh Phuc, Lao Cai, Binh Thuan, and Ba Ria – Vung Tau provinces. During the successful visit, the delegation studied the organizational structure, operational methods, and financial and management mechanisms of the organizations visited in order to identify best practices for future application in Vietnam.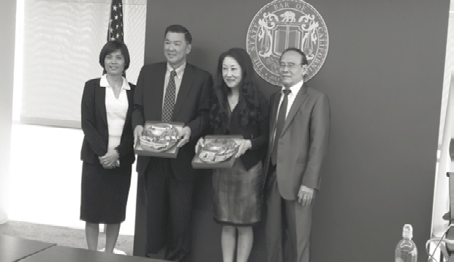 Photo of the VLA delegation and the State Bar representatives Collin P. Wong and Harumi Hata (second and third from left respectively)
The delegation's program, which was carefully prepared by the International Law Section, was both interesting and useful. On the first day of the visit, the delegation met with the State Bar representatives and learned about its history, functions, organizational structure, and activities. Among the State Bar representatives was the Chair of the International Law Section, Harumi Hata.