Antitrust and Unfair Competition Law
Competition: Spring 2017, Vol 26, No. 1
UNITED STATES VAB ELECTROLUXAND GENERAL ELECTRIC COMPANY: A PANEL DISCUSSION WITH TRIAL COUNSEL
Moderated by Peter Huston1
I. INTRODUCTION AND BACKGROUND
Each year the Federal Trade Commission and Antitrust Division of the DOJ are notified of hundreds of proposed mergers and acquisitions. They only investigate a small fraction of those. An even smaller fraction get a full "second request." A smaller fraction still are challenged with complaints seeking to enjoin the deals. And only some of those actually go to trial. In short, merger trials are rare.
One of those rare merger trials took place in late 2015 when the DOJ sued to stop the $3.3 billion sale of General Electric's appliance business to Electrolux, a Swedish company. GE sold appliances under its own name with various subbrands, including GE Monogram, GE Profile, and GE Cafe. They also sold under the Hotpoint label. Electrolux sells under its own name but also sells under the more well-known Frigidaire brand and under the Tappan brand. They also manufactured the products for Sears to sell under the Kenmore brand.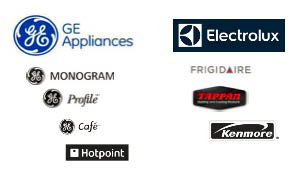 GE and Electrolux obviously are not the only manufacturers of appliances. Whirlpool is a major player, and Whirlpool about ten years ago purchased Maytag. Also in the market, are Samsung, LG, Viking, Wolf, Bosch, which owns Thermador, Miele, Fisher & Paykel, Dacor, Beko (a new brand coming into the United States), and others.
[Page 129]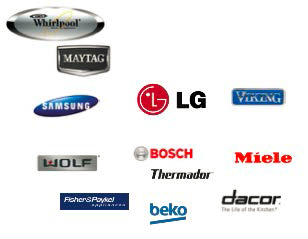 Nevertheless, on July 1, 2015, the DOJ sued to block the deal, and the parties agreed to complete all discovery within three months. Discovery closed on September 30th, and nine days later the case went to trial in the District of Columbia before Judge Emmet Sullivan.
The DOJ focused its challenge on ranges, cooktops, and wall ovens. The trial lasted four weeks. There were twenty-four witnesses, including experts. With only one day of trial remaining, GE backed out of the deal, so the case never went to verdict. GE was able to abandon the deal because the merger agreement had a reverse breakup provision that allowed then to back out of the deal as of December 7th, and it just so happens that the last day of trial landed on December 7th. Under the merger agreement, GE not only got to back out of the deal, they collected $175 million dollars. GE later went on to sell its appliance business to a Chinese company, Haier, for $5.6 billion, which is actually $2.3 billion more than they were going to get from Electrolux.
Counsel for the parties discussed the trial at the Golden State Institute.
The panel
Ethan Glass. Ethan was the lead trial lawyer for the government in the case. At the time of trial, Ethan was the Assistant Chief of the Litigation III Section at the Antitrust Division. He was with the division for almost nine years. In addition to working on the GE/Electrolux trial, Ethan was part of the trial team in the DOJ's case against American Express. Ethan is now a partner at Quinn Emmanuel in Washington, D.C.
David Gelfand. David was the Deputy Assistant Attorney General at the Antitrust Division during the case and was at the counsel table throughout the trial. As Deputy Assistant Attorney General David was involved in virtually all aspects of antitrust enforcement, and was heavily involved in other major merger matters including the proposed Halliburton/Baker Hughes deal that was abandoned and the U.S. Airways/American Airlines merger. David is currently a partner at Cleary Gottlieb in Washington, D.C.
Paul Denis. Paul was the lead trial lawyer for GE. Paul is a partner at Dechert in Washington, D.C. He's the deputy chair of the firm's Global Litigation Practice and co-chair of its Antitrust Group. Paul is known as one of the country's preeminent antitrust litigators, especially when it comes to merger litigation. He is ranked nationally with Chambers, Benchmark, Who's Who, Legal 500, among a number of other accolades. He's considered a go-to lawyer for high-profile merger cases and has been involved in a long list of them, including the American Airlines, US Airways, Office Depot, Office Max, Whole Foods and Wild Oats, among many others.
John Majoras. John was the lead lawyer for Electrolux. John is a partner at Jones Day in Washington, D.C. and Columbus, Ohio. He co-leads the firm's Business and Tort Litigation practice, and coordinates the firm's Global Competition Law Practice. John is another go-to lawyer for companies when they face high-profile merger challenges and other litigation. He has been lead lawyer in many other merger cases, including the Steris/Synergy merger that was unsuccessfully challenged by the FTC. He was also the lead lawyer for American Airlines in the government's challenge of its merger with USAir. He's also been the lead lawyer in numerous class action cases.
[Page 130]
MR. HUSTON: Ethan, let us know why the DOJ brought this case in the first place. There are obviously a lot of alternatives in the marketplace. I'm wondering why the DOJ devoted a significant amount of its resources to challenging this deal. What was the harm that you were seeing?
MR. GLASS: Well, thank you, Peter, and hello, everybody. So first, as an advocate I would like to say that I think we have a pretty good idea where the judge was going to land, and I think we can see a lot of the judge's thinking in the Staples/Office Max decision, where a lot of the same issues were being litigated. But what was the problem with this merger? The problem was that the evidence, the contemporaneous business records, showed that GE and Electrolux were pounding each other, pounding each other to the benefit of consumers.
At trial, I give the judge a hypothetical consumer. I think the judge focused quite a bit on her plight. I called her Mrs. Smith. Mrs. Smith walks into a store. It doesn't matter to her that there are 20 sellers. If she can't afford a Miele, she doesn't even know what a Miele is. She's got $500 in her wallet. She's looking at the options on the floor, and she had three choices: The GE, the Frigidaire, and the Maytag.
Now, this wasn't just a theory that the government came up with. This is what the documents and the data showed, and so I would commend everybody when you're approaching the Department of Justice, we may have a lot of good ideas, a lot of good theories, might have regressions, fancy work done, millions of dollars spent, but in the end, when the documents show that the two merging parties are very significant competitors, and the data supports it, I think you are going to see a challenge every single time. And so, Peter, that was the concern with this merger. The concern was that Mrs. Smith was going to pay more after this merger if the Court didn't block it.
[Page 131]
MR. HUSTON: Paul or John, any reaction to that? What say you?
MR. DENIS: Well, I will start with Mrs. Smith. Actually, she was a very compelling figure in the case—a lot of credit to Ethan and David and the team for coming up with Mrs. Smith and keeping her out of the discovery process. It was very frustrating not to be able to depose Mrs. Smith. We tried to introduce Mr. Jones, but he didn't do a very good job. Mrs. Smith did a lot better job. I think the fundamental difference between the case that the government was putting on and the case that John and I were putting on was that the government was looking backwards. They only wanted to look so far back. They didn't want to look back to Whirlpool, Maytag. We wanted to look forward. We wanted to look at how the marketplace was evolving, where it was going to evolve with this merger, and we wanted the judge to evaluate the transaction in that context.
Certainly Electrolux and GE competed. There is no debate about that. We weren't going to contest that. But what we were contesting was how that market going to work after this transaction, what we learned from Whirlpool/Maytag, and what we have learned from other appliance markets that evolved overtime.
MR. MAJORAS: It's kind of interesting to hear in Ethan's presentation the discussion about Mrs. Smith, and that's what this case was about. I think it's fair to say that as the case was tried, there was a great deal of discussion about this person as a representative of a person in a certain economic status and whether they could buy a range if they walked into a store. What's pretty fascinating, though, is that as we all walked into the courtroom at the opening of that trial, I think all of us expected—I would be curious to hear what Dave and Ethan would say about this—all of us expected the real issues to be over the contract channel, the builders and suppliers who bought massive amounts of appliances and installed them in apartment buildings and developments. That had been the central focus of the discovery, it had been the central focus of a lot of discussions in terms of the effects the deal might have.
I would say that the overall market for cooking appliances and retail is certainly part of the Complaint, but we felt pretty good about that aspect going into the case because the overlaps, the documents that we were hearing about really were in this contract channel. As I look back at the case, probably one of the more fascinating pieces of it was this good tactic, and the judge picked up on Mrs. Smith. He asked a lot of questions. He cared about Mrs. Smith. But if you actually looked at the Mrs. Smiths that were out there and the people buying the low end of the price points on those ranges, it was developers, the apartment builders and things like that. So from a competition standpoint, to say the DOJ was protecting Mrs. Smith, I won't argue with them. They could look at it a number of different ways. But I think from the pure antitrust issues, the interesting antitrust issues in the case, I think all of us thought it was going to be on this contract channel. And the fact that the case then kept going back to Mrs. Smith was really pretty interesting.
MR. GELFAND: As somebody who was overseeing this—I was actually the Acting Assistant Attorney General on the matter because Bill Baer was recused—I had to constantly be thinking about the case, not just from the perspective of somebody sitting with Ethan and being involved in the strategy, but also as a client in this case, trying to decide on behalf of American consumers whether we wanted to try and settle, whether we wanted to go to verdict, et cetera. Just put aside for a moment technicalities about how one defines a market. I have a lot to say about that, and I'd like to get into that a little bit. But there were just two very large categories of customers that were going to be hurt by the merger, and it was not backward-looking. It was forward-looking. These two companies continued to compete very vibrantly against each other. All indications were that that was going to continue. Other players were not going to come anywhere near in the coming years what these two were doing, and it was a 3-to-2 in the great majority of the contract market.
[Page 132]
So the contract market are people building apartment buildings, people renovating apartment buildings in multi-unit or building housing developments where you buy hundreds or even thousands of appliances at a time. Those people don't go to Home Depot and look at Samsung and look at Wolf. They go to three companies, and they say, "Make us a bid," and it's highly negotiated. GE and Electrolux were two of the very important competitors in that space, and we had tons of bid data. It was very clear that they were constantly butting into each other. Whirlpool, as well. We gave Whirlpool full credit. It was a 3- to-2. It wasn't a 2-to-1. But in that space involving hundreds of millions of dollars of annual sales, it was a 3-to-2, a very serious issue.
And then on the consumer side, which was alleged in our Complaint in overall market, lower priced appliances, especially cooking appliances, in this $400, $450, $500 price range, there were basically three companies that were accounting for the great majority of that, too, and they competed against each other, they negotiated with retailers, and they got floor space. Samsung and LG were there. They were a little higher price point. There was no evidence that they were going to move down. So those were really the two big categories of customers that we were trying to protect, and nothing in the trial persuaded me that we got that wrong.
MR. HUSTON: So we've mentioned markets and market definition. The Complaint alleges six relevant market. One for ranges, one for cooktops, one for wall ovens, and then it circles back and does it all over again and it alleges a market for each of those things in the contract channel, or for contract purchasers. And from looking at the transcript, it does look, despite the hypothetical Mrs. Smith, that there were a lot of battles over this contract channel. So a couple of questions about that. First, was it really necessary to allege so many markets? I'm assuming that those last three markets, the contractors, is some sort of submarket or would you call it a price discrimination market? The authorities, the academics, some of the economists, seem to have some trouble with submarkets, so maybe you can speak to that.
MR. GLASS: So it's true, there were six markets. The only friendly amendment is it was sales in the United States. There was no dispute over geographic market. So I guess I would respectfully disagree that the contract markets were the focus of the trial. We found six markets that were the focus of the trial. There was extensive evidence that they competed in all six markets, that competition would be significantly reduced in all six markets, and I think it was important to challenge in all six markets to give the judge the full understanding of the harm that would come from this merger. That said, I would agree with you, Peter, that there is a lot of debate about how to treat price discrimination markets. Now we've kind of entered into the very technical piece of this panel.
[Page 133]
Price discrimination markets I think are hard. They are hard for everybody. They are hard to understand. They are hard to explain. They are hard to analyze. I think we did a pretty good job of explaining to the judge how price discrimination markets work, but the reality is that even in a relatively lengthy trial like ours, over four weeks, twenty-four witnesses, the judge gave us an opportunity to make oral presentations by the lawyers on almost a daily basis, that is still not enough time to educate a lay judge on the nuances of economics like price discrimination markets. So we relied upon tools like Brown Shoe. There was a comment in the previous panel that Brown Shoe is still good law. It is still good law. And I think Judge Posner and other jurists recognize that there is a benefit to Brown Shoe. Not only is it controlling law, not only does it guide the decisions, but the question here isn't if an academic had unlimited resources and unlimited data, what would they have done? It's taken to a lay judge who has a limited amount of time, by the government, which has a limited amount of resources, and the question is do we feel good enough that this transaction is going to harm competition that it should be stopped? Brown Shoe is pretty good at that, and Brown Shoe itself recognizes this concept of submarkets. In fact, I believe the shoes there were a market within a market. So I think as practitioners, as trial lawyers, we shouldn't get lost in the numbers, the economics, the merger guidelines, because Brown Shoe makes the analysis relatively easy. How do the participants in the markets treat each other? Do they treat each other as competitors or not? And that helps you define markets.
And I think here when you look at our so-called price discrimination market, the documents and the data pretty well showed that the three participants looked at each other—and Peter, if you don't mind, can we turn to the slide?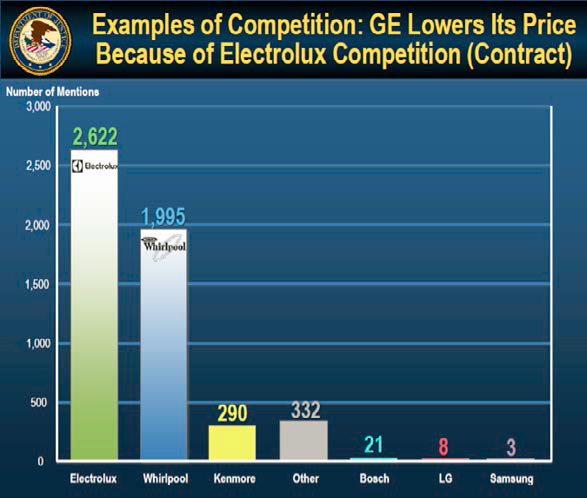 [Page 134]
This is meeting competition data from General Electric. Now, our economist, Professor Michael Whinston, looked at how many times General Electric lowered its price because of Electrolux, for the customers he defined as contract general customers. And you will see that overwhelmingly in the contract channel Professor Whinston found that General Electric lowered its price first for Electrolux, then Whirlpool, and then almost nobody else. These are the types of data that we found compelling. I don't want to take the entire time. I could speak the entire time.
MR. HUSTON: Let me ask the defense to weigh in on that. I sense that product market in this contract channel was kind of driving you to distraction as far as how it was described in the pleading versus how it was being proved up at trial. So I will throw it open to either Paul or John to discuss product market.
MR. DENIS: So if you listen to Peter's description of the contract markets, you heard some of the ambiguity that was in this case. What you could not tell right off the bat from the government's presentation was: Were they talking about a channel of distribution? Were they talking about a particular set of customers? Or was it a little bit of both? So we focused on that because we had these six markets. As you know, the government only needs to win on one of them in order to get an injunction. I think the government having six markets was a smart strategy for them, but it did force us to pay a lot of attention to so-called contract channel markets. We needed to break those. Right? We couldn't have the judge taking them as a given, and those markets were for us much more difficult. I think we were actually pretty successful in getting the judge to see our way. We never got to an opinion, but hope springs eternal. We did not focus on parsing out the law of price discrimination or the economics of price discrimination. We could have done that. It would not have worked. Most judges don't want to listen to that. Most antitrust lawyers don't want to listen to that. But we did focus on the language of the Complaint. What we focused the judge on was that you could define a market around customers or you could define a market around channels. There were different ways to do it, and we talked about a bunch of cases in the course of our little colloquies with the judge. So he was familiar with the idea that there were different ways to do it.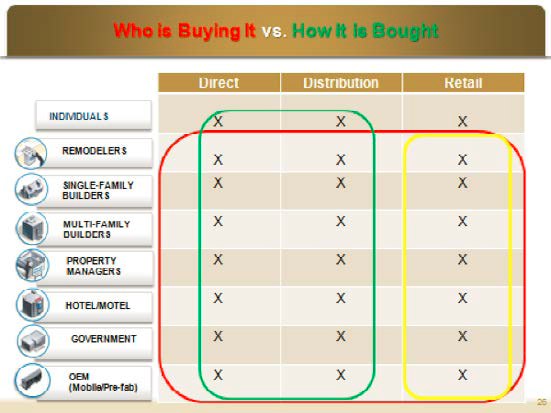 [Page 135]
What we focused on is that the government could define the market in either of the accepted ways. So the case was really about all these different customers down the left-hand side of the slide, individuals like all of us who buy appliances, and then the remodelers, the builders, property managers and whatnot. These are all different customer groups. They bought in different ways, but they bought across channels. So they could buy directly from the manufacturer, they would buy through a distributor, or they could go into a retail store, a Home Depot, a Lowes, a Sears and buy appliances. And we were able to show that all these different customers actually availed themselves of all of these alternatives. You didn't get a lot of direct buying by individuals, but you got some. So we focused the judge on who is doing the buying versus how the product is bought. So who was doing the buying was what was alleged in the Complaint.
The Complaint talked about contract channel customers, customers who bought in the contract channel. The government wanted to focus upon just these particular customers, the remodelers, the builders and whatnot, not the individuals here. But when they put on their case, the evidence left out all of those purchases by those customers at retail. If the case was supposed to be about those customers, why don't we have any data on that? How are we going to make a prime facie case to evaluate that claim? To us that was a big hole in the proof, and it was something that the judge could grasp quite quickly. He needed to have data on all of the purchases in order to figure out how to make a prima facie case. What the government kept saying is, "No, no, no, no. You have our case all wrong. Our case is about the channel. It's sales through this particular channel." But the Complaint read differently. Being able to exploit that difference unsettled the judge about the contract channel claims, and we needed him to see that that part of the case really lacked a foundation, lacked fundamental proof so we could focus him on the retail side of the case.
MR. GELFAND: I'm glad, Paul, that you put that up, and I know Ethan has a slide, too. He even has a thing or two to say about the comparison. But let me make this point. It's a very important point for us. We had some soul-searching to do here in this area of the law. The way this case was litigated was it was very thoughtfully done by Paul and John and their colleagues, in the way that we often defend cases, which is to say to the government, "Well, there are a lot of technical problems with the way you've defined the market. You haven't quite gone out to the fourth decimal place in classifying everybody who is part of it. You left a few people out. You put a few people in that don't quite make sense." The world doesn't often work in perfect ways that make it feasible to just say, "There is this group and then there is that group." Sometimes it does. But the question we have is whether we want to turn these cases into kind of reasonable doubt cases where the defense is able to say to a Court, "The government has failed in its proof on what the market is," or do we really want to get at who is getting harmed and what the impact is on competition? And I think the courts are increasingly rejecting this kind of approach ultimately. It can be effective. I think the two hospital cases that we saw, the one in Pennsylvania, the one in Illinois at the District Court level were both rejected by the District judges on these kind of technical arguments. There are some people in, some people out.
Of course, the Court of Appeals reversed both of them, saying, no, there is a more common sense, more simple way. There was no question here that there was going to be hundreds of millions of dollars of bid competition that was going to be reduced from 3 to 2, and the defendants themselves classified customers as contract channel customers. And for lack of a better word, it was close enough for government work. I mean, these people were really going to be hurt, and they're negotiated deals and it's big competition. Go back to the bid data that Ethan showed. So do we want these cases to become exercises in battles of economists and reasonable doubt and did you really prove it and did you hit the fourth decimal place, or do we want courts to zero in on whether competition is really going to be hurt in a big segment of the commerce? I will use that word instead of "market."
[Page 136]
Ultimately, in Staples/Office Depot, all these same kinds of argument were made by the defendants there, and Judge Sullivan rejected them. He said, "I can deal with this. I can deal with a set of products being sold to a set of customers who depend on competition between the two defendants, and it's important competition, and that's going to be lost as a result of the merger." That's why he enjoined that transaction. I think it's a great argument and debate for us to have. What is the role of market definition? How much proof needs to be brought to bear on this? How perfect does it have to be? Where do we want the judge paying attention during the trial, on all of this stuff, or do we want them paying attention on what the actual competitive effects are?
MR. HUSTON: Well, let me follow up on that, because it's been mentioned a couple times now that this stuff is complicated. You've got to present it to a judge and he's got to make a decision. The statute itself is relatively simple, a transaction that "substantially lessens competition." So that's easy enough, but then we've got, as Ethan mentioned, the merger guidelines. You've got all this case law that's out there. You have got economists doing their thing. So I guess one question I have is can a lay judge even do this? Does it make sense to have lay judges presiding over these mergers or should there be some sort of specialist judge? A second kind of corollary question, it goes to what you mentioned, Dave, and Ethan mentioned earlier, we're dealing—at least the government is putting on its case relying on really ancient cases. Brown Shoe is over 50 years old. The Philadelphia National Bank structural presumption, which seems to be the centerpiece of the government's case not only in this trial but in virtually all the trials that it's had since that case, those are old cases. And maybe the way that those two questions come together, is it necessary to have some simplifying structure like a Philadelphia National Bank presumption in order for judges to be able to do this? I will throw that up and whoever wants to, grab it.
MR. MAJORAS: Everybody looks to me first. Volunteering, as it were. It's an interesting question whether there ought to be some type of specialized bench. We've talked about this at various times in different jurisdictions. It's a question that frankly is not worth spending a lot of time answering because I don't think it's going to happen. So setting that aside, when you are trying these cases, fundamentally it's not that different from any other trial that we put on. You are trying to assess who is your audience, what is it that's going to be attractive to them in terms of their background, their knowledge. I mean, when you are choosing a jury and trying a case to a jury, you are spending your time doing that. You are going to talk to certain juries differently than you might talk to others. It's no different than when you have judges who are hearing these cases. Some will be more sophisticated possibly in terms of background and what they've done than others might, but that doesn't mean you can simply say, "Well, we will put on the number-crunching case and then just complain that the judge didn't get it."
[Page 137]
So in putting the case together, I think there are ways to present the case, and you've got to figure out what are going to be things that the judge can latch on to, that the judge thinks is important, especially as the case goes on, and then hopefully they fit with the economics and the theory of what we're all trying to accomplish here. I actually think that's what happened in this case. As we went through all these market definition issues, especially on the contract channel, two things came out, at least to me. Of course, everybody falls in love with their own evidence, so I remember our evidence and I can tell they remember their evidence. But one of the things the judge did focus on in the contract channel is that the players in that channel who were selling and buying in that channel themselves couldn't identify where the sales were going in a lot of cases and how they were being disbursed. And that seemed to be important to him. At one point, perhaps one of the most telling parts of the trial, someone was testifying and the witness brought up the contract channel, and the judge says, "I don't care about the contractors. The contractors can protect themselves." Now, he didn't do that in Staples, obviously, so he may have decided against us ultimately in the decision process. But I think that easily by that point in the trial and I think perhaps earlier, everyone realized that this case was going to come down to the Mrs. Smith part. So we had to change our approach. We put on all the evidence that we were going to put on, and the record is clear with what all the sides wanted to put there, so if it ever got to appeal, which it was never going to do, you at least had it out there. But we had to pivot in the case. It became about Mrs. Smith, and it became difficult then for us to be able to explain why is it that you have these different price points to actually protect the lower price points, because as you move up and you move up in features, you are going to have this constraint on the ability to ever raise the prices at the low end. Would we have convinced the judge of that? I don't know. But you try the case to the audience, and I think we would try this case differently to Judge Sullivan than we would to other judges. It doesn't mean it's good, bad or otherwise. We ultimately were trying to put on the evidence that still gets to the fundamental issues of competition.
MR. DENIS: I'll just throw in a couple thoughts on that. I agree with John, we are stuck with generalist judges, and I don't think that's a bad thing. The more time you spend worrying about whether your judge can handle your case, the worse off you are going to be. You have to respect the judge's ability to decide the case. And if you have doubts about his or her ability to decide the case, the judge will figure that out. You have to go in respecting the judge and expecting him to be able to learn what you have to teach him. If you don't, you are in trouble. We had to teach Judge Sullivan a lot. He had never had an antitrust case of substance. He had done other things, but he didn't know this stuff. Neverthless, he was quite a willing student, and he loved actually mixing it up with the lawyers. We would have these discussions at the beginning of the day. We'd have witnesses sitting there waiting to testify, and the judge would want to talk about something we had been doing the day before. We went on 45 minutes some days.
MR. MAJORAS: Three hours.
MR. DENIS: It was such a strange process. But I think Ethan approached it the same way we did. You had to respect the fact that the judge wanted to learn this. You had to assume that he was capable of doing it. And if you had the attitude that you were the antitrust lawyer who knew this stuff better, you were probably not going to convince him. I think we both spent a lot of time on that. The other aspect of it—this goes to Dave's comment—Judge Sullivan had a really strong sense of right and wrong, sort of a good and evil kind of guy. He used to be a judge on the Superior Court in D.C. and did a lot of criminal cases. He had a real core sense of right and wrong, good and evil, and he wanted to hear a positive story. He also wanted to make sure that he was protecting the Mrs. Smiths. We were definitely challenged in our ability to put on a positive story. We didn't have much of an efficiencies case. The government kind of made a lot of fun of our efficiencies case, for good reason. We didn't have a lot of weapons on that score. The government did a real good job of keeping the white hat on, trying to put the black hat over on us. So we did have to attack on some more technical bases because we didn't have a great compelling efficiencies story to tell or a real motivator for the judge to see why this deal was going to make it better off for Mrs. Smith in the future. We had some tools available to us and not others.
[Page 138]
MR. HUSTON: Dave, let me ask you about that. So John mentioned that this sort of trial is not much different than other trials. That's true to the extent you are putting on witnesses and trying to get the facts out. But it occurs to me that merger trials are different than other trials in one key respect, which is that in most trials, even most antitrust trials, you are trying to look at what happened and who was injured, if anyone. But merger trials, obviously, are different. You are looking forward, trying to predict what's going to happen in the future, and my sense is that puts a lot of judges in an uncomfortable position. And maybe that is a reason to try to boil it down for them and make it simple by using things like the structural presumption. But, as I said before, a lot of economists and antitrust scholars are more and more uncomfortable with just relying on market shares and whether market shares and concentration is really a good predictor of what's going to happen in the future.
MR. GELFAND: It's a very good question, and I'm sure everybody in this room has had difficulty of explaining to a client, or thinking about how you explain it to an agency, or, for those who have litigated these cases, to a judge how to predict the future. It's hard to do and imperfect, and the statute itself talks about "may" substantially lessen competition, recognizing that there is going to be some imprecision in that. I think you have just got to pull together the evidence. You have got to pull together the evidence of existing competition and if there is no reason to believe that's likely to change going forward, that's a predictor of the future. You know, it's not just about market shares and structural presumption, there is work that could be done looking at how the two interact with each other and what's likely to happen to prices and the upward pricing pressure. There are some tools that the economists can bring to bear on this.
There is good old-fashioned evidence in the form of business plans and testimony, who else is going to grow and how much are they going to grow and who is going to have the products that can fill the void when competition is eliminated between these two players? I personally don't think the presumption is as bad as a lot of us on the defense say—I'm now on the defense side. I'm so conflicted. I still say "we" sometimes, talking about the DOJ. I'm like in this difficult transitional period. It's just a presumption. It's rebuttable. All of the evidence that you might want to say, Well, that's what we should really be talking about, you get to talk about it. We get to talk about it. Defendants get to talk about it. The presumption is just a starting point. The shares are high enough, the concentration is high enough that it's a red flag. But you get to come in, we get to come in and say, "Well, but it overstates the competitive significance because, yes, they have their share today, but their technology is a little outdated. Customers don't use them as much anymore. Their cost structure isn't competitive anymore." There are three entrants that we developed through discovery who all have business plans showing they are actually going to enter—I personally don't think the true hypothetical entry works very well with judges, because that's even more speculative than predicting competition based on existing competition. And at the end of the day if you can come in and show the presumption overstates the competitive significance of the two parties, the defense gets to win. And that's what these guys do. They're experts at it. They are very good at it. They have won cases doing exactly that.
[Page 139]
The Republic is still safe, until Tuesday. And people are still able to do deals. Very few deals get challenged. It's not like the agencies are going crazy with the structural presumption or something. But when the agencies find a very difficult competitive problem like this, that's a starting point for the Court.
MR. HUSTON: One thing I mentioned earlier is that Whirlpool and Maytag had merged a little less than ten years ago. Whirlpool I think was the largest manufacturer and Maytag was up there, as well, maybe the third largest manufacturer. The DOJ at that time thoroughly investigated that deal but did not block it. And they said that even though the companies had high market shares, the deal was not likely to reduce competition because there were lots of other appliance suppliers out there, including, even back then, LG and Samsung. Why isn't that something that the defense can point to as, "Listen, you let that deal go through. You said there was plenty of competition. You even pointed to some of the same competitors we're pointing to now." Why didn't that put a road block in front of the DOJ?
MR. GLASS: So I guess my prosecutor streak will come out in this. I did not find any of the discussions about Whirlpool and Maytag illuminating in any way. The Department of Justice made a decision, exercising prosecutorial discretion, not to challenge a merger ten years prior where the focus was on washers, dryers, other products than those at issue in this case. Lots of things changed between that merger and the one that we're here to talk about today, including the so-called Great Recession. I candidly didn't find any of the discussions about Whirlpool/Maytag to be probative.
One thing that I will note, and I think this is helpful for all of us who are practitioners who use economists greatly, is that in the defendants' economic expert's backup material, he had run a regression on the Whirlpool/Maytag merger. This regression was designed to show that the Whirlpool/Maytag merger actually resulted in lower prices. I believe he testified that it did show that Whirlpool/Maytag resulted in lower prices for washers and dryers. However, when one digs into the backup material, looks at it with a trained eye, we noticed that actually that regression showed that prices went up after the Whirlpool/ Maytag merger for ranges, cooktops, and wall units. So I did not think that that was probative, just like I didn't think the other evidence was probative, but it was a practice pointer, I think for all of us, that there is a lot of moving parts going on, a lot of work being done. I don't think the agencies find the citation of their prior matters against them to be very compelling, and I don't think Judge Sullivan did in this case either. And, in fact, perhaps if one were to credit the Whirlpool/Maytag merger, it might have supported the government's position, not defendants' position.
[Page 140]
MR. GELFAND: One difference is that after Whirlpool/Maytag, GE and Electrolux remained independent competitors. But under this logic, every merger for the rest of the history of the industry is fine, right? Going from 10 to 9, well, that was fine, so you should be able to go from 9 to 8. Well, that was fine, so you should be able to go from 8 to 7. So that's one point. The second point is there weren't the same issues. There wasn't the same contract channel issue. There wasn't the same bid data at issue. Maytag had been kind of a failing brand. That was an important part of the evidence that had come in. And so, you know, it is what it is, a 10-year-old deal involving different products, involving a lot different companies, involving a less concentrated industry than this merger was going to result in. It just had very little probative value.
MR. MAJORAS: They hated it, obviously, when we kept bringing up the earlier merger, which we did frequently. Actually, there are parts of what Ethan said I agree with and parts that I strongly disagree with. One part that I absolutely agree with, and that is the transition of going from where you are working on an investigation and trying to convince the agency not to challenge the merger to actually going into litigation over the merger. I think too many pure antitrust lawyers want to be able to argue all the economic stuff that I can't understand and don't want to understand—what the agency ought to be thinking when it makes decisions about agency policy and are they doing things differently or not. Obviously, they didn't think that they were doing things differently and that's all fine and good. But once you get to the litigation, the fact that the agency made a decision, whether it's a similar case or reasonably similar—take your pick; I won't argue with it—that's not an effective point in litigation. The judge doesn't care. That's not a precedent. You can't get up there and argue it. And, in fact, in a number of cases I've had, I argue with people internally. They say, "We're going to win this case. Look what they did previously." I say, "Stop, stop. That is not going to work."
In this case, I think the part of it that worked is, yeah, there were some nice aspects of the DOJ's statement when they closed the Maytag-Whirlpool investigation that we brought up, but it wasn't the fact that they closed a transaction regarding similar clients earlier. It was the ability to do a retrospective on what happened after the closing of that deal. Now we can agree to disagree—we certainly did previously—as to what that study revealed. And I absolutely disagree with Ethan's characterization of what was in the backup material that the expert had. Those are arguments. You'd have to see all the evidence and reach your own conclusions on that. But the importance of that in the litigation was, here is something that was done previously. And we said, You know what? They got it right. Here is why we know they got it right. Here is what the impact was on competition going forward in these analogous products, and that's a reasonable thing to look at as you are trying to anticipate what will happen going forward here. So I'm not surprised that Ethan didn't find any probative value in that. I would be surprised if he is surprised that I found it very probative. It wasn't the principal part of the case, but it was I think an interesting part of the case. And it wasn't the fact that the decision was made. It's once the decision was made, what can we take from that looking at the economics?
[Page 141]
MR. DENIS: The debate over this is an interesting insight into trial strategies. What the government did was they had an argument they really, really didn't like and they were uncomfortable with. So they created a diversion and they said, "Well, the defendants are trying to tell the Court that we should be able to merge because you let this other merger go ten years ago." That was not the argument. That was a caricature of the argument. What the argument was really centered on was that if you took the government's upward pricing pressure ("UPP") techniques, applied them to Whirlpool/Maytag and asked, "What would they have predicted ten years ago?" and then compare that prediction to what happened, you found that the UPP was a really, really bad predictor of what was going to happen in the future. And their economist built his testimony—and the only real economics in his testimony—around UPP. They had multiple aspects of their case, as any smart plaintiff would, and they had stuff about documents that we talked about earlier. But their economist's testimony was centered entirely on UPP. And validating UPP from prior experience in the industry was, we thought, a sensible way of responding to a theory that the government wanted to advance, and the Court clearly did not understand. Joe Farrell understand UPP. Carl Shapiro gets it. Maybe four other people do. Judge Sullivan was not going to go into the depths of UPP. But we were going to show him that if you try this tool somewhere else to see if it works, you find that it doesn't. That's what the Whirlpool/Maytag issue was all about. It wasn't about we deserved to have our deal done because these other guys ten years ago got theirs done. It was all about a really technical point that the judge otherwise was not going to get his arms around.
MR. HUSTON: I have got more questions, but I want to make sure that if anyone in the audience has questions for any of our panel members they get an opportunity to ask them. So any questions?
UNIDENTIFIED SPEAKER: I just wanted to ask, at what point did the trial get terminated? How far—had the defense started?
MR. GLASS: The defense had rested and we were going to have one day of rebuttal witnesses for the prosecution for the plaintiffs. The morning of that day there was the announcement they had abandoned it.
MR. MAJORAS: Essentially four weeks of trial.
UNIDENTIFIED SPEAKER: So I was interested in your comments, David, particularly about what Judge Sullivan said in Office Depot/Staples. I was not able to watch your trial, but I was in that Office Depot/Staples trial, and he did not say that in court. He said that in his opinion, certainly, but that case had no defense. None. And I guess my question is, when a judge really has to wrestle with both sides of economics and both sides of real argument, it's kind of a different scenario, and I guess I thought that the case that Sullivan made, the decision that he made appeared so clear in Office Depot/ Staples because he only had one side.
MR. GELFAND: Well, I don't know. I think if you look at the Sysco decision, Judge Mehta looked at a lot of competing economic evidence, and at the end of the day he really fell back on what the testimony looked like, what the documents looked like, I think at some level what is common sense about how that market worked, looked like. I mean, you see a lot of bidding against each other and chances are there is going to be a lot of competition lost.
UNIDENTIFIED SPEAKER: Well, and now you are switching hats after the government has won several cases. They have won the vast majority of the cases they have brought to trial recently, with the exception ofJohn Majoras' win in Synergy/Steris.
[Page 142]
MR. MAJORAS: Thank you very much.
UNIDENTIFIED SPEAKER: So how are you going to fight cases going forward? How are you going to defend your client? What do you think is the best way to defend a case now?
MR. GELFAND: You look at competition in the market. You ask the question of how important is competition between the two parties to the future of competition, who else is in the market and how close is the competition, and what were the trend lines, what can we get people to testify about. You look at the documents. You say that the shares overstate the competitor's significance. You rebut the presumption. You put on good economists. I'm not saying you don't put on economists. They're smart people. They've got a lot to say, and they're very important evidence. It's how you do your work. It's how you do your job.
MR. HUSTON: Other questions?
MR. LYNCH: This is a question for John. At the end of the merger it seemed like GE did fine. They sold the company for a larger amount than they would have if the merger had gone through. But you represented a company in a very harsh enforcement environment for a big company, like the one you represented. What was the company's motivation and how do you advise the client as to the cost/benefit analysis of going into this? Because Paul candidly said that the efficiencies wasn't a really strong argument. So what was the thinking going into this that you thought you would win?
MR. MAJORAS: Well, again, like with any case, there are strengths and weaknesses that you are assessing, and it's not always simply a question of do you think we're going to win or lose and what's your percentages? And we get that all the time. I thought as the case went forward, and even as the case was going, I felt good about what we had done, about what we had presented. There was certainly a number of warning signals from things that the judge said, but then sometimes we'd leave one day thinking, "Oh, he's killing us." The next day we'd come back, "he loves us." One of the great thing with Judge Sullivan is he was very expressive. He often let you know what he thought about things, including sometimes witnesses on the stand, which at times could be disconcerting, when he would get into arguments with witnesses, and I was just watching the fire burn, and there was nothing I could do. It was a third-party witness. It was the craziest thing I have ever seen.
But going to your question, it's not simply a question, can you win or lose. The question also comes down to the strategic importance to the company of that merger going through. And to the extent that importance is very high, you may be willing to take greater chances in litigation than other situations when you are saying, "I'm only going to go forward if I have got a 90 percent chance of winning."
So in advising the clients, you have got to make sure you understand their business motivations. What's behind their decision of going forward? What does it mean if you lose? What does it mean if the deal should break apart altogether, and then compare that to the relative strengths in the case, and you help them make their decision.
MR. HUSTON: Thank you. Final thoughts?
[Page 143]
MR. GLASS: I just need to say this. There was a lot of zealous advocacy going on here. These trials happen very quickly after investigations. There is a lot of interaction amongst the lawyers. We had violent disagreements. There were lots of points on which we disagreed. But I want to say I am proud of everybody on this panel as the leadership, all of our teams maintained themselves with the highest decorum and professionalism, and I think this could be a model. I really think it's important to remember that you can disagree and you can represent your client, but you can also treat each other well. I want to thank Paul, John, and of course, my friend Dave. This is a really important piece of what we do. And what we do requires us to take positions that are at odds with each other, but it does not mean that we have to treat each other poorly. So I just wanted to make sure I said that.
MR. MAJORAS: Hear, hear. We agree.
MR. DENIS: Well said.
[Page 144]
——–
Notes:
1. Peter Huston is an antitrust and white collar partner in Sidley Austin LLP's San Francisco office.