Inspire Much, Monica Valencia?
Meet Monica Valencia, Jack Berman Award Recipient (2023)
September 2023
By Kathryn Lafferty Ignash, Chair
Jack Berman Award Committee, New Lawyers Section, California Lawyers Association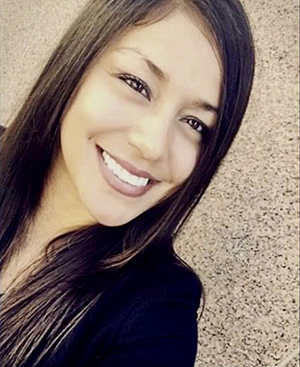 It's very rare in life that you meet an individual that leaves a lasting impact. Sometimes these moments are happenstance, sometimes curated. And if you are lucky to have those moments happen more than once, I'd say that is evidence enough that our world we always dreamed of is well within reach.
As Chair of the Jack Berman Award Committee of the New Lawyers Section of California Lawyers Association, I had the honor of spearheading a 30 year tradition founded when one of our own, Jack Berman, was gunned down when meeting with a client. He was working on the 34th floor of a San Francisco high-rise when a disgruntled employee returned and committed senseless acts of violence; Jack was unfortunately one of eight victims that lost their lives that day.
To honor the life of Jack, and the values that he stood for – the New Lawyers Section (NLS) established the Jack Berman Award of Achievement. For the last 30 years, NLS has recognized an individual that honors the value that Jack stood for – distinguished service to the public, judiciary and legal profession.
This year, the NLS Section recognizes Monica Valencia – an attorney, Air Force Veteran and 2023 recipient of the Jack Berman Award.
And it's no surprise she was the shining star this year. I recently had the opportunity to interview her about her passions, her drive and her vision. Here's what she had to say about how she not only honors the values of Jack Berman but pays it forward to serve the underserved.
What was your path to becoming an attorney?
My path to becoming an attorney was not a traditional one. When I was 18 years old, I enlisted in the U.S. Air Force and left my family behind. I left because we were poor. My mom was a single parent and my parents had been divorced since I was about 12 years old. As the oldest, I felt responsible to help my family. In the military, I received station appointments in North Dakota, South Korea and Germany. I spent 6 years of my life training, learning, traveling, and realizing that there is so much out in the world that so many of us don't know about.
When I returned home with an honorable discharge, I attended community college in Oxnard, California and then I transferred to my dream school – USC in Los Angeles. After completing my undergraduate degree, I applied for law school. There was a professor that I wanted to study under – Bill Ong Hing – and so I wanted to see if I could learn with him. I had read his work as an undergrad and was very impressed and intrigued by his dialogue on migration, anti-immigrant rhetoric and Rebellious Lawyering.
Once in law school, the biggest challenge was navigating through imposter syndrome. Often, I felt like I didn't belong and that I was not good enough. I struggled my first year of law school, but then I found my niche in immigration. I later realized that I had always belonged and that this power had always been mine.
How did you get interested in advocacy for immigrants, asylees, and refugees?
My parents are immigrants from Mexico. They came to the U.S. – separately – as undocumented immigrants and they actually met in Los Angeles. Growing up in an immigrant household, I didn't know there was a difference in immigration status or culture. Everyone around me spoke Spanish and I thought that everyone was from Mexico.
I didn't learn to speak English until I was in elementary school when they placed me in English-as-a-Second-Language (ESL) classes. It was a very interesting dichotomy of learning language and code switching. At school, I was learning English and practicing with my classmates and learning to play and assimilate – and at home, I was rooted in my immigrant household, culture and folklore where we only spoke Spanish. It was very complex and confusing – but very beautiful all at the same time.
I became interested in the advocacy of immigrants at a very young age. I believe I have been an immigrant advocate since I was about 6-7 years old and I began to learn English. I was a translator at a young age. I was an advocate on the phone trying to communicate for my parents. I was an advocate on paper trying to write in the best way possible for them. I was an advocate in person advocating for my parents at social services offices. I think in many ways, people like me don't always choose to be advocates at a young age, but it just happens to us.
As a child, I didn't appreciate this as much as I do now as an adult.
I realized quickly that when my family and I functioned and existed in an immigrant community – like going to the Mercado on the weekends… There was camaraderie and we all flourished together in language, in culture, in aromas and colors. But most of all… we were safe.
When we stepped out of these beautiful, cultural and meaningful spaces, that's when we would experience the lack of tolerance, the hate, the indignation. I witnessed first-hand how my parents were berated for not being able to speak English – they were called every name in the book. They threw things at them like cans of soda, they were discriminated against. This impacted me. I knew then that my purpose was justice. And perhaps that's what I have always been seeking – Justice for my family and for our community.
As an advocate for immigrants, asylum seekers and refugees – I imagine my family – my mom, my sister, my nephew, my aunt, my grandfather and I wonder who would help them? Who would treat them with dignity?
And so, I say to myself… I will!
You established the Dreamer Fund – one of the first programs in the country to focus on scholarship opportunities for undocumented law school and pre-law students. What motivated you to create this organization?
While in law school, I was very focused on my own studies and in many ways, you have blinders on and don't really think about anyone else. That's privilege, right? One day, an underclassman came up to me at a student meeting. At the time, I was the President of the La Raza Law Student Association and this student asked to speak to me after the meeting. She told me her story – the law school was threatening to kick her out of law school for non-payment. She told me that she is undocumented and that she does not qualify for state or federal funding at the graduate level and that she was on a payment plan in law school. She said her monthly tuition payment was $5,000 a month – and this did not include her costs for books, food, transportation, rent, etc.
I initially thought – "This is unbelievable!! How could this be?" I asked her some questions to try and get some more information. This conversation catapulted me into rallying my professors and students into fundraising for my friend – Gabriela Garcia – so that she could pay her tuition.
We were able to help her pay her tuition until next semester, but we knew then that this was only a band-aid and that there were inherent and problematic questions that we needed answers to from the law school and its administrators. Gaby and I became student leaders and we requested meetings with administrators and we asked questions, but mostly, we got nowhere. It was exhausting. It really felt like the very institution that is actively accepting undocumented students and students of color – who tout their diversity numbers – weren't moving in a deliberate and meaningful way to help the most vulnerable students in their institution. Instead, they were threatening them to take away their law school education. And this is common in many educational institutions that weren't made for students like Gaby or me.
I then founded the Dreamer Fund and Gaby became my co-executive director. Today, we help fundraise to help other undocumented students like Gaby, achieve higher education. It's important to have immigrant students of color have pathways to become lawyers, doctors, and whatever else they want to be in an equitable way where they don't have to worry about funding. Education equity is not always at the forefront of educational institutions and we would love to change that. We can change our society, our laws, our institutions to serve people of color if we make pathways for people of color to also enter these institutions.
Your representation as a queer, Latina, veteran, woman of color in the legal industry is inspiring to all. How does your background influence your decision-making?
All of these identities are important to me and I don't think that I have always been able to be all of them all at once – to be authentically all of me in an environment where I feel safe, until now that I can stand up for myself, especially when I was in the military. I left before they changed the "Don't Ask, Don't Tell" policy.
There is still so much work to be done as it relates to the human rights of women, the human rights of the LGBTQ community, BIPOC and veterans on an individual basis. And because I know this in a very personal way, my decision-making is influenced by centering diversity, equity, and inclusion in all spaces that I enter. If we think about gender equality in the workplace alone, we know that historically, most of the focus has been on white, cisgender men and women who are heterosexual. My work and efforts try to shift the analysis to be inclusive of other genders, races, ethnicities, indigeneity, immigration status and social minorities so that we can create equilibrium not only in the workplaces, but in every profession and institution. Currently, the legal profession is approximately 5.5-6% Latinx/e. Of this 5-6%, only about 2.5-3% are Latinx/e womxn and less than 1% are undocumented attorneys. Veterans in California only make up about 5% of the legal profession.
What do these numbers tell us? They tell us that these numbers need to change because the little Mexican girl from Echo Park that grew up in a community where her parents were berated, assaulted and discriminated against, didn't think that becoming an attorney was a dream that she could have. She thought that those dreams were nice – but that those dreams belonged to other people. We all deserve these dreams and all the others dreams of who we want to be. And all of us – collectively – have the power to change these numbers.
Explain the theory behind "Rebellious Lawyering." How should a new lawyer instill these values into their law practice?
Rebellious Lawyering is a term coined by renowned lawyer and professor, Gerald P. Lopez of UCLA, who defines Rebellious Lawyering as the perpetual learning from others and commitment to growing as people, such that "we cannot separate who we are from what we try to understand." That is… that if we open ourselves to learn from others, we will also be teaching others. In this framework, immigration law scholars and practitioners have trained under this model to become non-traditional lawyers.
I was trained by my mentor, Bill Ong Hing, at the USF Immigration Clinic – who taught me to go into underserved and vulnerable communities open to learn and to treat people with agency and dignity. Our clients should have personhood and when you practice Rebellious Lawyering you will inherently know and believe that your clients are the changemakers and that we – as lawyers – are not saviors and that we cannot fix them or save them or tell them what they need to do. They already know what they need.
You can use the Rebellious Lawyering model in any profession because it's about your mindset and who you want to be and whether you are willing to learn from the communities you serve – because if you are – they will teach you and in turn, you will also teach them to be their own changemakers.
Rebellious Lawyering is about the rights of others, human agency, autonomy, and intentional collaboration. I absolutely love being a Rebellious Lawyer and I love to teach it to my law students and to also actively practice it as an immigration attorney.
What does the Jack Berman Award of Achievement and its namesake mean to you?
When I think about winning the Jack Berman Award of Achievement – not only am I humbled, but I am honored to be a recipient because it tells me that Jack Berman's purpose was about service to the public and the profession and we are both aligned in that way. Through his extensive pro bono work, as well as co-founding Tax-Aid, a free legal assistance program to low-income individuals with tax issues and the San Francisco Transitional Housing Fund, helping San Francisco's un-housed population, Mr. Berman's commitment to people is what resonates with me.
But more than that, the spirit of this award is what speaks to me most because it speaks to Jack Berman's consciousness and integrity. I read that some of Mr. Berman's friends described him as having "a very open heart and a very strong conscience." And if this is what people remember about Mr. Berman, then I can only stand before this committee and the entire legal profession, and say that I am proud to be of service to the most in need with the biggest open heart and consciousness. I will never stop fighting or being the conscience of every space that I take up.
As we ended our interview, I asked Monica one last question – how can attorneys get involved in serving the public, the judiciary and the legal profession? I just needed to know why these values were important to her.
Monica in all of her inspirational glory, responded with "This is really simple. You have to think about your own privilege in everything that you do, and how others can benefit from even one hour of your time."
Expanding on this perspective, Monica said "Many attorneys may not believe that we have a lot of power. We have power in being of service to others – especially indigenous communities, communities of color, underserved communities and vulnerable communities. You can be a Rebellious Lawyer. Even if your firm does not currently have a pro bono unit, you can advocate for one. If not, you can also volunteer your own time with organizations like mine."
As I ended my time with Monica, one thing in particular that I'll never forget she said – Most importantly, remember that there is power in teaching. Teach people around you. Teach your families and friends to unlearn and re-learned, especially on topics that don't center the narratives of the most vulnerable. You have power in creating equitability. Teach your clients to be self-determining agents, teach the interns that look up to you. Teach the law students that you meet at your next networking event. You all have the power to be changemakers and it's important never to forget this. We must care about the world that we live in not only for ourselves, but for our children and future generations. Use your power for good."
I know many of us did not have the opportunity to meet Jack but I'd like to think he would be proud that attorneys like Monica are using their power to do good in this world. And as Monica challenged me, and I'm now challenging you, as New Lawyers, we define our success, we define our legacy. So let's use our power for nothing less than to make a difference.
About the Jack Berman Award
NLS first established the Jack Berman Award of Achievement in 1992 in memory of Jack Berman, a new attorney who performed outstanding service to both the public and profession before he tragically died in a shooting in San Francisco. The award honors his dedicated service to issues of concern to the profession, especially to its new lawyers. More information about the award is available here.
---
Related Content